It was quite a surprise when, in 2008, Neel Jones Shah jumped from United Airlines Cargo, where he had built a long and illustrious career, and moved over to Delta Air Cargo to take on the responsibilities of Senior Vice President and Chief Cargo Officer.
On the last Friday of July 2012, Neel once again made a sudden and unexpected move, surprising many industry colleagues and observers when he abruptly packed his sack and walked away from Delta Cargo.
But as many have learned in air cargo, a move from one point to another is often a natural progression of development in this business.
So as ACF opens in Atlanta next week, where Mr. Jones Shah will be in attendance as part of a panel session on security, we take note that it has been about two months since Neel made his last move.
"I am doing great," he said.
"Building a business, as everyone knows, is quite tough and I felt we had achieved our major goals.
After nine years at United and five years at Delta, I wanted to be close to my family and growing children while also staying in the business—involved with ventures that would allow me more flexibility to address everything.
"I guess getting in touch with myself and considering how much family means to me says that I am now listening to a higher authority," Neel Jones Shah said.
"I did go through all of the usual emotions over the past few weeks and am very grateful for the Delta experience, but I'm truly at peace with everything and really looking forward to my next challenge.
"I recently had the best executive physical of my career, so my body is certainly responding in the right way!
"The one thing I miss is the wonderful people I worked with on a daily basis, but now I look forward to staying in touch with many of my friends and colleagues at DL as we all move ahead.
"I am also very appreciative of all of the support that I received from friends and colleagues over the past months.
"It has been truly incredible!
"One of the first things I did after returning from a vacation was to form a consulting company, which I named JS Aviation Consulting Inc. (for Jones Shah).
"I have been in close touch with all of the major executive recruiting firms and also reached out to a number of my contacts across the industry.
"A good friend of mine for the better part of the past decade, Orlando Wong, who operates the premier perishable exporter in USA, Able Freight, reached out to me a few weeks ago to see if I would be interested in joining him and his business partner, Scott Murray, as that company embarks on the next phase of its market development.
"I am really thrilled to report that I have agreed on a trial basis to join Able as Chief Commercial Officer.
"Able is a remarkable company that has experienced tremendous growth over the past 5 years and is one of the largest export agents in the U.S. today.
"I am also very interested to experience the air cargo industry from the forwarder perspective.
"My take is that turning the tables by being at Able should be a real eye opener after a lifetime on the other side.
"I think I am really going to enjoy myself!"
Neel Shah has hit the ground running. He neatly wrapped up his career at Delta Air Cargo and placed a billion dollar bow atop the business he and his team built into a grand, moneymaking enterprise. Neel has a special vantage point from which to take a long look at what lies ahead for air cargo.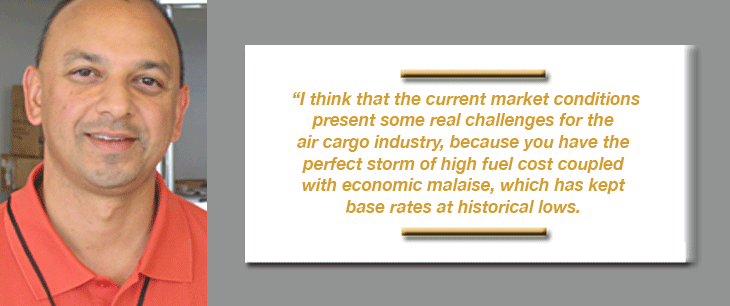 "Unfortunately, there doesn't appear to be any clear signals that we are close to turning any corners, and I believe there is close to consensus in the industry that we won't have any sort of a peak season, in spite of the iPhone 5 launch, and rates will continue to be at these low levels.
"My view is that all of this is putting extreme pressure on many of the all-cargo airlines, and we should see some sort of capacity shakeout in the coming months.
"This is the only way that we will see rates go up to the point where we have long term viability.
"The passenger side of the business realized this a few years ago and has proven that they have the capacity discipline now to create a reasonable return on invested capital.
"We must learn this important lesson on the cargo side.
"Even though I am quite pessimistic about the near term, I believe that our industry has long legs and we will begin to recover by the end of next year, and hopefully enjoy a few years of prosperity in the industry.
"My forecast is not as bullish as Boeing or Airbus because I am also not trying to sell airplanes, so I still believe we will have a CAGR of 3-4 percent over the next 5 years, but there will be some bumps in the road.
"The shippers are obviously on the winning side of things during these tough times, but I believe the rest of us can also survive by running a sound business.
"In this sort of environment, those businesses that don't have solid managers will definitely perish because there is very little margin for error.
"This is probably the natural sort of cleansing that every industry needs to go through every ten years."

A footnote here:
The name Neel Jones Shah (coming from Neel Shah) had us wondering. Turns out that Neel, in deference and honor to his wife and life partner, has actually carried the name Neel Jones Shah for more than ten years.
"My wife is one of two daughters and she didn't really want her family name to come to an end with her generation, so we agreed many years ago to change our last names to Jones Shah.
"My passport has read this way for 10 years, but professionally I didn't make the change because everyone knew me as just Neel Shah and I didn't want to create any confusion.
"However in 2012, with this clean break with Delta, the time is right and I am proudly using my full last name again.
"I intend to keep it this way."
Works for us.
Contact: neeljonesshah@gmail.com
Geoffrey/Flossie