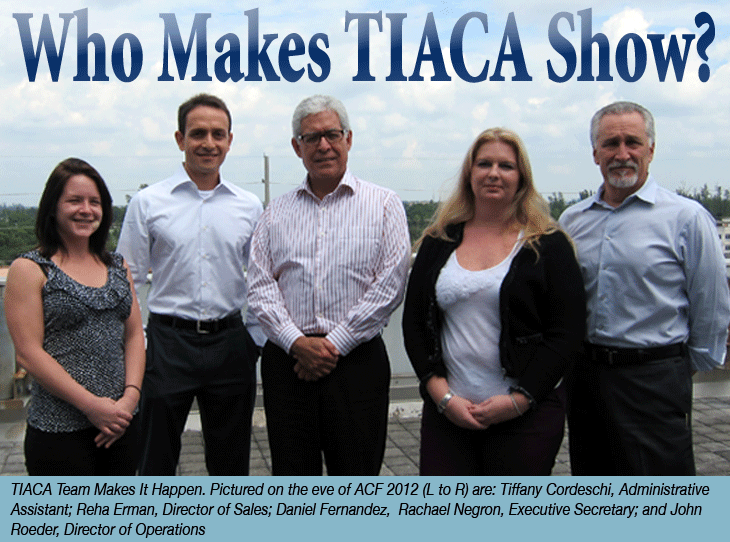 Today sets some kind of milestone for big air cargo events, as The International Air Cargo Association (TIACA) opens its big show in Atlanta, Georgia.
We spoke to TIACA Secretary General Daniel Fernandez, who has been on the job since 1999 and at this point is the longest serving Sec. Gen. to hold the position at any major air cargo industry group in history.
"ACF 2012 will be the largest Air Cargo Forum & Exposition in our history and it also marks the 50th anniversary of the event.
"It is also significant that we should be returning to Atlanta because the first ever ACF took place here in 1962.
"The level of support for the event in terms of exhibitors, delegates, and sponsors is especially encouraging in the tough economic climate the industry continues to face.
"However, for any companies looking to cement existing customer relationships or look for new business development opportunities, ACF provides a captive audience of leaders from every part of the air cargo supply chain, so with executives from some 100 countries in the space of three days you can achieve a lot in one location.
"Our conference registrations are strong as well so we are anticipating a big attendance.
"This has been boosted by the quality of our speakers and panelists, who are top executives from business leaders such as Delta Air Lines, UPS, Atlas Air Worldwide Holdings, CEVA Logistics, Lufthansa Cargo, and Coca-Cola.
"We also have senior representatives from the Transportation Security Administration, Customs & Border Protection, and the International Civil Aviation Organization.
"In 2012, the Forum offers a further bonus for visitors and that is its co-location at the Georgia World Congress Center with the Council of Supply Chain Management Professionals' Annual Global Conference, the supply chain's premier event.
"We've made arrangements for their delegates to attend ACF 2012 and vice versa and together we expect to have some 8,000 customers and suppliers involved in the supply chain under one roof in Atlanta.
"We're particularly excited about this because CSCMP attracts a strong audience of shippers and forwarders to complement the TIACA audience.
"We have also encouraged other groups to join us in Atlanta and received strong support.
"For instance, the US CBP and TSA are holding an ACAS Industry-Government meeting during ACF 2012, and Cargo 2000 is having a board and members' meeting in Atlanta to coincide with the event.
"Keynote Speaker at the ACF in Atlanta will be Ray LaHood, (left) U.S. Secretary of Transportation.
"This is a great recognition of the air cargo industry's importance to the U.S. economy in terms of supporting trade and employment.
"I am sure all of our delegates will be very interested in what Secretary LaHood has to say.
"Our first session will emphasize the dynamics between the needs of the customer and the air cargo supply chain and is moderated by Ali Velshi, Chief Business Correspondent of CNN.
"As I said, this panel will include top executives from Delta Airlines, UPS, CEVA Logitics, Atlas Air Worldwide Holdings, and Coca-Cola.
"Session two will tackle 'Collaboration for Smart Security: Government and Industry Working Together' and will be debated by TSA, CBP, ICAO, and Lufthansa Cargo in a discussion moderated by Brandon Fried of the Airforwarders' Association.
"It's up to everyone to get the most from the great opportunity ACF 2012 provides.
"When I go to a trade show, I always look at the exhibitors in advance and set priorities for whom I want to see during the event.
"I also try to set up as many meetings in advance because people's schedules get so full at these events.
"TIACA delegates can use our free-of-charge Air Logistics Network to login and find out who's attending ACF 2012 and develop a schedule of meetings with other attendees before actually arriving in Atlanta.
"This is a smart, time management move and helps make sure you achieve your targets.
"Going to a big event like this is a fast and cost-efficient way to do business if you plan properly."
Softspoken, sometimes quiet, and always introspective, Daniel Fernandez moved to his post at TIACA after the untimely death of Garth Davies.

On The Road Again—TIACA Secretary General Daniel Fernandez (c) with TIACA Trustee members, Sanjiv Edwards, (left) Associate Vice President (Commercial) Delhi International Airport Limited, and Madhav Kulshreshtha (right).
Previously, Daniel had served in a key post at the big, influential Miami World Trade Center as VP Operations.
He recalls:
"You always learn something new with every position.
"Although I had a background in international trade and trade shows with the Hong Kong Trade Development Council, it was with the World Trade Center's Air Cargo Americas show that I became familiar with the air cargo industry specifically.
"When I joined TIACA we were a much smaller organization with a vision for becoming a strong voice for the industry.
"Today I believe we are well on our way with the progress we have made, especially in the last few years.
"I am the first to admit that there's always much more we need to do but we are gaining greater recognition at a regulatory level now and that is increasing our influence.
"The caliber of the people serving on our Board is an indication that TIACA has become a credible and effective means for air cargo leaders to make a difference that benefits the industry.
"But it must be said that TIACA is a collaborative effort, so it's not the sole work of any one person.
"I have been privileged though the years to have worked with so many of the very best and brightest individuals, and TIACA has prospered.
"I think we have consistently demonstrated our ability to bring the industry together and now we are bringing more regulatory bodies to the table to listen to the views, ideas, and concerns of the air cargo industry.
"TIACA membership has grown to nearly 600 companies in 2012—its highest level ever —and ACF 2012 will once again prove to be the premier air cargo industry event.
"Something else that stands out in terms of progress is the creation of the Global Air Cargo Advisory Group (GACAG) with our partners IATA, FIATA, and Global Shippers' Forum.
"This was formed at our last Air Cargo Forum in Amsterdam at the end of 2010 to deal with new challenges facing our industry, and the progress the GACAG is making is very encouraging.
"Often the work is out of the public eye in terms of building close working relationships with government departments and regulatory bodies.
"TIACA is proud, as the facilitator of GACAG, to be taking a vital role on behalf of that group.
"TIACA has a well defined and clear set of objectives; specifically, harmonization of air cargo security and customs standards.
"Both of these are so important to the far greater adoption of e-commerce—another priority, along with environmental regulations.
"In terms of future ACF locations, in 2014 we will be in Seoul, hosted by Incheon International Airport, and this will be a great venue for our delegates given Seoul's prominence as an air cargo hub.
"As for the longer-term, we are always open to approaches from potential hosts. It might be an ambitious and upcoming airport that wants to put itself on the world air cargo map, or one of the world's top cargo hub cities that wants to reinforce its standing in the industry.
"Historically, the ACF has rotated between the Americas, Asia, and Europe in that order.
"So, as example to some that might view or wonder when there might be a South American venue, it would have to be no earlier than 2018.
"Today TIACA has matured from an organization that was primarily providing great networking events for its members to a credible advocate for the industry.
"Security and environmental regulations aimed at the air cargo industry increasingly merit our attention and efforts in bringing about sensible policies that will not negatively impact the global air cargo industry.
"The face of our industry is changing rapidly.
"Emerging markets in the developing world are fueling growth for our industry.
"Technology has allowed many new companies to rapidly enter and compete. TIACA is actively reaching out to these companies mainly in the BRIC countries. For example we have engaged representation in China and India to better engage with new members and regulatory authorities.
"But we still put on the best trade show in the world!"
Daniel Fernandez says that his travel schedule is not fixed, but varies with "the needs of our worldwide membership and our own agenda.
"I attend other trade shows and industry events to meet our members in person and to increase awareness of the Association."
In terms of which city (ies) are favorites, Daniel says "London because of its rich history, although Rome would be a very close second."
If given the opportunity to speak personally to each attendee of ACF 2012, Daniel would have some great things to say.
"In Atlanta, TIACA and CSCMP expect to welcome some 8,000 senior executives from across the global air cargo supply chain.
"This is a unique opportunity to listen to what's going on in our industry, to network, to meet customers, and to find new business opportunities.
"Most of our delegates come for all three days, but even if you can only spare a day, it will be a very wise investment of your time and I am confident you will be back for longer at the next ACF.
"I would also like to take this opportunity to thank our excellent hosts, Hartsfield-Jackson Atlanta International Airport, and our host committee of H-JAIA, Delta Air Lines, UPS, and Metro Atlanta Chamber for putting on what I know will be a fantastic three days and an outstanding commercial for the airport and the City of Atlanta.
To that we add thanks to Daniel, a most consummate professional, someone who makes the work look easy.
Many people around the world are lifted by his great work and legacy of steady, decent service to air cargo.
Geoffrey/Sabiha