Creator of unforgettable comics during the 1970s, Robert Crumb (who once turned down a $100,000 offer from Toyota to license his art to brand its trucks) created this iconic masterpiece in 1968; it has been widely copied on T-Shirts and elsewhere, including tattoos.
Story of Robert and his work is on the video "Crumb".
In case you were keeping score, it has been just about one year since the first commercial truck from Apocada, Nuevo Leon, Mexico, travelled across The World Trade Bridge from Nuevo Laredo, Tamaulipas, Mexico into Laredo, Texas, on Friday, Oct. 21, 2011. The trip herald the first time a Mexican tractor-trailer freely crossed the border on its way into the USA interior under the North American Free Trade Agreement (NAFTA).
Today, free trade prevails almost everywhere in the hemisphere, with only Argentina and Brazil (forgetting Venezuela and Hugo Chavez) without a USA agreement. Argentina cannot forget the economic collapse it suffered after attaching its currency 1-to-1 with the U.S. dollar in the late 1990s, and Brazil loves its independence and, of course, being Brazil.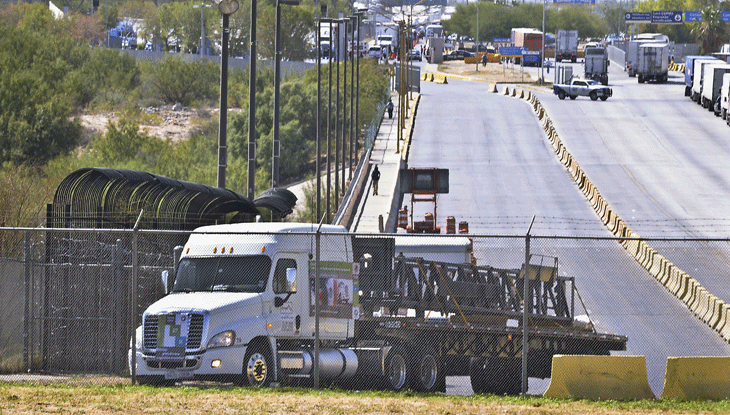 Just one year after that lone truck began a new era, word has come of a new threat with several recently recorded incidents of trucker's cargo being hijacked.
Truck hijackings in Mexico are really nothing new, but with NAFTA-driven traffic ramping up, the spike in incidents has shippers sitting up and taking notice.
According to a report in The Arizona Star:
"Hijackers know what they want, which trucks are carrying it, and how to sell stolen products on the black market.
"As a result, some companies that carry valuable merchandise—such as computers and electronics—have gone so far as to use armed guards to escort their loads through areas known to be particularly precarious," the Star reported.
That news revives memories of the early days, post-Cold War, when Russian roads between Helsinki, Moscow, and other overland truck routes to certain former Eastern Block destinations saw armed guarded convoys with GPS tracking every step of the way.
But in Mexico, cargo security also deals with major gangs that are brazen enough to come at commerce via road-blocked, armed hijackings.
Recently the Mexican newspaper Reforma reported a 72 percent uptick in theft against cargo carriers in the central state of Aguascalientes in the first half of 2012.
There is a lot at stake.
For example, automobile manufacturing in Mexico is experiencing double-digit growth (in fact it was up 13 percent in 2011 to 2.55 million vehicles), driven in no small part by easing access between countries.
Mexico is the world's eighth largest manufacturer of cars in 2012, surpassing Spain and on track to overtake France and Canada.

One solid voice for transportation and the growing importance of Mexico is Eric Hartmann, VP South America & Europe at Aeromexico.
"Mexico is very well situated between North, Central, and South America, a perfect hub for cargoes to and from the Mid West and West Coast.
"At Aeromexico Cargo Security is our first priority and we follow our local Mexican Authority Regulations as well as TSA and other regulating entities everywhere we fly.
"We are constantly investing in training, IT, equipment, and facilities to support our efforts.
"This year (2012) we opened a new domestic cargo facility at Mexico City International Airport and we are screening 100 percent of the cargoes transported.
"We are also renovating our International warehouses in order to better meet the demands of our customers.
"Foreign investment continues to pour into Mexico, investment that for sure will push continued growth between Mexico and the region.
"At Aeromexico Cargo we are constantly striving to offer world class service from a world class country that is positioned to better its image and help the economy of the region get back in the right direction.
"Air transport continues to be the safest, most secure form of transport between Mexico and the United States," Eric Hartmann declared.
"I recently returned from Mexico City, where the Border Trade Alliance (BTA) presented a conference titled 'Trade and Security,'" said Nelson Balido, (left) President of BTA.
"Security was the elephant in the room throughout the conference, and its effect on Mexico's ability to be viewed as a safe place for investment cannot be dismissed.
"As newly elected Mexican Congressman Carlos Angulo Parra of Ciudad Juárez made clear in his presentation, there are organized crime factions that are still very much battling for control of drug trafficking routes.
"They are not, however, systematically targeting the maquiladoras of foreign firms," Baldido said.
Nelson Balido points to former State of Mexico Governor Enrique Peña Nieto, (right) who will be sworn in as Mexico's new President next month on December 1.
"So far, the President-elect has made all the right moves, surrounding himself with a top notch transition team and sending a message to multinational —especially those in the U.S.—that Mexico is open for business.
"I've been able to get to know some members of Team Peña Nieto, and
I've been struck by their desire to increase Mexico competitiveness in the world economy, attract investment and grow jobs."
Whether the new administration in Mexico is able to stem the tide of lawlessness that has eluded others to this point is yet to be determined.
Meanwhile, NAFTA has driven ease of trade and borders are open, with air cargo ready, willing, and able to provide an attractive and safe alternative over some of the more troubled Mexican roadways.
Geoffrey/Flossie