Guillaume Halleux, Chief Cargo Officer at Qatar Airways Cargo has seen plenty during a distinguished career in air cargo at Air France and elsewhere but what he discovered when he joined Qatar Cargo was a surprise.
"Overall this is one airline that is extremely cargo minded, from the Group CEO, His Excellency Mr. Akbar Al Baker, to the station level.
"Cargo has a voice," Guillaume told me, "it is respected and listened to at Qatar Airways.
"This is a reflection of the fact that 50% of the airline's cargo volumes are moved on the bellies of the passenger aircraft. "There are a number of aircraft type decisions for the passenger planes that are being made because of the input from the cargo division."

Satisfaction Guaranteed

"Additionally, the staff dedication and obsession for customer satisfaction is common amongst all employees.
"This winning combination benefits not only our organization but also our customers."

Qatar 25 Freighters & Growing

"Continuing from a successful end to 2017, we started off 2018 positively. "This year, we had three Boeing 777 freighters join our fleet bringing our freighter fleet count to 25 as of today.
"At the Farnborough Air Show held this year, the order for an additional five Boeing 777 freighters was also a significant moment for cargo.
"We have grown tremendously over the past 15 years in quality and capacity, and are now the world's second largest cargo carrier according to IATA's international FTK.
"This is a high point for the cargo division and the airline.
"Cargo revenues also rose 34.4% in the 2017/18 fiscal year while airfreight volumes increased 17.8% to 1.36m tons," Guilluame said.

Products & Technologies Advance

Additional product enhancements are taking place such as the rollout of mail scanning that went live on October 1 across 49 stations in our network.
"The milestone rollout offers multiple benefits to customers such as real-time track and trace of mail consignments, 100% paperless operations, ease of billing and accounting for customers, performance monitoring with real data, electronic data interchange (EDI) visibility taken by the airline from origin to destination and many more.

Even More Inside The QR Offering

"Ownership, entrepreneur spirit and customer focus are key to success at Qatar Airways.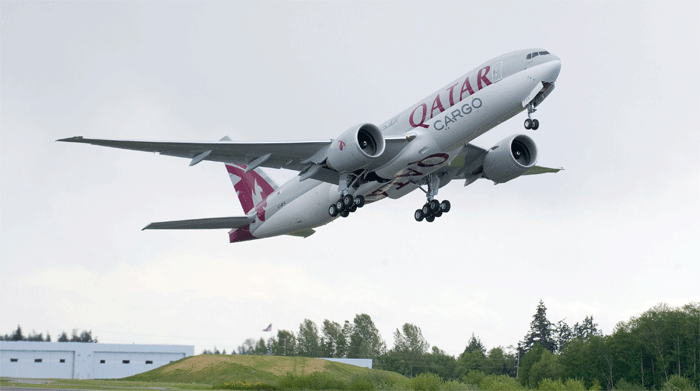 Seeks The Peak

"The rest of 2018 looks good and there are no signals that should give rise to concern.
"We have recently received two of the aforementioned Boeing 777 freighters and are ready to inject additional capacity to key trade lanes in time for the peak season. We are also investing heavily in technology and innovation to simplify business processes for the benefit of our customers.
"Our operational performance, network expansion, investments in innovation and fleet expansion are the key factors in our offering, but most importantly, we understand and deliver according to our customers' needs and this is what sets us apart and contributes to our success," Guillaume declared.
"The top agenda right now is for us to support our customers for the peak season which is almost upon us.
"We will be adding a number of extra flights on pretty much all continents to provide extra space at the time of the year the market needs it the most.
"The last quarter of 2018 is looking positive and we are certain to close it on an extremely successful note," Guillaume assures.

Phenom Qatar Airways

Once upon a time it was Emirates that was all the news in air cargo, expanding its world position from what was a once upon a time place, called Dubai.
Today Emirates has slid into middle age, stepping back from the spotlight with big announcements and million-dollar trade show displays at cargo events, while holding its cards close and continuing as a world power in air cargo.
Meantime Qatar Airways Cargo has come along during the past decade fast tracking itself to the top of the heap, seemingly unstoppable even as local politics in the Middle East have unsuccessfully attempted to shut the airline's ability to function.
While not specifically addressing the aforementioned, Guillaume explains some drivers in the growth at Qatar Air Cargo.

Understand This

"The most recent and common misunderstanding about QR is to believe that the illegal blockade imposed on Qatar by the neighboring countries is the drive behind QR Cargo growth. It is not.
About 85% of our volumes are in transit in Doha; imports into Qatar did increase after the blockade but this accounts for less than 3% of our growth."

It's The Employees

"The employee-centric culture at the organization is an important factor to our success.
"Our global team of professionals has a passion and obsession for service.
"We make every effort to meet our customers' requirements in terms of products, schedule, quality of service and customer experience.
"Over the years, our strategy has paid off and we see our brand becoming increasingly popular among freight forwarders and customers.
"We are also strategically located at the crossroads of Asia, Africa, Americas and Europe, so we are able to run our operations with a hub-and-spoke approach," Guilluame Halleux said.
"I am a big fan of the think tank and brainstorming sessions.
"Such intellectual combinations not only give rise to several new ideas but also help provide valuable and actionable solutions for organizations.
"As for telling you about one or two, I am afraid you'll have to wait until the copyrights are registered :-)"


Talking To Our Accounts

"When we work with an account, we are certainly looking for a long-term relationship in the business rather than a transactional relationship.
"Any business thrives on trust and customer advocacy.
"Customers are always at the heart of everything we do.

The Aerial Highway Ahead

"Growth will be driven mainly by pharmaceuticals, perishables, express and e-commerce shipments for the next five years.
"With our product portfolio and product enhancements to cater to these growing verticals, we are well positioned to offer air freight services for these products in addition to other types of cargo that we transport on our freighters and belly-hold flights."

Canada & The Americas Counts

"Our customers can expect not only an expanding network and a young and modern fleet but also enhancements in our products and innovation in customer experience.
"We consider the Americas as a very important market and we certainly see opportunity for growth in the market as our expansion in recent years indicates. "The Americas contribute approximately 10.8 per cent of Qatar Airways Cargo's overall network tonnage carried as per YTD Aug-18.
"Currently, we fly our freighters to twelve destinations and offer belly-hold cargo capacity to thirteen destinations in the continent offering businesses a seamless service via our state-of-the-art hub in Doha.
"We also offer capacity on intra-American destinations and direct flights from U.S. to Europe and vice versa.
"The demand from our growing customer base will see us continuing our expansion in the continent."

Macau Los Angeles Opens October

"As an illustration I can share the upcoming opening of a new MFM-LAX that begins in October and I can also state that there will more new stations in 2019 in the Americas," Monsieur Halleux assures.
Geoffrey