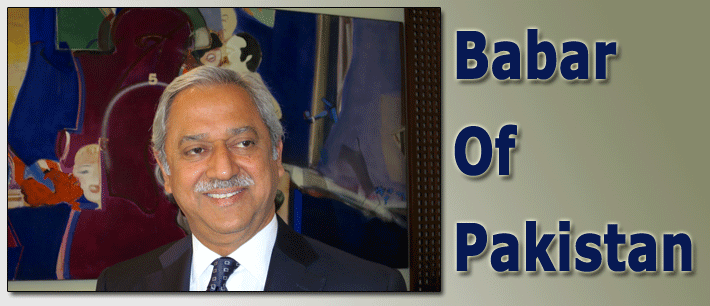 After talking with Babar Badat, Managing Director of Transfreight Corporation (Pvt) Ltd of Karachi, Pakistan, it's easy to understand why the International Federation of Freight Forwarders Associations (FIATA) reconfirmed this effusive and approachable executive to the post of senior vice president last year at its Annual World Congress 2015 in Chinese Taipei.
FIATA, with national representation from 160 countries and more than 40,000 international logistics companies as members, had many places to turn and several excellent choices to round out its board, but moved toward Mr. Badat. He has emerged as a leader and pioneering organizer of a robust and effective logistics industry that has become a bright spot on the Pakistani landscape.
Mr. Badat is a founder and served as first Chairman of the Pakistan International Freight Forwarders Association (PIFFA), which has grown from just a few companies in 2005 to more than 500 today.
The role of PIFFA includes support for Pakistan trade worldwide and the development and maintenance of a healthy international freight industry within Pakistan.
PIFFA also works to ensure that a level playing field exists for companies involved in attempting to establish and maintain the movement of freight both in the country and worldwide by all modes transport.
PIFFA promotes the freight/logistics service industry as a whole.
"The Association aims to achieve standardization in the industry and to promote a high degree of professional conduct among its members, including ethics and financial viability.
"PIFFA has also been instrumental in establishing and continuously updating the industry's S.T.C (Standard Trading Conditions).

Meetings All The Time

PIFFA is quite active, with several monthly meetings that include a vigorous, well-informed engaged membership.
"PIFFA sees Pakistan's historic and geographic position and well-educated population as building blocks to trade development and business expansion for the country," Mr. Badat said.
"PIFFA speaks to better and fairer trade relations and business practices at home, in Europe, and elsewhere.
"PIFFA also works as a focus organization with youth outreach programs for training forwarders, and is rated excellent by any standard.
"PIFFA is building a vibrant, active logistics community in Pakistan that has grown and prospered during the last decade. PIFFA has grown trade, moving cargoes into and out of the country, Afghanistan, and elsewhere in the region," Babar said.


Present At The Creation

Mr. Badat's company, Transfreight, was founded in December 1982, an outgrowth of a JV with a German company that began in 1979.
It is one of Pakistan's earliest international freight forwarding organizations.
Transfreight maintains its own shipping as well as custom licenses issued by the Government of Pakistan and operates services for a selected range of clients for their exports as well as imports.
Among other things, the company has been handling project cargoes for the country's textile trade.
It should be mentioned that Transfreight is responsible for shipping most of the major projects of textile, spinning, & weaving machinery imported from Europe to Pakistan since 1982.
"But we have the capability to handle any size project, with separate teams of dedicated professionals available who can handle shipments from the country of origin to delivery at final site," Mr. Badat said softly.


One Step at a Time

Babar Badat may have low friends in high places in Pakistan, but he uses his unique position to drive the destiny of his homeland into the modern logistics world. Despite the many well-publicized challenges, he remains convinced Pakistan's day is coming.
"You must always maintain your sense of purpose and mission to build on the great potential of the country. Now approaching 200 million people, we rank as the sixth largest nation on earth.
"It also does not hurt to maintain your sense of humor," Mr. Badat smiles.
"Yes, there are problems, both social and political, which stretch across the canvas, affecting our ability to move ahead, I think but the government is moving to right things.
"Our country contributes to charity; in fact, outside of America, we're one of the biggest contributors in the world.
"Transfreight is primarily a freight forwarding company with offices throughout Pakistan.
"From our beginnings we have kept pace and even slightly ahead of market.
"Over the years we have set up independent companies (including trucking) that served as conduits to move cargo—first for Russia and later for NATO into Afghanistan and elsewhere.
"Of course, as a matter of how we do business, Transfreight considers itself quite flexible and ready to use our market position and expertise to create custom programs to meet any specific demand."

Looking Ahead

In terms of the future, Mr. Badat outlined a view that is now further developed from where it was at last year's FIATA World Congress in Taipei. While some countries might not take a second look at Pakistan, Mainland China has developed opportunities for Pakistan with a $46 billion deal for road, rail, and pipelines along what is euphemistically branded 'The China Pakistan Economic Corridor.'
"Karachi was connected to the markets of Western China, but there needs to be far more regional assimilation," Babar said at Taipei.
"For most countries in the European Union and ASEAN, regional trade consists of 45-55 percent of GDP, but because of the lack of connectivity in our region, Pakistan is at 4 or 5 percent of GDP," he said.
"The potential to connect in the region is huge and that is what our government is doing and the logistics industry is trying to play its role," Mr. Badat said.
The China-Pakistan Economic Corridor features a western route for transit traffic from the port of Gwadar to Karachi. Inland, the central route north from Karachi intersects with the route that runs up from the middle of the country.
As it develops, the corridor will become "a game changer for the region," Babar Badat said.
Geoffrey