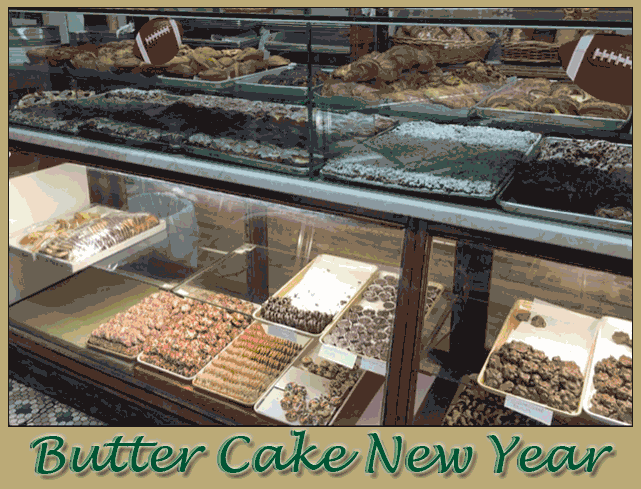 When I was a little boy, my Mom said I had to go church to realize that something bigger than ordinary human beings made this earth.
She left the choice of religion up to me, saying:
"Just get into a congregation and see if you like the fellowship, and from there you can choose whether or not you want to practice 'Sunday go to meetings' for the rest of your life."
So I started to study the catechism with the Episcopalians.
Built in 1939, the small, Tudor-style brick church fit nicely in our neighborhood. We lived in Glendale, Queens, and I could easily walk to the church in nearby Forest Hills.
Forest Hills was fancy and Glendale was working class, but that is not what drew me.
In fact, I used to laugh every time Seymour Mindel, the man that helped raise me, said:
"Ah yes, Forest Hills—the rents over there give me the chills."
Seymour, or Sy, as we called him, was President of Chock Full O' Nuts Coffee, so he was always pretty quick on the uptake with slogans and jingles.
I don't know if it was Sy that came up with "The Heavenly Coffee" slogan for Chock, but he surely had a hand in everything back in the late 1950s and onward into the 1980s when he stewarded the company.
At one time, the baseball star Jackie Robinson worked for Sy as Manager of Personnel for the Chock Full O' Nuts restaurant chain, but that's another story.
The Butter Cake Connection
Looking back over the decades, the thing that initially drew me to the Episcopalians was far more mortal in design. Glorious old German bakeries dotted the path of my weekly walk along Metropolitan Avenue to and from church every Sunday.
A Great Pastor
The bakeries, and even more so the kind pastor that taught me the bible for one hour a week in a small room above the church, brought me to religion. Even today, 60-plus years later, those days in St. Luke's small room above the narthex, talking things over in great detail with Rev. Thomas Blomquist, still burn bright in my memory.
It turns out that before his pastoral calling, Reverend Tom had served as a batboy for the Brooklyn Dodgers at Ebbetts Field.
After some years, I was both baptized and confirmed by Rev. Blomquist. I was a teenager at the time, and actually taller than he was.
As he said the holy words and dipped into the equally holy water, which filled a giant seashell rescued from the Pacific War in 1945 (where he had served as a chaplain), Rev. Tom smiled, turned to my mom and brother, Greg, and said:
"Geoffrey was never that knowledgeable with the specifics of his bible studies, but he does understand the big picture and he sure knows a lot about baseball."
Praise To The Butter Cake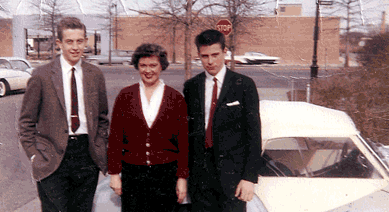 Blame the butter cake for my poor theological education. The Sunday morning butter cake cost .75 cents and held special appeal for me back in the 1950s and even still yet today.
It is the most delectable breakfast cake yet devised by man and there were not one but two places that made the irresistible butterkugel on my route each week.
I would work all week long after school washing windows, pumping gas, and wiping down cars at the car wash to earn the money to bring home that butter cake for my mom, Jane, brother, Gregory (pictured here with me) and grandmother, Flossie.
End Of An Era
Today, alas, everybody is gone, and so are the old German bakeries.
Rev. Tom retired and as an exalted deacon of the church remained true to his other passion, living out his post-ministerial life in Cooperstown, New York, home of The Baseball Hall of Fame.
For years I would think about those days and what it was like to grow up in the 1950s.
But always, through all the changes and years, I would recall and search in vain for that wonderful butter cake.
The Discovery
And then at around age 60, I discovered the motherload—an authentic butter cake in a place called The Oxford Bake Shop on Liberty Avenue in Queens, New York, about three blocks away from the old Crossbay Movie Theater on Woodhaven Blvd.
As you walk through the wooden screen door of the Oxford Bake Shop you're transported back in time. The confection is so special, the melt-in-your-mouth butter cake needs to be preordered.
The cost for the cake is no longer less than a buck, but for this one-of-a-kind taste treat, price is not important.
If you make it over to Oxford, check out the rest of their offerings. They have delicious butter croissants, delectable pretzel rolls, and all manner of baked goods, including several flavors of dense German breakfast cakes, including the best German crumb cake on the planet.
Oxford is the last of its kind. It's full of friendly neighborhood women who take very good care of all.
It should also be said that this treasure does not cost a fortune. Amazingly, the value is remarkable reasonable for something nobody else does nearly as well.
Less than 15 minutes away from John F. Kennedy International Airport, the place is a treasure and worth a trip.
Oxford Bake Shop, 104-01 Liberty Avenue, Ozone Park, New York 11417. 718 843-4039
Geoffrey