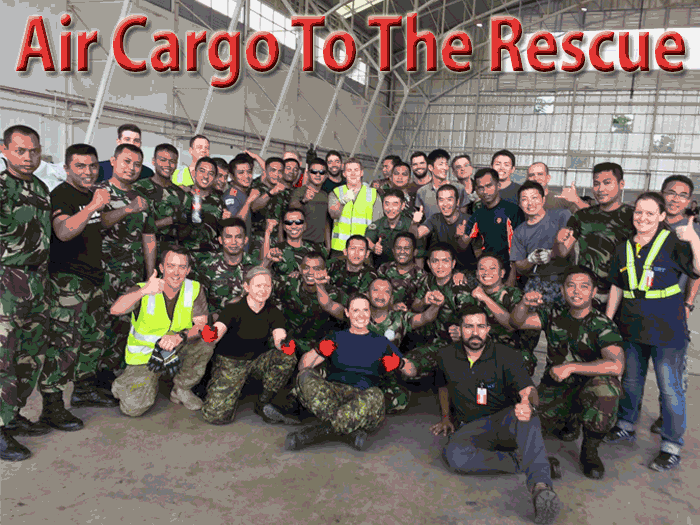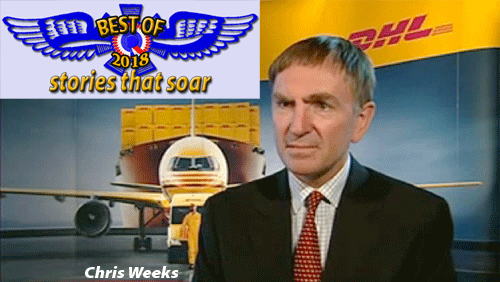 The world looked on in horror in late September when the central region around Palu on the Indonesian island of Sulawesi was devastated by an earthquake and tsunami. And then the world quickly turned away again, exhausted by natural disasters and titillated by reality TV and politics, often at the same time.
As a result, it is not widely appreciated just how effective the air freight relief effort was in helping the people of Sulawesi. FlyingTypers tracked down Chris Weeks, Director of Humanitarian Affairs for Deutsche Post DHL, one of the leading figures in the humanitarian effort. We asked him what went so right at Palu and what lessons can be applied to future disaster relief planning.


Air Cargo Did Not Forget

A 7.5 magnitude earthquake struck the Indonesian island of Sulawesi on Friday, September 28 at about 6pm. This was followed by a tsunami with waves up to 6m high triggering a series of horrific mudslides around Palu. Over 2,000 people are known to have died in Sulawesi as a result of the natural disaster and over 200,000 were displaced.
The world's attention briefly focused on the awful images of villages being submerged by mud and water in the immediate aftermath of the tragedy. And then Palu largely disappeared from global media.
Fortunately, in the days that followed the traumatic events of 28 September not everybody turned their back. A huge humanitarian operation was quickly up and running with air cargo handling and relief flights at its core. As FlyingTypers has previously reported, most notably from Nepal after the earthquakes of 2015, such operations rarely go smoothly. Palu, it transpires, proved a rare example of how air cargo can deliver when and where it is most needed.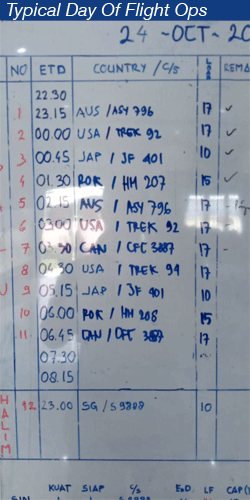 Air Cargo Delivered

At the center of the relief effort was Deutsche Post DHL Group's Disaster Response Team, which deployed October 4-26 at the request of the Indonesian National Board for Disaster Management (BNPB) and the ASEAN Coordinating Centre for Humanitarian Assistance on Disaster Management (AHA Centre).
Leading the response, as he so often does, was Chris Weeks, Director of Humanitarian Affairs for Deutsche Post DHL, a veteran of DHL deployments including the Asian tsunami, Hurricane Katrina in the United States, Cyclone Nargis in Myanmar, the 2011 floods in Pakistan, and earthquakes in Kashmir, Peru, Haiti, Chile, Nepal and the Philippines.
He told Flying Typers that Palu proved a very different experience compared to most relief operations. "Usually, massive natural disasters are followed by chaotic logistics as Search and Rescue, medical and general relief teams try to get into the theatre to help those stricken by the earthquake, hurricane or cyclone," he said. "Meanwhile residents desperately try to get out with whatever they can carry.
"This time it was different. The Government of Indonesia was determined not to have a repeat of the response to the 2004 Banda Aceh tsunami where UN and Red Cross Aid agencies, NGOs, foreign militaries and media crews rushed in and caused a massive logjam of people and donated goods. The situation was challenging for the national agencies."


Indonesia Proritized

As a founding member of ASEAN, in 2011 Indonesia helped set up the AHA Centre (ASEAN Humanitarian Assistance) with its HQ in Jakarta. This organization is responsible for humanitarian response within the 10-member nations and has advocated more self-sufficiency rather than reliance on the UN agencies and others for help. For example, this year, after the dam flood in Laos and the Lombok quake in Indonesia, all foreign help was shunned.
Weeks said that after the Sulawesi earthquake the same principle was adopted, meaning very few Search and Rescue crews made it to the scene as the Government declared 'no foreigners' and insisted it could cope through its AHA system.
"For the relief phase, to a large extent the policy worked from a logistics and transportation perspective," he said. "As the airport in Palu is small anyway and the control tower, terminal building and runway had been damaged, Balikpapan in Kalimantan was designated as the relief airport.
"The Government specified exactly what was needed and allowed - transport assets and shelter items, no medical teams or supplies. Again, no unsolicited goods was the message clearly put out to the humanitarian world which had an effect on the relief effort."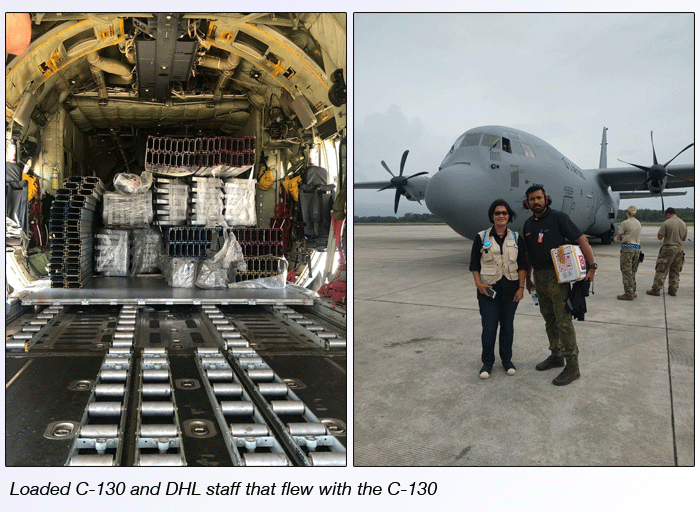 The plan drawn up instead saw donated goods sent to Balikpapan airport by commercial or military carrier to be off-loaded, customs cleared and checked for suitability. Hangar C was cleared and designated as the main Hub for international relief goods, and the base for the foreign C-130s and crews - christened 'the Air Angels' - donated by USA, Canada, Japan, Korea, Australia, Singapore, India and NZ.
"Both AHA and BNPB were present in the Hangar and made themselves responsible for coordination between the host nations, donors and customs," said Weeks.

Seamless Clearance

"As all crews were using the same aircraft type and sharing military 463L pallets this meant that incoming cleared goods could be quickly transferred from PMCs - cookie sheets - to 463Ls by DHL and the ground handling agents, JAS and Angkasa Pura.
"After checking priorities with BNPB, DHL then posted, on a flipchart, the pallets available for the seven crews to choose at a regular 4pm meeting. Having chosen their cargoes, the crew leaders went to BaseOps, an Indonesian Air Force base, to get a briefing and choose their slot times for the following day. This process, together with a Messenger App group for immediate dissemination of information, worked really well for 23 days of operations.
"USAF had several large forklifts and took loaded 463s from the Hangar to the aircraft for loading under the supervision of loadmasters. In Palu, under a blistering sun and/or torrential rain, the pallets were received by more U.S. forklifts and ground handlers from the USAF Crisis Response Group out of Guam."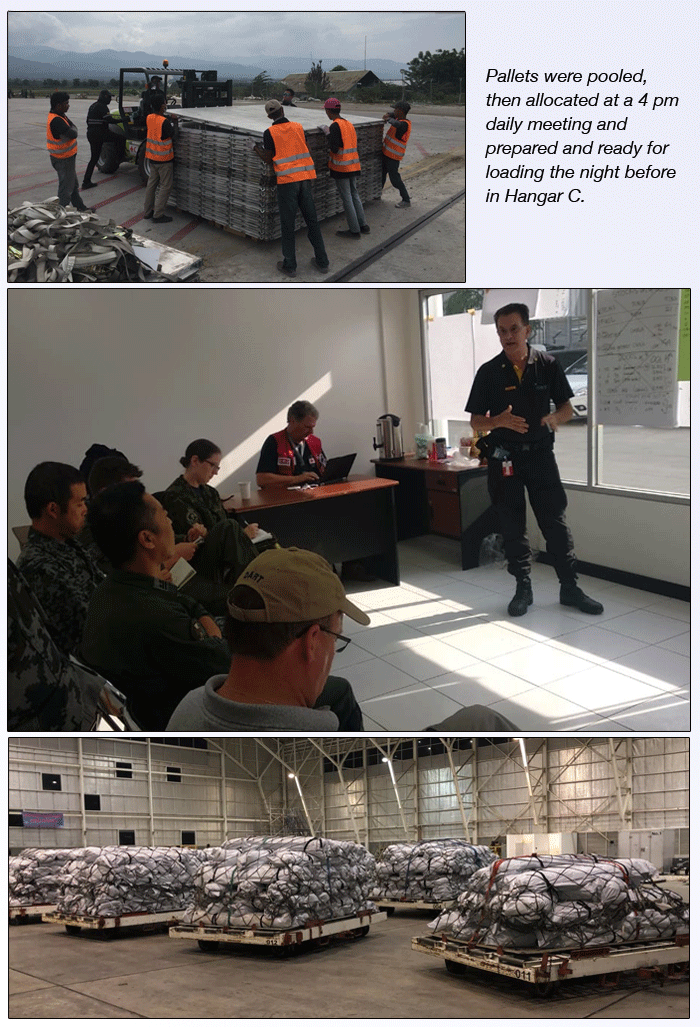 Stellar Disaster Response

DHL was one of a few private companies to get involved with 26 staff from six countries volunteering to fly to Indonesia to help in the relief effort. The DHL Disaster Response Team (DRT) established a "control tower" in BPN (Balikpapan airport on the neighboring, but still distant, island of Kalimantan) and also served as a ground handling agent with U.S. CRG in PLW (Palu).
In the latter role DRT used two rough terrain forklifts brought in by the UK government and donated to IFRC. IFRC then lent them to DHL at PLW for the whole duration of the relief operation. Their main role was taking relief goods off the 463L pallets and organizing onward movement to the United Nation's World Food Programme (WFP) storage units, or to BNPB locations for future distribution.
"The flow of relief goods in the first 10 days was mostly G2G - Government to Government - donations from China, Japan, U.S. amongst others," said Weeks. "It was nearly all 'clean' freight, easy to handle, well packed, homogenous units with a common owner.
"Then there was a lull, as the G2G freight reduced and before the UN agencies - notably UNICEF, UNHCR and WFP - Red Cross and BINGOs, Big International NGOs, got their act together and worked out how to get their donations accepted by BNPB.
"During this quiet period, the C-130 crews flew sorties BPN—HLP (Halim Air Base, Jakarta)-PLW-BPN to pick up 200 tons of locally donated goods. Then, on a final push by the humanitarians, large shipments of tents, tarpaulins and other shelter items started to arrive in BPN mostly via KUL by commercial carriers right up to the deadline set by BNPB at midnight on October 24th. This gave the coalition two further days to clear the Hangar of goods needed in Palu, before everyone headed home."
Eight nations participated in the coalition: the U.S,. Canada, Japan, Singapore, Korea, Australia, India and New Zealand. DHL's Disaster Response Team helped to process nearly 3,500 tons of cargo to ensure quick aid to Sulawesi survivors between 4th and 26th October.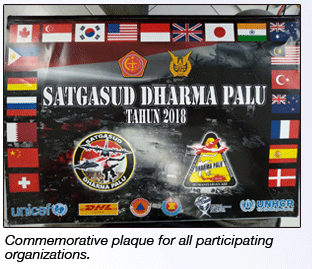 Lessons Learned

Weeks told FlyingTypers the key lessons learned during the Sulawesi relief effort were the following:
"The 10 South East Asian countries in ASEAN will continue to adopt a more independent stance in future, relying on friendly regional military forces to help with transport and direct aid, with only a few key NGOs contributing. Indonesia was determined not to have a repeat of the 2003 tsunami situation where 450 NGOs were competing to help victims. This episode has stuck with them, and they proved their model can work. So, having good relations and contacts with AHA will be key for operating in the region in the future, and DHL will be signing a MoU with them in the New Year.
"'Tat' is out. There is no longer any place for second hand clothes and small inappropriate donations. About time!
"Wait your turn. Stronger national control means there is a more structured approach as to what commodities come and when, rather than a free for all. This is a campaign that DHL is supporting through a UN ICAO/OCHA [the International Civil Aviation Organisation and the United Nations Office for the Coordination of Humanitarian Affairs] initiative to create a voluntary prioritisation system for relief aircraft."
SkyKing