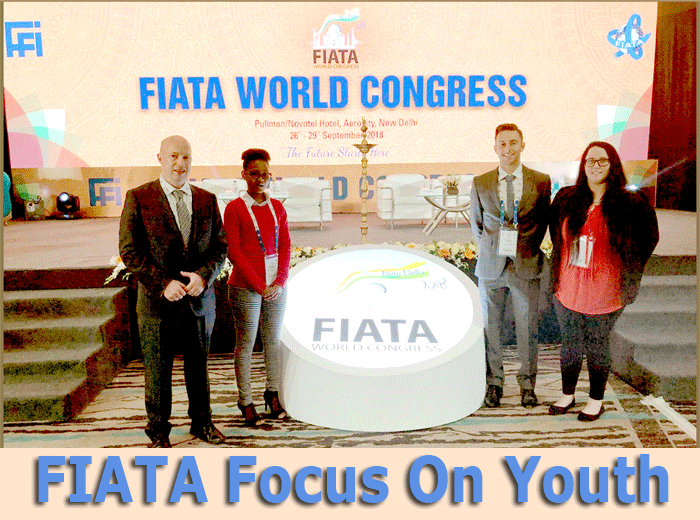 Starting from the hard figures, unofficial sources report that around 1,100 participants were in evidence at that big New Delhi FIATA World Congress that closed its doors Sunday September 29.
These numbers speak of success; if we look at the program we see a good mix of old and new and the topics discussed were surely such as to attract the interest of the professionals of the sector.
We have read and heard in these pages that the hitch with the visas had affected even the President of FIATA, but despite the fact that Babar Badat of Pakistan had to direct FIATA from Karachi, all went well under his firm guidance.


Virtual Reality

Thinking about conferences and the dust up with FIATA President Badat, fair to say at the end of the day, in 2018 we live in a world where virtual is almost as good as real.
The FIATA World Congress 2018 motto was "the future starts here", so a little extra tech should not be considered too negatively in this case.


Meetings Bonanza

The official program featured more than 21 official meetings, which were surrounded, preceded and followed by a number of ad-hoc networking meetings and specialized gatherings that only concern those members who are part of a particular body or a certain initiative, e.g. the validation meetings only concern the associations that are presenting their training programs, either for the first time or to obtain revalidation, where FIATA requires them to ensure that their training program is up to date.


IATA-FIATA Program

A number of meetings took place before the official event got underway and continued until the early days of October.
For example, the AFI crew were busy after the Congress to further discuss the requirements of the IATA-FIATA Air Cargo Program.
At the time of writing this report, we have no information on this meeting, which is so crucial for the airfreight sector, but we did hear through the grapevine that not all of the complexities have been ironed out.




Young International Freight Forwarders Award

From certain points of view, September 25th was however the day that mattered most to both FIATA World Congress attendees in New Delhi and also the four finalists of the Young International Freight Forwarder of the Year Award (YIFFA).
Each candidate is required to submit a 6,000 word dissertation outlining an import and export shipment from their native country. The four regional finalists are then invited to attend the World Congress to present their dissertations in person to a panel of judges that FIATA puts together every year in cooperation with the TTClub (https://www.ttclub.com/).

Everyone Is A Winner

On this occasion the overall winner, Louis Perrin of Hemisphere Freight representing BIFA (UK) was joined by the three other regional finalists Tjaka Segooa representing SAAFF(South Africa), Kendyl Baptiste representing CIFFA(Canada) and Sarah Skrypec representing CBFCA (Australia) .
As an organization committed to encouraging the highest standards of best practice in the freight industry, specialist insurance provider TT Club has been supporting the award through its sponsorship for all of its twenty-year history.
The award winner gets to attend two one-week training sessions with the TT Club at one of their regional headquarters in London, New Jersey or Hong Kong.


Top Notch Dreamers & Doers

Consensus of thought amongst folks at the show was that the presentations were excellent, but in particular this year's YIFFA overall winner Louis Perrin gave the impression to care about his freight forwarding mission with such passion that he overruled the undeniably excellent competitors.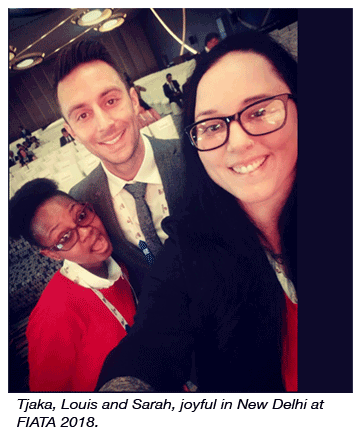 About The Finalists

Kendyl Baptiste from Canada represented CIFFA. She could not travel to Delhi, as she is actually busy becoming a mother.
We asked her whether we could mention her pregnancy and this is her reply:
"My hobbies and interests: I like to keep active by working out and playing fast pitch softball.
"I've been an athlete my whole life playing competitive softball and hockey.
"I played varsity hockey as a goalie for 2 years when I attended the University of Toronto.
"I enjoy spending time with my family and dog Lola.
"In the summer time we go camping on the weekends to escape the city and enjoy the outdoors."
In other words, the child will have to run if he or she has to keep pace with this athletic mother.
Region Africa and Middle East was represented by Tjaka Segooa.
She made quite a surprising analogy between logistics and the Rubiks Cube, i.e. if all elements are not in place the six sides of the cube will not appear in the correct manner, just as the goods would not show up at destination as they should.
Sarah Kate Skrypec, who has now been a mother for a little more than four months, not only managed to give birth to a wonderful, promisingly curious baby girl, but also to surprise all judges by the level of her dissertation.


Louis Perrin Overall Winner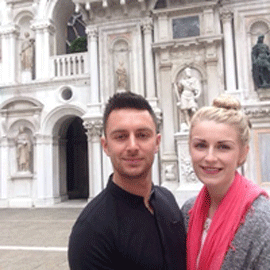 Louis, we are told, is a big cricket fan and sports fan in general. He recently proposed to his girlfriend (pictured with him) in the summer on a holiday in Italy. Plans are made for them to get married in Sorrento in 2020.
One can only just wonder how many other awards and trophies this young gentleman will have assembled by then . . .
And we may not forget that Louis works for a family company, where his father, Andy (pictured here) was the owner and Louis took over from his Dad.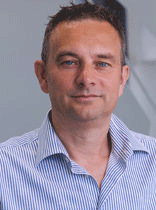 This is really a good example in a sector where very many companies are and remain family businesses.
Louis Perrin has clear ideas about the future: in the next five years he wants to take his company to the next level by investing in innovative technology.
Difficult to say whether Louis managed to emerge the winner in the end by showing a degree of passion for his work that inflamed the hearts of the jury.
All four contenders where on the highest level of knowledge and performance:
I think the judges must have had a headache deciding.

Next Generation Comes Alive

My view is that It is really a great comfort for those who have worked in this business and are getting older that they are being followed by such talented individuals, keeping the flame high and alive.
Huxiang Zhao, FIATA's Immediate Past President (replacing President Babar Badat, who as reported was unexpectedly prevented from participating in New Delhi, when India refused to grant the FIATA President & Pakistan national a Visa), presented the final trophy for the global winner at the gala dinner.

Training For Tomorrow

FIATA says "the future sustainability of professional standards of skill and knowledge in the global freight forwarding community depend on training and motivation of the young recruits to the industry.
For twenty years FIATA has maintained its efforts to nurture such talent through its annual Young International Freight Forwarder of the Year campaign."


Moving Forward

In a unique and inclusive move, FIATA Director General, Hans Guenther Kersten announced that FIATA is planning to establish a network of former finalists of the YIFFA Award to keep contact and create a "talent pool" aimed at generating and sharing new ideas and innovation to FIATA and its members.
Hans Guenther observed that "bringing these young folks together can benefit transportation now and in the future."
Next FIATA World Congress set October 1st-5th, 2019 in Cape Town.
Marco Sorgetti