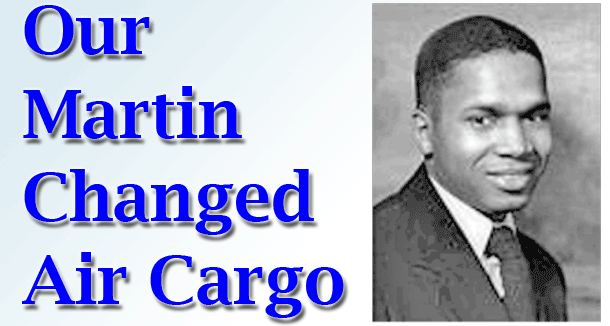 If you want to learn about August Martin, the great air cargo pilot who flew for Seaboard World Airlines during the 1950's, and was also the first black man to captain a U.S. flag air cargo plane, you better plan on either using your old Funk & Wagnall's Encyclopedia, or visiting the wonderful high school located near JFK International Airport in Queens, New York named in honor of the air pioneer.
The name August Martin as an internet search, most often comes up as 'August' 28, 1963, when 'Martin' Luther King delivered his never to be forgotten "I Have A Dream," speech at the Lincoln Memorial in Washington, D.C.
We have initiated a campaign with Google and some others to change all that.
This August Martin, a gentle man would go down in history as the first African American to serve as Captain on a U.S. scheduled airline.
Put another way, before "Augie" as his friends called him, there had never been a black airline captain on the bridge of any U.S. flag airline.
Although he flew for other carriers, including El Al Israel Airlines and a company called Buffalo Skylines between 1946 and 1955, it was Seaboard World Airlines, an air cargo company, which hired Augie and broke through a glass ceiling in American culture.
Air cargo put a great aviation pioneer, who happened to be black, in the left seat.
August Martin, who was born in 1916 had aviation blood in his veins.
He worked all his life to be a pilot, training as a youngster to fly small prop jobs and later during World War II as a front line Mitchell B26 bomber pilot.
He also took training at the Tuskegee, Alabama base, which spawned the legendary black pilots who gained fame as The Tuskegee Air Men.
While awaiting his big break with a scheduled U.S. flag carrier, Augie worked as a stevedore on the New York docks to make ends meet.
But when SWA came a knocking, August Martin was ready.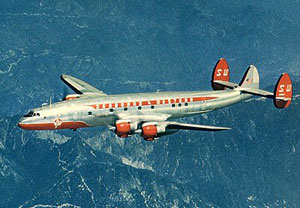 For the next thirteen years Martin piloted the legendary all-cargo aircraft of SWA, including the Lockheed Constellation, Canadair CL44 swing-tail freighter, Douglas DC-4 and DC-6 among others.
August Martin was not just about breaking through for himself. Augie also gave back big time.
Often, he would donate his off time and vacations, flying supplies to the impoverished in Africa, and other points of emergency and need around the world.
On July 1, 1968 August Martin was killed aboard just such a flight when his cargo-laden aircraft crashed in a blinding rainstorm as he attempted to land in Biafra, Africa.
Today, in modern air cargo circles not much is known or said about August Martin.
Air cargo groups and organizations, and increasingly publications yearly name people to this and that "Hall of Fame," blithely unaware that one of the truly, great firsts in the history of air cargo was a black man with the rank and responsibility of Captain of a great international airline.

A Shot in the Arm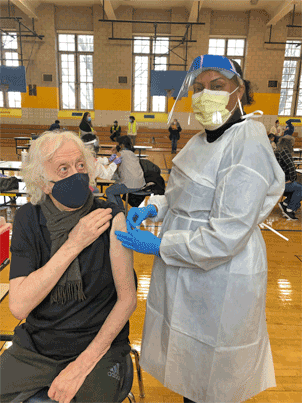 I mentioned at the top a high school in Queens, New York near John F. Kennedy International Airport that opened in 1976 named August Martin.
Well, that is exactly where I found myself in a long queue this past Sunday January 17th one day before the U.S. celebrated Martin Luther King Day on Monday January 18.
Like most other things in life, an old man getting the COVID-19 injection incurs a grand bit of paperwork and waiting in line.
While Sabiha handled the details, including filling out some forms (digitally more than once) I decided to ask people in the queue—health care workers, New York City policemen, ordinary people, a pilot, maybe a dozen in all, if they knew who August Martin was.
Not one person had ever heard of him.
Of course, since all were situate at August Martin High School that day and most, especially the wonderful health care workers, who will be there for the better part of the next few months innoculating people, there was at least name recognition and even interest, by most folks we spoke to as well.

August lost to aviation history

August Martin has gotten lost in history and air cargo needs to set this right.
The fact that the first black person to hold a position in the left seat at a scheduled commercial air carrier in the U.S., piloting all cargo aircraft speaks volumes of the opportunities our industry offers to generations; and a time during the COVID-19 pandemic when air cargo is front page news.
Wake up air cargo!
August Martin, God Bless him, makes us all look good!
We just have to get the word out; create a scholarship; have a grand gathering when that is possible again.
We ask CNS, Air Cargo Americas, Airforwarders Association, JFK Air Cargo Assn., IATA World Cargo Symposium, FIATA Word Congress, Air Cargo Africa, to individually or collectively get it together to honor August Martin.
History demands the truth and FlyingTypers is here to help.
Hope to hear from you, dear readers.
Geoffrey