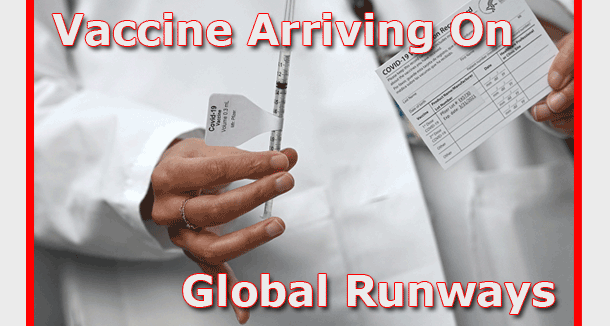 Having spent most of my life in logistics, when we started talking about COVID-19 vaccines in the springtime last year, I was anticipating the greatest logistics challenge of our times: delivering COVID19 vaccines as soon as available to thousands if not millions of Point of use (POU's) [see below] all over the world. Famously we recall challenges such as the Berlin airlift which kept west Berlin alive in times of cold war, perhaps less famously but even more challenging we record the yearly feat of delivering the Beaujolais Nouveau wine to the five continents, ready for its grand opening every autumn. 2020, a year loathed by most, nonetheless witnessed the kick-start of the largest logistics operation of all times. We have had ways of understanding that 2020 is one of a kind. This is especially true in logistics, and will be on our records for many years to come.
We have all become familiar with the logo of the John Hopkins University in these long pandemic months; sometimes we use their precious resources superficially, looking at their figures with insufficient knowledge on our side, but JHU.edu is also a resource allowing for more elaborate consideration, for example they have amply discussed the efficient and equitable logistics of vaccine distribution in this article, in so doing, they are echoing other concerns voiced inter alia by the WHO or UNICEF.

The Shot in the Arm for Countless Billions

Just to give you an idea of the magnitude of the challenge, I am resorting to figures published by Nature on Nov 30th: "the makers of the three vaccines that seem closest to widespread distribution — AstraZeneca, Pfizer and Moderna — estimate a total production capacity of 5.3 billion doses for 2021, which could cover between 2.6 billion and 3.1 billion people, depending on whether AstraZeneca's vaccine is administered in two doses or one and a half. And a vaccine created at the Gamaleya National Center of Epidemiology and Microbiology in Moscow could cover another 500 million people per year outside Russia from 2021, says the Moscow-based Russia Direct Investment Fund.

A Glimpse of a Logistics Challenge for all Time

Anyone dealing with logistics quickly understands that delivering anything as big as 5 billion doses worldwide in a year, on top of whatever else moves already on planes, ships, trucks and trains, doest not happen by magic, but will require an exceptional deployment of resources and expertise.
Tapping on the information provided by Deutsche Post DHL, the infographics published on line by the multinational show us the dimensions of the challenge: if you combine the item movements shown below with the number of vaccine doses that need to be delivered the result is mind-boggling.

But the challenges do not come from numbers alone. This is what Pfizer announced [abridged PR] on Nov 20th about the behemoth operation on its way:
• During the initial stage, our contracts are with governments, and we will be providing doses according to their preferred channel and designated vaccination locations, subject to regulatory authorization or approval.
• We have developed detailed logistical plans and tools to support effective vaccine transport, storage and continuous temperature monitoring. Our distribution is built on a flexible, just-in-time system, which will ship the frozen vials direct to the point of vaccination.
• In the U.S., our distribution approach will be to largely ship from our Kalamazoo, Michigan, site direct to the point of use (POU). We also will use our existing distribution center in Pleasant Prairie, Wisconsin.
• We will be utilizing road and air modes of transportation in the United States, where we expect to be able to get product to any POU within a day or two.
• We also have developed packaging and storage innovations to be fit for purpose for the range of locations where we believe vaccinations will take place. We have specially designed, temperature-controlled thermal shippers utilizing dry ice to maintain recommended storage temperature conditions of -70°C±10°C for up to 10 days unopened. The intent is to utilize Pfizer-strategic transportation partners to ship by air to major hubs within a country/region and by ground transport to dosing locations.
• We will utilize GPS-enabled thermal sensors with a control tower that will track the location and temperature of each vaccine shipment across their pre-set routes, 24 hours a day, seven days a week. These GPS-enabled devices will allow Pfizer to proactively prevent unwanted deviations and act before they happen.
• Once a POU receives a thermal shipper with our vaccine, they have three options for storage:
* - Ultra-low-temperature freezers, which are commercially available and can extend shelf life for up to six months.
* -The Pfizer thermal shippers, in which doses will arrive, that can be used as temporary storage units by refilling with dry ice every five days for up to 30 days of storage.
* -Refrigeration units that are commonly available in hospitals. The vaccine can be stored for five days at refrigerated 2-8°C conditions.
• After storage for up to 30 days in the Pfizer thermal shipper, vaccination centers can transfer the vials to 2-8°C storage conditions for an additional five days, for a total of up to 35 days. Once thawed and stored under 2-8°C conditions, the vials cannot be re-frozen or stored under frozen conditions.

Pfizer Speaks and Brussels Sprouts

The news came at 11.30 EST on Dec 13th 2020 that Pfizer had started shipping vaccine doses from Michigan. This is public knowledge now as is, albeit less widely advertised, that the European Pfizer vaccine will come from a village between Brussels and Antwerp, Puur.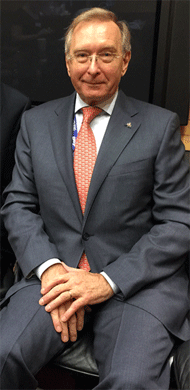 Jean Claude Served DHL In Brussels

After reading Pfizer's challenging conditions, I thought I would resort to the knowledge and experience of my old friend Jean-Claude Delen, who served as director in DHL in Brussels, as well as being President of CLECAT between 2005 and 2009 and subsequently of FIATA, more or less at the time when I worked as DG in both associations successively.
Jean-Claude is the rare pearl that both federations have tried to keep at their helm as long as allowed by their individual statutes.
He is currently presiding the FIATA Foundation, after serving also as Treasurer of FIATA for a number of years. In his various institutional positions in Brussels Jean-Claude strongly contributed to the development of a state of the art facility at Brussels Airport, which boosts a cool storage capacity second to none. Similar arrangements were made in Liege, albeit at a smaller echelon. Having made such wise investments in the past proves to be crucial today and explains why Belgium is often chosen as the production and distribution centre for the whole of Europe by many pharmaceutical enterprises.
United Leads The Way

On Nov 27th United Airlines announced the first "mass shipment" of Pfizer's vaccines from Brussels to O'Hare in Chicago.
So hats off to Jean-Claude who was able to don the cloak of the master of the understatement, when he said "I am aware that we have the infrastructure in place to work on the vaccine delivery programme, at least for the part that is produced in Belgium."
Jean-Claude also caught a flying ember today, when he pointed to out to me that "GSK have vouched millions in investments in Belgium, which appears to be a U-turn from their February 2020 statement announcing nearly 1,000 job cuts."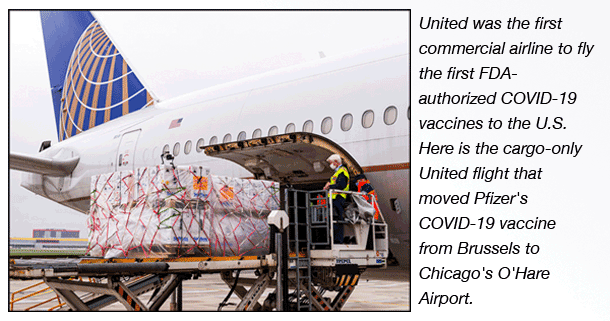 How Vaccine Delivers In Europe

It is understandable that the proximity between the logistics infrastructure and the production sites has already allowed Pfizer to start delivering its vaccine within Europe, but we should not forget that the efficient delivery of so many consignments of vaccine requires resources and these need to be trained. I heard from some of my acquaintances in Brussels that training has been on the tables for quite some time now.
There is anyway considerable confidentiality regarding the arrangements surrounding the vaccination programme in many countries, including mine.

La Dolce Vita

In Italy the special Commissioner Arcuri appears to have decided that vaccine doses will be delivered by the Italian Army for the time being. Fedespedi and ANAMA, whose members had been bracing for the possible extra load coming from the vaccine distribution have been informed that, at least in the beginning, the doses will be handled by the military and will be stored in secured areas.
Understandably there is concern about the complexity of the logistic chain and the safety and security of the vaccine. As Pfizer stated, this is governments' affair and there is no private handling of vaccines, at least for the time being since no parallel market exists. Nobody wishes to talk openly about the issue, but it is clear that ministers are concerned that vaccines could get into the wrong hands, although the stringent requirements for safely handling the vaccine are a form of insurance in itself. This is not something you can place at the back of your car, it requires a sophisticated delivery system. Needless to say the freight logistics community in Italy will respond if they are called to assist in the operations, as it will most likely happen as this year moves along.

Focus Germany

If we remain in Europe it is nearly impossible to avoid looking at what happens in Germany, the largest country in the EU, which is in the middle of a second wave of infections right now. The following information comes from a well-informed online source:
The transport, storage and distribution of the highly temperature-sensitive vaccines (-70°C) pose an enormous challenge. The company VA-Q-Tec in Würzburg, a specialist in cool boxes, has already received an order worth millions: "transport will take place in our containers and boxes," says CEO Joachim Kuhn. Ultra-low freezers are also required for storage. They come from the Swabian company Binder, each unit comes at around €20,000 euros. Frankfurt Airport, a proven transhipment point for cool-chain pharmaceuticals, is warming up. "We are preparing for both import and export," says Fraport manager Max Philipp Conrady. "We don't yet know what's coming and what will be produced where." In terms of quantities, however, the corona vaccine is not an "overwhelming challenge" [for Fraport], as 13,500 square meters of temperature-controlled storage are available.
Deutsche Post DHL, based in Bonn, with more than 180 locations around the world tailored to the needs of the pharmaceutical industry, is confident to store and transport medicines for up to three days at a constant low temperature, which can reach -80°C). The logistics group Kuehne + Nagel, headquartered in Bremen, is also involved in the distribution: "It will be a challenge, but nothing where we say: that's impossible", said CEO Detlef Trefzger.
In conclusion we can perhaps look at this epochal challenge with reasonable confidence. Our companies are responsive and are gearing up to the dimensions that will be required by the challenge. At this point the only risk is overconfidence, which is the perfect recipe to sleepwalk into a disaster. All hands on deck and eyes wide open we can make it, but we must remain alert and focussed.
Stay safe all of you there, with my best wishes for the year ahead.
Marco L. Sorgetti
Turin