Remember the Price-Fixing Air Cargo Surcharges scandal that rocked the global air cargo industry in late 2010 when 11 carriers were charged and found guilty? Lufthansa and Swiss apparently threw everybody else under the bus and got a special deal, while eleven other carriers were fined with sizably large penalties. On again, off again, the case went on for the past dozen years, if mostly unreported.
Well, while you were putting your kids through Grade School, High School and most of College, if you have been (happily, we hope so…) married for that long, the airlines have continued fighting the price-fixing fines, with purpose. We all know airlines are not accustomed to giving up at the first difference and this seems to be one of those circumstances. Let me also add that, even if they were actually doing the price-fixing stuff, they would have been in good company in other sectors . . .
Now apparently, finally Air France /KLM beat the rap on December 20, 2022, and were issued an annulment by The Swiss Federal Administrative Court for their €3.9 million fine according to Linklaters, click here.
So, what about the others?
One by one, the cases have been annulled but don't hold your breath just as yet—this has happened before: in 2015 several cases were reversed, but were reinstituted again in 2017 on March 17, Saint Patrick's Day. One wonders whether the destiny of the saint, which implied a number of journeys to and from Ireland in different functions, including those of slave, pastor and revered Christian personality, had anything to do with the meandering path of these legal measures taken precisely on that day.
Worth recalling in all of this was the action of Qantas as the only carrier that did not challenge the decision. Recall amongst the people sentenced, who served jail terms, was the late Bruce McCaffrey.
Bruce McCaffrey died on February 25, 2014 at age 71 in Bradenton, Florida, from complications of renal failure. Bruce had worked at Qantas Freight for 26 years and was among the first people to be caught up and convicted in the air cargo price fix scandal. Last time I saw him he was awaiting the start of a six-month sentence, but since he had recently had a kidney transplant, the feds were giving him time to recover. That was in 2008, and Bruce met his date with a prison sentence before his date with the grim reaper.
Bruce McCaffrey attended Harvard Business School and the UCLA Executive Program in Business, and, like many of us who love America, served during the Vietnam War, Bruce was a U.S. Army helicopter pilot and infantry officer. After the war he joined National Airlines, then Pan American, and then Qantas Freight USA, where he served for 26 years as Vice President of Freight for North and South America.
I knew Bruce when he was out in Valley Stream (a community near JFK International) after he had succeeded Gil Philaba—and later George Stark—as boss of Qantas Freight USA. He was always by the book and although a bit distant, he radiated interest in airline history; like me as mentioned, he was a veteran of Vietnam, so we always found some talking points aside from business. I continued to consider him one of my close contacts when Qantas threw him under the bus.
The story of my final meeting with Bruce has been close to my heart since it occurred one night close to Christmas 2008, inside the Oyster Bar at Grand Central Station in Manhattan. Bruce looked like hell at 160 pounds, his body evidence to two potentially devastating life events. One was recovery from a kidney transplant, and the second was jail time, as he was amongst the first of the airline executives caught up in the price-fixing scandal.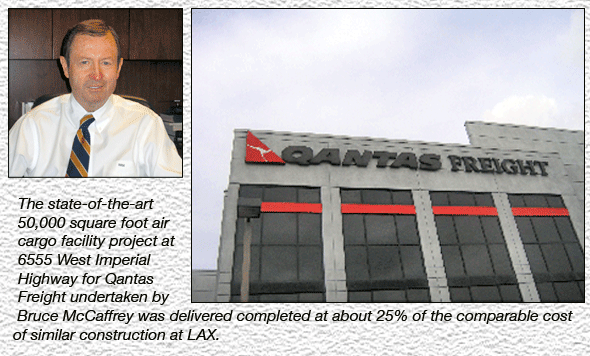 Bruce told me about the day in 2006 when law enforcement swooped into his offices at Qantas Freight Los Angeles to gather up information, paperwork, and computers. He also remembered the day he fielded a call from his bosses at the cargo facility ordering him to report to Qantas headquarters.
Upon arrival, a human resources employee flown in from headquarters abruptly told him that his job at Qantas was over, "based on performance." When Bruce argued that his performance reviews were always deemed "excellent" and that he led Qantas Freight USA from 15 percent of total airline air cargo throughput to 25 percent during his tenure, and that during his watch he had delivered budget numbers 24 out of 26 years (one year his numbers fell was 2001, marked by the 9/11 tragedy), the HR type simply said: "Actually, we don't have to give you a reason."
The Qantas Freight facility at 6555 W. Imperial Highway in LAX was a project undertaken by Bruce McCaffrey in 1994. The result was a state-of-the-art 50,000 square foot air cargo facility with great location, easy access and plenty of room for air cargo operations for Qantas Freight and a couple more carriers. As McCaffrey, the old Villanova University finance major recalled, "best of all, we delivered the space at about 25% of the comparable cost of similar construction at LAX."
The "reason" became apparent when Qantas went public the next day with the admission of price fixing, and agreed to pay a fine and jettison Bruce McCaffrey.
"Maybe I should have seen this coming," Bruce said, when we spoke.
"Qantas management called me six months before I was terminated and offered me a buyout, but I refused. I guess when you look at the landscape of executives in air cargo that are now taking the package and getting out, I should have gotten out then too. I just thought everything would be OK, even with the ongoing investigations, and I thought that Qantas would handle all the price-fixing allegations. I went about my business as usual, reporting everything happening in my freight department to my superiors just as before."
Bruce McCaffrey was the first fall guy for the first giant international investigation; at the time, the U.S. DOJ was reportedly looking to convict some Qantas people headquartered in Australia when they realized they could not be extradited to the U.S. Testimony from two Qantas Freight employees that was obtained by DOJ appeared to be in the end just the words of a couple of employees, who were probably eyeing immunity, hardly more than that.
Bruce, DOJ was told, had issued instructions to secure information concerning rates from competitor airlines. As the charges stacked up in front of him, Bruce learned that in order to defend himself against an international law enforcement frenzy, he would have to put up all that he had and more. Bruce McCaffrey faced the demand of raising an impossible half million dollars, the kind of money airline people rarely have, to defend himself with no guarantee of success.
Qantas refused to help or support him in any way, other than promising to share his legal fees, "if he fought the case and won". If he fought the case and lost instead, he would face financial annihilation, fines of one million dollars or more, and a possible sentence of ten years in jail, Qantas outside of the sad picture. So Bruce McCaffrey, in total survival mode, agreed to cooperate with law enforcement, serve time, and pay a fine. For Bruce McCaffrey, 2006 was the year that was.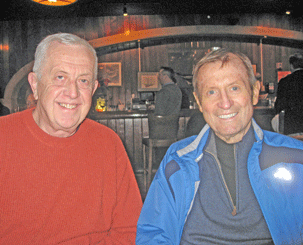 Fast forward to 2008. There he sat, all 160 emaciated pounds, behind a cup of coffee in the Oyster Bar. Bruce exited the industry—his entire life—in some manner of disgrace, while most of the people around him at Qantas got off scot-free.
"I just spoke to investigators from Canada this afternoon," Bruce ventured as we sat in the Oyster. "Recently I was interviewed by investigators from New Zealand. As often as I am approached now, I cooperate because of the offer of immunity.
"Investigators want to know about the business of air cargo," Bruce McCaffrey said. What Bruce did not say is what was most apparent. Ongoing interviews, by a widening group of law enforcement characters from an expanding list of countries, served as primers on air cargo for the prosecutors at home and abroad, who among other things were looking to make a reputation by descending upon our industry like a school of blood-thirsty sharks.
As Bruce spoke to us that last time in 2008, we recalled visiting Bruce in Los Angeles in 2005 at Qantas Freight; although at that point, fully on the job, his health had already declined after a mild stroke, but Bruce loved what he did and was always proud to work for and deliver on budget for Qantas Freight.
I remember we exchanged memorabilia and did a story on Bruce. We felt lucky to have that opportunity because at that point, even after 26 years at Qantas, he almost never appeared in air cargo media at all. We suggested a trip down under, but Bruce, who checked everything with the home office, could not get us a bump up to Business Class and the trip idea fizzled when I thought of 14 hours with my chin to my knees. Later, when we thought about it, after the price fixing scandal hit, how could someone who had to check for an upgrade, mastermind something as vast as the price-fixing scheme? Ridiculous!
When word came that Bruce McCaffrey, the straight arrow guy I had known for many years, was in a price fixing beef with the U.S. DOJ, my first reaction was disbelief. He was overwhelmed by forces at work in a shameful episode in air cargo history. Now that he is gone, we can only marvel at the spirit and determination that Bruce—a guy who once lived for air cargo—gave to air cargo.
Somehow he managed to live another six years after losing almost everything, except his determination to not back down. "I never made a major decision that was not checked with headquarters. I'll be dammed if I will allow these charges against me to determine my life," Bruce told me. And he never did.
So now what happens? Individuals we know still working in air cargo paid by going to jail because of policy endorsed by their companies. So against the possibility that maybe "that is all she wrote" about air cargo price fixing, we wondered if the entire scandal was driven in some part by less than transparent reasons and who benefited in the end? The old principle cast in Roman stone: "cui prodest?" [who benefits from this?] should be guiding our thoughts.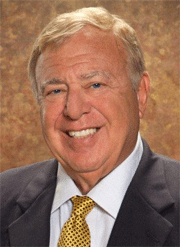 Sharing some feelings early in 2023 the most senior and knowledgeable air cargo executive, Bill Boesch, who served as President of American Airlines Cargo and put them on the international cargo routes of the world after serving at legendary Seaboard World Airways and top management at Pan American Clipper Cargo and many others, including today the U.S. Military, said "The price fixing reality with the airlines in reality was a bit of shadow boxing, an art of the game if you will."
"When (as airlines) we had immunity from pricing, as members of IATA we used to go to the meetings agree on a price, and then undercut each other in order to get the business. Thinking that the airlines would agree on a price and then stick to it was utter nonsense. Bruce was the fall guy and quite frankly his company didn't back him the way they should have.
"In the first place It's almost impossible to prove price fixing unless you can see that all the airlines had the same price and didn't give lower prices for volume. Also Contract Prices started at that point and each contract was different so how do you prove that the airlines all got together and decided on the price?" Bill Boesch wondered.
In hindsight it is difficult to see who was right and who was wrong and even if there is a chance to establish a principle. There was once the allegation that airlines had been illegally fixing prices with regard to their cargo operations. In time the allegation became a judgement and some of those found guilty suffered consequences and paid. We say some, precisely . . .
Now we seem to discover that many who survived through these troubled times managed to get their record polished of all charges, but we are not one inch closer to the truth than we were years ago. On the opposite side we know for sure that some of those who suffered most were probably not those indicating criminal behavior.
If we were law enforcers and prosecutors, we would probably have to listen to testimony and many different sources, regardless of the distance in time. As journalists we are content with telling stories and bringing the elements that we know to the attention of our readers, in hope that they would make their opinion about the story we are telling them. If any of our readers feels touched by the expressions we have used, we shall be more than happy to give them the opportunity to submit their observations and publish them, with compliments, in the same publication.
GDA