During the past few years Amar More, CEO Kale Logistics Solutions along with transportation professionals like Donna Mullins, has changed the landscape for shippers when it comes to breaking up log jams and finding express lanes for truckers and warehouse people to accelerate action on the ground all around. At places like Atlanta Hartsfield Jackson International Airport, Kale is empowering cutting-edge IT systems for moving cargo traffic in and out of the big airport for good, forever!
No doubt if you are in it to win it, and still stuck in traffic getting your goods through airports elsewhere, word up has gone global, that now when it comes to directing how cargo moves, there is "The Kale Solution".
You might be surprised and also disappointed to learn that already less than a month into this new year of 2023, while you are being bombarded to attend events including subject salad affairs up and down the line, you missed 4,000 practioners of logistics who attended The Transportation Research Board (TRB) gathering in Washington, D.C. on January 9, 2023.
TRB was huge, and yes, compelling.
The audience included operators and innovators from the logistics/ supply chain, plus academia, students, consultants, government officials etc.
Amar More of Kale Logistics Systems was there.
For the wunderkind CEO of Kale this was a return of sorts. Previously he had spoken virtually at a TRB event in January 2021 on the subject "Cargo Community System For Efficient Movement of Medical Essentials Through Air Cargo Services" which was (as you undoubtedly recall) a hot topic then.
This time he was invited to speak at the TRB Air Cargo Sub-committee on the subject " Air Cargo Community Systems – What are they and How Do They Work?"
"While this topic certainly got first things first and offered absolute certainty that change is afoot, this meeting was restricted to the sub-committee on Air Cargo headed by Mr. Thomas Phillips of KPA Associates and some other invitees by the committee, on topics relevant to air cargo like mine," Amar More declared.
Amar More tells a compact story. The Kale Logistics Solution works.
He picks it up from there:
"My presentation was focused around what are cargo community systems, their need, why is it an urgent need of the industry today, what benefits do they deliver to the community, how do they work, how does one create a community system around an airport and some key recommendations for the sub-committee and TRB.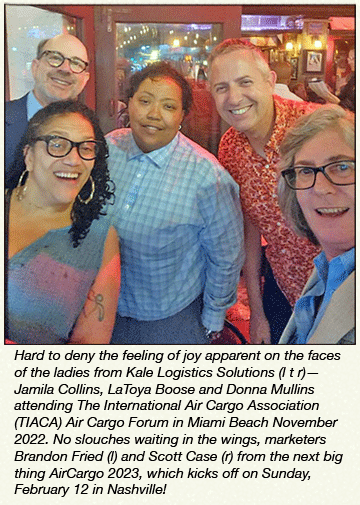 "The purpose was to educate the air cargo subcommittee and tell them what's going on globally and how can the United States benefit from this trend?
"I did receive endorsement of my views from the committee and quite a few questions to understand this concept better.
"With Kale evangelizing the concept of airport and port community systems in North America we have tremendous interest from the industry," Amar smiles.
That's the thing about Amar and Donna.
These two came to town and one by one have taken the intolerable task of getting and keeping cargo moving in places, once thought impossible.
From nowhere just a few years ago, Amar, who has come into residence in America, Donna, LaToya Boose, Jamila Collins and others backed by the Kale Logistics Solution are now actively engaged with 7 airports and 1 port with several others in the pipeline.
"We see," Amar More declared, "that change is accelerating for the better in this part of the world with the proliferation of digital communities helping governments achieve the desired environmental and economic sustainability, security, and efficiency that benefits the entire logistics industry."
Something about a rising tide lifts all boats, and when it comes to grasping the whirlwind of change for gateway stakeholders wherever they be.
"It gets late early," also seems to be at work here.
Geoffrey