In January 2020, Jo Frigger said, "We are very pleased to establish an official EMO Trans presence in Thailand as part of our Asia strategy.
"EMO Trans has had one mission since our founding in Stuttgart," Jo Frigger declared, "success by performance through exceptional global logistics.
"We're proud to deliver the personalized service of a privately held company with the robust infrastructure of a multi-national leader.
"Trust the expertise, ingenuity and commitment of the expanding EMO Trans team for creative, customized logistics to solve your most complex cargo challenges," Jo Frigger concluded.
Well in 2023 the beat goes on.
Taking a novel approach of creating FaceTime for some people of companies that are now branded EMO Trans, the one outstanding take away observation to emerge from a jampacked full house session Tuesday, September 19 came from an unexpected quarter.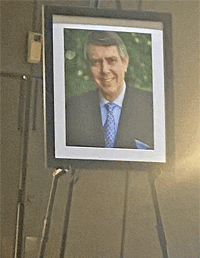 "These meetings feel more like a family affair, more natural for sure, and cordial like these people really like each other," a waiter at the hotel, where the business conference is being held was overheard telling a co-worker.
While he was speaking, off to one side of stage left, a picture of EMO patriarch and Jenni's father, the late Jo Frigger was smiling his approval and as the feelings flowed and sessions went on, the clarity of these moments was felt throughout the room.
The early morning sit down with new faces at EMO Trans this week was greeted by another familiar one, as Jenni Frigger, Emo Vice President Corporate Strategy & Innovation, who in 2023 has emerged as a top female, leading industry discussion groups including blue ribbon gatherings like the 2023 Air Forwarders Conference (AfA) and IATA Cargo Network Services (CNS).
Here Jenni unveiled the moves that have ramped up EMO Trans services in new markets.
Jenni is smart, engaged and speaks to a level of competence that is both refreshing and needed in logistics today.
"We know business this year of 2023 is quite different in terms of demand than last.
"When the pandemic first hit, people downsized and so did we," Jenni said.
But then business came in booming.
"So now EMO Trans member countries have expanded to Philippines, Thailand, Bangladesh, Indonesia and India.
"In five countries in four years, EMO Trans has built our global team offering by 20%.
"We've invested in new technology to better serve everyone; and adding market-knowledgeable people in all new regions for EMO, who we are meeting today," Jenni declared.
"So as 2023 moves ahead we have aligned our programs, and integrated these new members and basically affirmed our position.
"Mind you, we started with these new countries as friends and now they are EMO family members.
"Today our panel includes Gloria Legaste, EMO Philippines; Aswin Pansiri, EMO Thailand; Noor Siddique, EMO Bangladesh; Deddy Syah, EMO Indonesia and Arup Das, EMO India."
"Here is what these newest members had to say affirming their joining the EMO Trans team.
Gloria Legaste said, "I have spent half of my air cargo career with EMO Trans.
"EMO's willingness to mentor and support me and then bring me on to become an EMO company was an opportunity that I really appreciate.
"When we were implementing Cargowise as an operating system, EMO was there to provide us support and training.
"We were also encouraged to bring on young people on staff who are eager to embrace new technology.
"In fact, we will be launching with a soft opening next week and I am confident that we will succeed," Gloria Legaste declared.
Noor Siddique of Bangladesh lays it on the line in passionate and direct terms.
"I felt very comfortable working with EMO, as I also have a family connection to air cargo. I have worked with EMO since 2007. The personal relationships that I established with EMO was the reason I came onboard.
"Things function very differently in Bangladesh, but EMO recognized the challenges and together with my EMO counterparts in Germany and the U.S., working as a brotherhood/family, we were always able to work things out."
Aswin Pansiri, EMO Thailand said, "It could be said that I am the new kid on the block.
"I was checking out EMO 10 years ago, however I joined four years ago.
"Thanks to Tom Brown (of Emo) who invited me visit the U.S., Tom was like my big brother, he took me to the various U.S. branches, and I learned a lot about the culture.
"I also saw how EMO took care of their people and gave them the chance to grow.
"We are a small country, the world is huge and there are always opportunities, we just must find them.
"And I am happy to be a new EMO country."
Deddy Syah, EMO Indonesia added, "I met Jo in Cologne and I immediately felt very good about the company.
"We have been building business as EMO Indonesia for the last 3 months and I am pleased with the results.
"EMO operating the brilliance of Cargowise technology provides us with complete and useful data that helps keep our customers comfortable by knowing what to expect every step of the way.
"The best surprise is no surprise."
Arup Das, EMO India said, "I went into the business because I had a passion for travel.
"I started with Panalpina in Baku handling the CIS countries and somehow I landed the moniker of being the face guy for 'the Indian mafia.'
"I also had spoken to Tom Brown several years ago about becoming EMO India, but my day had not come, then three months ago my wish was fulfilled.
"It has been a wonderful journey. This is a company that has high moral values, is loyal and transparent.
"Witness that we opened 6 offices across India on the same day. That fact speaks volumes to the support that EMO provides.
"Having gone through the Covid experience has prepared us for any downturn.
"As we move ahead in 2023 and beyond I know we have a great company and people to face the future and deal with any challenge ahead," Arup Das declared.
GDA/SAA