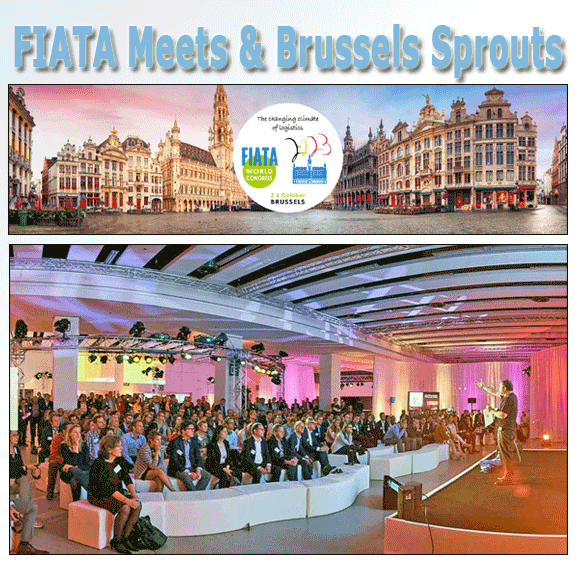 September ends on Saturday this year. I am on a plane to Brussels, one of my favourite destinations. Many reasons to rejoice: I lived there quite happily for nearly 10 years when I worked in CLECAT and I am revisiting now to participate in the much awaited FIATA World Congress 2023, which will be held in the spectacular Square Brussels Convention Centre. A shot from one of the largest ports in the world (Antwerp), Brussels is the place where you find all EU institutions abuzz, and this makes it a special place in itself. Some have been wondering why Brussels was chosen as "EU capital", if the EU capital actually existed . . .
I shall steer clear of this political debate, but I will mention a couple of historical traits Wikipedia expertly provides, which contribute to making Brussels quite unique: Charles of Habsburg (Charles V) was born on 24th of March 1500 in the Prinsenhof of Ghent [which is about 35 miles from the Congress Venue] to Habsburg Archduke Philip the Handsome, the son of Emperor Maximilian I and Mary of Burgundy, and Joanna of Castile, younger child of Isabella I of Castile and Ferdinand II of Aragon, the Catholic Monarchs of Spain. He was Holy Roman Emperor, Archduke of Austria, King of Spain and Lord of the Netherlands as Duke of Burgundy. His dominions included the Holy Roman Empire, from Germany to northern Italy, the Austrian hereditary lands and the Burgundian Low Countries, Spain, with its possessions of Naples, Sicily, Sardinia [and even] the Americas, during both Spanish and German colonization. The personal union of the European and American territories of Charles V was labelled "the empire on which the sun never sets."
This is the reason why I have disturbed the old monarch five centuries later: FIATA also is embracing a territory on which the sun never sets, and quite factually so. It wakes up with New Zealand and it goes to bed when the sun has come back to the Pacific Ocean after covering Australia, China, India, the South East Asian countries, Siberia, the Middle East, Europe, Africa and then North, South and Central America. FIATA membership literally covers at least 23 of the 24 time zones. Hence, sleeping is not easy if you work in FIATA: kudos to the ladies and gentlemen who run the business from Geneva now. I know only too well how demanding their task this is.

Jean-Claude Delen, who regularly speaks to the FT, served both as President of CLECAT and FIATA in the past; being a Belgian native and still a very active businessman, who travelled extensively in the FIATA regions, he will surely be able to tell you more during the Congress.
Another good friend of ours is Antonella Straulino of Fedespedi, Italy. She is Chairwoman of the FIATA Region Europe and has a long story within FIATA and CLECAT. I asked her what her take was about this year's Congress in Brussels and this was her reply: "My first Fiata Congress was in Caracas in 1996, so I have some experience . . . Fedespedi is among the bidders to host the centennial celebrations in 2026 with a Congress in Italy, one of the founding members of FIATA. This year's congress in Brussels is particularly important because we are in Europe and we are in the capital of United Europe. This being said, the FIATA Congress is the best moment to meet the whole world, make new contacts and meet up with your old friends, a time when you work hard, but you also have intervals to relax and celebrate life and friendship. That's my perspective about the Congress in general and this year's in particular. At the end of the day, who wouldn't want to do good business by just sitting around, meeting friends and drinking the best beer in the world?"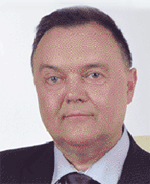 This year's programme is slightly different from tradition and reserves a large, official part to public sessions that will be open for debate and presentations by many well-known personalities. Most of the delegates' working sessions will precede the Opening Ceremony. Obviously much of the attention will be captured by the handover ceremony, when the outgoing President Ivan Petrov (left) will pass the baton to his successor, as 2023 is an electoral congress.
Our consumed readers already know Ivan Petrov rather well, as many articles and interviews of the FlyingTypers saw him among our heroes. I am so happy that I shall see him again soon and meet all the other friends in the Presidency, the Extended Board and the vast FIATA membership base, who will flock to Brussels in large numbers. Ivan has described his experience as President of FIATA in the most remarkable manner: "I feel I am another person. I have learnt so much that I can look at the world with different, better eyes now."
For the regular FT readers, who are probably more interested in airborne subjects, on October 1st there will be an Air Freight Institute special session between 10:30-12:00 CEST, with a fist class line of speakers.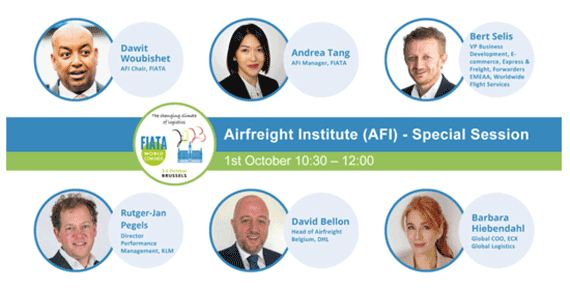 The information is thus provided by FIATA: "The above panel of experts will explore how to enhance data exchange and the role of digitalisation in making the airfreight industry more sustainable during the session titled 'How to foster collaboration to optimise airfreight operations'. They will also delve into the Master Operating Plan and its practicality in day-to-day operations and the ways to enhance overall operational productivity in the air cargo supply chain."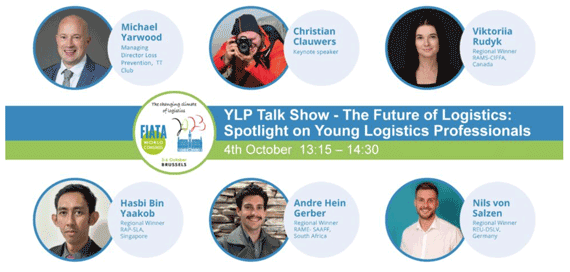 Another aspect, which makes FIATA quite a unique organisation, is the attention paid to the young in general and the students in particular, benefiting from one of the most accomplished learning programmes in the world; these are among the many other benefits of the FIATA association. The YLP has become a reference model to follow. This is how FIATA puts it: "Meet with the younger generation and be part of the ongoing competition of the Young Logistics Professionals Award 2023. The regional winners will not only share their passion for logistics through a dynamic talk show! Get ready to be inspired by our keynote speaker Christian Clauwers, who will address the topic of climate change and its consequence on logistics operations." The event, continuing the tradition of the new approach to young professionals which commenced in Singapore in 2013, will be held on October 4th.
Of course there will be multimodal, legal matters, international affairs, Customs, security and the many different topics that FIATA covers, and then a little ontspanning . . . No congress can be only work. As Antonella said, the social part is sometimes even more important and Brussels is a place that can surprise you, with its rich and diverse cultural offer and its exceptional cuisine: please do not miss the Waterzooi and the Carbonade Flamande. It is just one step further in being special than the traditional Moules et Frites, but this is a meal your palate will not forget, believe me.
So, let me summarise: if you are interested in logistics and airfreight, Brussels is your must-be venue next week; if you are interested in fine dining, please make sure you reserve your tables in the city; if you are an art connoisseur, please do not miss Brussels exceptional museums. Let me open a small parenthesis here: these Belgian museums and art galleries are among the best in the world, they have unique artwork on display and they are rich in explanations in many languages. Do words like Impressionism, Magritte, Flemish painters evoke curiosity? The fine historical buildings where they are situated will open their arms for you like a shrine. Museums and contemporary lifestyle mix their genes in Brussels: Comics, strips, Smurfs, chocolate pralines and much more . . . well, the answer is always there at walking distance. You like Art Nouveau? Take a look at Horta's creatures, including his own house, but please start from Brussels Central Station. Not a usual suggestion, Brussels Centraal is more than just a train station, if you look at it carefully.
What can I tell you more? If you have nothing totally unavoidable to do elsewhere next week, well, join me in Brussels! I will tell you all the tricks that you need to open the Belgian capital as a precious oyster. Maybe while eating the oysters at the Sablon you will discover a pearl you did not expect?
Marco Sorgetti