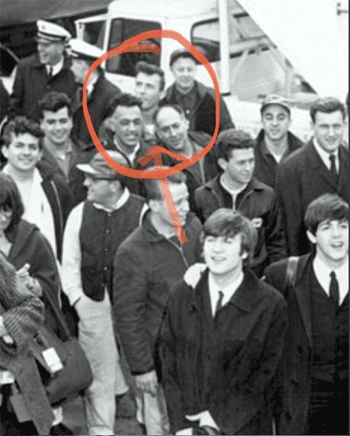 The greatest advocate for air cargo in the history of The Port Authority of New York New Jersey (PANY & NJ) named Jim Larsen lives today in Lakehurst, New Jersey, the the scene of the Airship Hindenburg crash on May 6, 1937.
Jim, you should know, (click here to read about it) was a hero of September 11, 2001 when as Cargo Marketing Director for the Bi state agency, he walked himself and co-workers including some that needed help, off of the 65th floor and all the way to ground level and out of the doomed Number One World Trade Center.
Jim was a key operations guy at Seaboard World Airways, the legendary all-cargo airline based at Idlewild, later JFK Airport; it was the airline that brought forward the likes of Bill Boesch, John Mahoney, Guenter Rohrmann, Dick Jackson, Al Levinson, Peter Hansen, Jos van der Woensel, Frank Volavsek (who planted a California Redwood in the Cargo Area at Schiphol that is still growing there today) and others. Jim ran with giants of the air cargo form.
For the past year since his wife Annette died, Jim has been travelling, but each and every time we hear from him comes a wonderful "gee whiz" take on life, both inspiring and wonderful every time, despite the adversities of age.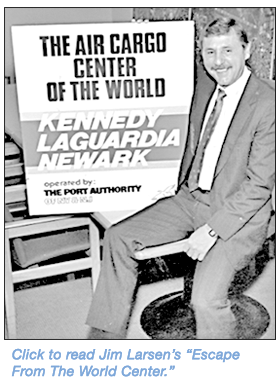 Recently Jim wrote us about looking at my 1981 book on the history of John F. Kennedy International Airport and the Day the Beatles came to New York aboard a Pan American World Airways B707 jet February 7, 1964.
We used a picture of the Beatles with Jim Larsen, but not knowing he was there we cropped him out.
Jim picks up the story from there.
"In 1964 I was working as a baggage handler for Eastern Airlines at JFK.
"Our international flights, one from Bermuda and one from Mexico City were required to clear Customs at the International Arrivals Building instead of at our usual terminal.
"So we would take a string of baggage carts, passenger stairs, belt loader and a mobile power unit down to the IAB to meet the flights.
"We would wait for maintenance to arrive to taxi the aircraft to our terminal. That day, while we were waiting, a guy came by and told us the Beatles were arriving on the next gate. I wasn't a Beatles fan but I knew there would be plenty of girls there, so off I went.
"That's why, in the picture I'm looking up at the observation deck and not at the Beatles.
"Last year I happened to tell my niece about that day and she asked if I took any pictures, which I told her I didn't.
"Later she sent me this picture which she had found on the internet."
We like and admire Jim Larsen because he is a positive spirit that counts his blessings instead of sheep.
His mock serious comment to me that if the picture we ran in the book had included him, he might have launched another career, was more tongue in cheek than anything else!
Jim loves aviation and especially air cargo.
That he was in this most famous picture, and then nearly 50 years later a family member discovered it, (nice hair too) to our mind is only right, the way it ought to be.
Thanks, Jim.
GDA