In Our Readers' Own Write
For More Click Here
To send a story about a woman in air cargo you know click here

Karen Delivers For The Troops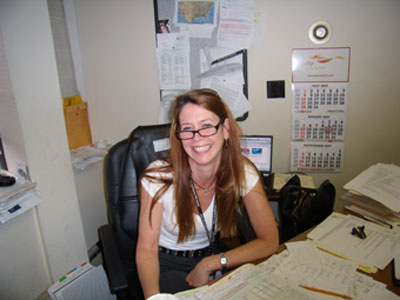 It's 9:30 p.m. on a Wednesday evening and "The Food Lady" (aka) Karen Rondino, Director Air Product Americas Region for Agility Logistics at JFK Airport, is giving directions to a "NYC road-challenged", long haul truck driver who needs to get from the Brooklyn Queens Expressway to a frozen storage facility at JFK.
Her cell phone rings – most probably her husband Ray – again - wondering when she'll be home.
The twenty tons of veal steaks originating in the Midwest, are wandering aimlessly for more than an hour on NYC highways, and need to be palletized with dry-ice and thermo-wrapped prior to moving by charter to Kuwait, scheduled for Thursday afternoon.
Forty tons of green beans from Atlanta have already arrived for the flight as have the twelve tons of mayonnaise from New Jersey.
Twenty five tons of frozen fish will be delivered in the early morning, but the five hundred kilos of salt are nowhere to be found.
"Just another walk in the park," proclaims Karen, as she packs up her laptop and gets ready to leave for her home in Nassau County.
The Midwest driver has finally made it to his destination.
That night Karen will sleep restlessly wondering about the salt, waking up early enough to pack off her two children, Kate aged sixteen (going on twenty) and Nick aged eleven, off to school, before beginning another challenging day in airfreight.
Even before she arises, husband Ray Rondino has been up and gone for hours to his job, protecting the NYC Water Supply.
The Rondino's feel blessed in a way, that their differing schedules provide a good amount of parentally guided home life for their children.
Ray will be home by four in the afternoon and Karen some hours after that.
Karen is a twenty-six year airfreight veteran – though to look at her, you'd wonder if she spent her high school years cutting air waybills.
She began her forwarding career at Daniel F.Young prior to a twenty plus year stint at Panalpina.
She was initially employed as a Sales/Customer Service Rep and moved through the Panalpina Organization in a number of roles, closing her career there as Assistant Vice President of Operations at JFK.
Nearly three years ago, Karen left Panalpina and accepted a challenge at GeoLogistics, (now Agility), and soon after Agility's buyout of GEO, became heavily involved in coordinating the activities of twenty five to thirty food vendors who ship their goods by air to Agility's Prime Vendor Warehouse in Kuwait.
The shipments are part of Agility's contract with the U.S. Government to supply over one million meals per day to sustain USA troops in Iraq and the Gulf area theater.
The vendors ship everything from fresh corn-on-the cob from Oregon to Ready-to-Eat meals (MREs) from Texas for the troops in the field of operation.
Calling the salt vendor from the road on her way in to JFK, Karen realizes that the salt cannot possibly make the flight closeout.
Although this will not be considered a service failure on Agility's part, she detours to COSTCO a food wholesale warhouse open to the public and purchases 1,000 pounds of salt that is quickly loaded into her SUV.
The fish have already been delivered and are in the process of palletization when she arrives at JFK with the salt.
Karen returns to the office and listens to many messages including one about a shipment of 330 tons of processed eggs that will be delivered on Friday. Meanwhile, the Thursday charter flight leaves on time and arrives in Kuwait early Saturday morning, as planned.
The Prime Vendor Project is but one of the many challenges and functions that Karen delivers with precision and professionalism.
The vendors rely on her expertise from handling the stringent documentation requirements necessary in delivering a seamless, expedient clearance and delivery to the staging warehouse site. Within days, the food will be delivered by convoy to the many mess halls throughout Iraq.
Going the extra mile is the norm for Karen Rondino, rather than the exception.
She is truly a remarkable Air Cargo person, and even better a wonderful human being who proves every day that women are not only up to the task, but are vital members of the air cargo industry.
Mike Kearns
(Mike is Senior Vice President for Air Products at Agility, the new name for GeoLogistics based at John F. Kennedy International Airport in New York City. www.agilitylogistics.com. Mr. Kearns penned this piece in response to our call for stories about exceptional women in air cargo. Our readers worldwide are invited to submit stories for publication).