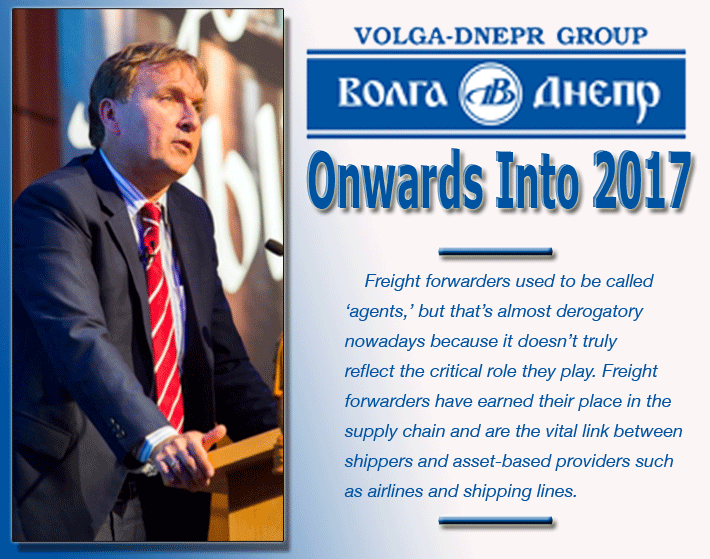 Asked to submit a report card on 2016, Volga-Dnepr Group's Marketing & Sales Senior Vice President Robert van de Weg puts it on the line:
"2016 was a challenging year. We lived through a long period over the summer where supply outstripped demand, but I am pleased to say the peak season was very strong for us, so the year ended on a high note.
"In many respects, given the volatile nature of world trade, it is actually rewarding to see that we can manage our way successfully through stormy times by working closely with our customers and suppliers.
"Fair weather sailing is easy, but 2016 has definitely not been like that," Robert declared.

2016 In Review

"Now with the year in the rearview, we want to thank all of our customers around the world that have once again stood by AirBridgeCargo and Volga-Dnepr Group! We continue to grow and modernize our Boeing 747 fleet and increased our network in places where our customers asked us to support them.
"I hope we have demonstrated our commitment to being a high quality, long-term partner to our customers and this will remain our focus in 2017.
"Thanks to their great support, 2016 is AirBridgeCargo's 13th consecutive year of tonnage growth."

Onward Into 2017

"Key for us," Robert insists, "is to keep the momentum we have.
"We are a developing company and our customers can see and are attracted by that.
"ABC needs to keep the 'momentum' rolling along.
"Success breeds success as long as it does not lead to a company becoming complacent or arrogant, and that's the last thing we want to become.
"We know we have to earn the support of our customers by providing capacity when and where they need it, by being competitive, and delivering the best level of service.
"Service recovery is also important. If there is ever an issue, our customers want to be confident we will fix it quickly so it doesn't impact them. I hope we are building a reputation as an airline that is constantly willing to learn and improve, and that is always listening to its customers.
"During 2016, we demonstrated our ability to put capacity into markets where our customers need more lift and we will do that again in 2017.
"It all comes down to not only understanding what customers want, but also having the ability to do something about it."

Products & Operations

"We have worked very hard to earn the confidence and trust of our customers so they believe in our operating capabilities and know we will deliver the level of service they require.
"I hope we are now seen as a professional outfit: operating on-time with a young fleet and growing network, supported by a knowledgeable and capable group of people with a good track record of running airlines.
"When you have earned that reputation, customers are much more willing to support your products and services.
"It is essential for us now to continue developing specific products for important segments of the air cargo market, such as pharmaceuticals and off-sized cargoes.
"Furthermore, we aim to get even closer to customers in specific segments where we have already earned a lot of customer loyalty, such as aerospace and oil and gas."

Salutes Forwarders

"Freight forwarders used to be called 'agents,' but that's almost derogatory nowadays because it doesn't truly reflect the critical role they play.
"Freight forwarders have earned their place in the supply chain and are the vital link between shippers and asset-based providers such as airlines and shipping lines.
"ABC is doing all we can to work as closely as possible with our forwarder partners while, if required, keeping an open eye on the service requirements of the ultimate shippers that are in need of specific services.
"Over the last 12 years, we have demonstrated we are a quality carrier. We are easy to access and flexible in meeting customer requirements.
"Plus, we are a growing carrier both in terms of capacity and in terms of our service portfolio, which is absolutely based on the needs of our customers.
"Through our unique 'Cargo Supermarket' concept we can and do offer our customers a range of services utilizing our various aircraft types (B747, AN-124, IL-76, B737) as well as engineering and prviding logistics solutions for their most complex shipments.
"That makes us unique and means we can also offer the most efficient solution for their cargo delivery needs.
"We aim to capitalize on this more and more—it's a key objective of our commercial strategy to have customers benefit from this.
"I think our customers understand this because their support has been phenomenal. In 2004, for example, AirBridgeCargo carried 17,000 tons in its first year of operations.
"By the end of 2016, we had flown well over 500,000 tons across our global network in Europe, North America, and Asia, so our customers must feel we are a valued partner."


Succeed The Need

Taking an inward look, Robert declared:
"We need to develop more services for specific segments of the market, plus we need to continue to widen our network coverage.
In Asia we are strong, but, for example, on transatlantic routes we can do better.
"Plus, we always need to be looking for ways to get even closer to our customers and understand them even more so we can work together to identify where it is we can help them in terms of services and pricing."

How Can Air Cargo Be Improved?

"Legally approved initiatives within TIACA and IATA are appreciated e.g. implementation of harmonized customs rules and digital procedures is important.
"Plus, we really like CargoIQ as a quality measuring platform.
"However, confronting air cargo, in my opinion what is most important is for competition to drive innovation, and individual companies must rely on their own capabilities to progress," Robert van de Weg concluded.
Geoffrey