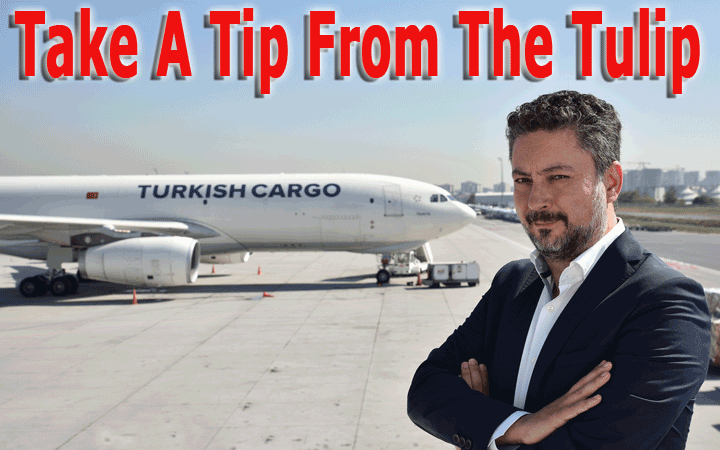 If you're rolling around hardstands these days looking at airplanes, you may notice the distinctive shadow relief of an elegant tulip connected to a long, thin stem emblazoned on every Turkish Airlines airplane.
Then you meet Turhan Ozen, Head of Cargo for the Istanbul-based carrier.
While the aircraft-laden skies above Istanbul are increasing connectivity via a growing global network, the debut of the biggest airport in the world, Istanbul International, waits in the wings for late 2018. Soon the most dramatic air traffic control tower on the planet (designed by Pinna Farina) will go into action. In addition to directing traffic, it also will serve as a new landmark for global air shippers.

Turkish Cargo Future Vision

Driven by sky-high hopes and dreams and plenty of investment, at Turkish Cargo vision is now to be implemented by Turhan.
As far as we can tell after, he not only appears ready, but eager to get on with his close up.
"I am here to drive Turkish Airlines vision through investment, fleet, routes, product offering and staff management under the presidency of the Chairman of the Board and Executive Committee of Turkish Airlines, Mr. M. Ilker Ayci, to rank Turkish Cargo amongst one of the top five air cargo carriers in the world by 2023," Turhan declared.
To attain that lofty goal means that Turkish Cargo is slated to grow no less than two and a half times bigger in the next six years.
Face to face, Turhan's story unfolds in a seemingly endless wave, just like the long line of aircraft making low passes on final above Ermensil, an elegantly beautiful restaurant located on the water in Floria near Ataturk International Airport, where we are lunching.
As I see those big birds moving past our window on final, I can't help but think we should all take a tip from the tulips and look up at sky. It is exactly what Turkish Cargo is all about these days.

The Excitement

"This posting is a big challenge and I am extremely excited," Turhan exclaimed.
"It's a real eye opener to move from being the customer of the airlines to the other side of the desk," he said.

Some Plain Speaking

"Our goal is to be a top line enabler and to position our offering amongst the top echelon of the world's cargo carriers by 2023, as Turkish Republic celebrates its 100th anniversary," he said.
"So with everything else we are about, building our offering to the world is a matter of national pride," he added.

Some Alignment

"There are forces—all the partners from airlines to forwarders to truckers, warehouse and others—that need to be aligned and in tune with each other, not unlike the players in a symphony orchestra. That's what it takes to operate an efficient air cargo supply chain."

Can't Beat The Experience

"Working in the logistics chain from a customer perspective, then later as an intermediary between customers and the airlines, and now as the airline affords an opportunity to bring real understanding of customers needs and values to the provider level," says Turhan Ozen.
"It's all about alignment with product management, customer centric approach , planning, network optimization, capacity planning, sales force management, and other essential drivers for success that I have been able to change during this first year at Turkish Cargo.
"We are simply utilizing strengths we already have much better whilst improving our approach to doing business all around."
The Four Pillars of Turkish Cargo

"My view was built on from Turkish Cargo's four brand pillars.
"First pillar is our geographical location as a traditional hub and the emergence of our new gateway airport that will rank as biggest in the world.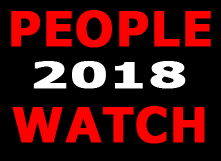 "During the next six years we are going to increase our hub capacity 3.5 times above current levels.
"We currently have 1.2 million tons.
"By 2020 capacity will rise to 3.5 million tons and by 2023 we can be at 4.5 million tons yearly.
"The second pillar is network.
"Turkish Airlines as a worldwide carrier has one of the most extensive aerial networks of any airline serving 120 countries and 300 destinations.
"Our 'hidden freighter' capacity derived from our fleet of 330 planes also ranks amongst the best and most efficient anywhere.
"Take Africa for example.
"Currently Turkish Airlines serves 51 destinations in Africa.
"Put another way, Turkish Airlines Africa is out front and pulling away, offering more service that anyone else,"
"Africa is one of the most challenging and potentially rewarding markets in the world, not to mention most exciting," Turhan said.
Turhan Ozen's near 30-year work experience involves sales, marketing, business development, logistics and supply chain related areas.
After graduating from Galatasaray High School, he began studying at the Department of Management at Bogaziçi University. Later, he got his Executive MBA at Koç University.
He started his early career as the manager of the sales and logistics departments for the Koç Group's affiliates in the automotive sector where he later became logistics manager.
He worked as the Distribution Operations Group Manager and Operations Director at TNT Logistics, where he had been involved since its establishment in Turkey.
Between 2012 and 2014, he was occupied as Vice President of Business Development & Sales at CEVA Balkans-Middle East and Africa Region.
Later in 2015, he was appointed to the position of CEVA Global Health Sector President. He served as the Managing Director of CEVA Logistics Middle East and North Africa region until he joined the Turkish Cargo family in December 2016.

Pillar Three: The Forwarder

"Pillar three of our plan is to rise to the top of air cargo as our customer effort moves forward.
"Currently, as Turkish Cargo, we are looking to strengthen our long-standing carrier relationship with our partners—the freight forwarders and move to the next level.
"The forwarders provide value to the shippers.
"They are important to our effort and our customers, especially from a business and commercial perspective.
"Forwarders in the conventional sense provide value by consolidating shipments; providing additional services; handling customs brokerage, sea ground terminals, supply chain management, and 4PL shipments; collecting the money; maintaining shipper relationships; and overall helping to build business.
"The freight forwarders continue to provide value to the shippers for the air cargo industry in following years and, they are important and significant customers for Turkish Cargo."


The Disrupters

As for disrupters, including the hotshot newbie IT providers living up 'on the Cloud,' Turhan Ozen said:
"We are keeping an open mind.
"At this point I favor the approach to add these services as part of their portfolio.
"In the long run, my view is these services will probably be most useful in A to B pure freight low service shipping.
"The real freight forwarding business includes consolidation and the other points mentioned," and
"we know as a carrier we cannot go to our millions of shippers directly."

The Paradigm Shift

"The paradigm shift in the industry today involves the role of shippers and forwarders.
"Despite the historic belief by some airlines that think their ultimate customer is the forwarder, I believe that the ultimate customer for the airline is the shipper, the owners of the cargo who pay the bill.
"Airlines and forwarders should not only cooperate, but also collaborate.
"We need to think outside the box," Turhan Ozen said.

The Fourth Pillar

"It's about the Turkish people," Turhan Ozen declares.
"Here, the great Blue Mosque has been a shrine of Islam around 500 years and sits just across the street from the great 1,600-year-old Christian shrine of Sofia.
"Historically, we are viewed by east and west at the crossroads of the world.
"Turkish people ease into relationships with western nations as a natural continuance of history as well as eastern cultures.
"Many of the Turkish business executives that I have met in my 30 years in business have adopted into various world cultures quite easily.
"We have history and the power of geography and experience in dealing with the world as part of our natural DNA as we move forward in the 21st century."
Some Final Thoughts

"Turkish Cargo, has been a strong part of our brand offering during the past years and I am out to strengthen that perception not by taking down relationships, but rather by identifying and then enhancing the activities that we and our service partners do best.
"Working together as true partners while serving our ultimate customers is the fast track to reinforce the value of what we do, and ultimately guaranteeing our future success."
Geoffrey