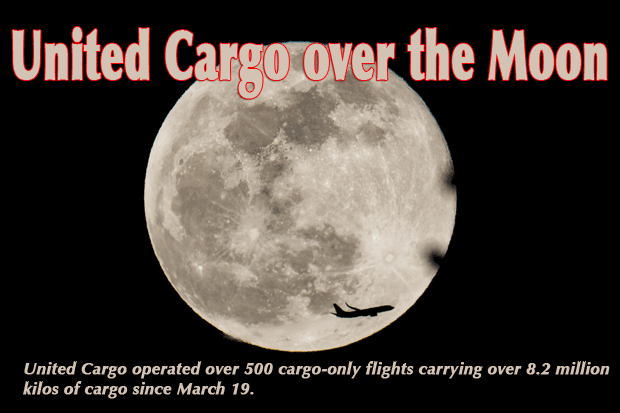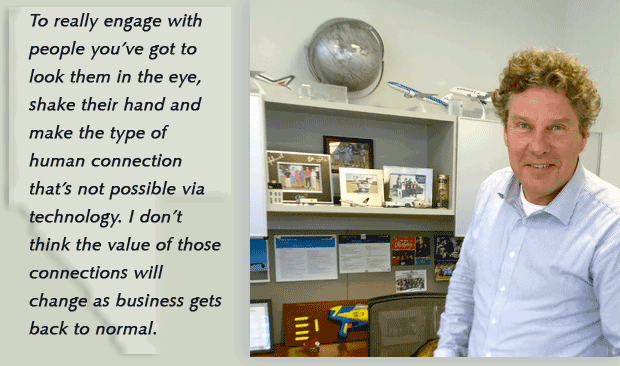 "The struggle to control the pandemic has to be a joint project, as if the whole planet were seeking to reach the moon together," writes Amy Davidson Sorkin in the April 27 issue of The New Yorker.
Because we are some distance away from seeing the end of the COVID-19 Pandemic, the world is also looking for people to come forward to keep things moving.
Currently in a time of uncertainty, the standout people bravely face down the virus, refusing to quit whilst keeping life moving.
As you look at empty spaces and closed shops and security check points at every cavernous passenger terminal in the world, know that there are lots of people out there making air cargo deals.
But for one airline, the all-cargo flights being generated are almost beyond belief.
Jan Krems is President of United Cargo and with inspirational leadership and no small amount of spirit and élan has propelled United Cargo into the top U.S. combination carrier position.
The payoff right now is that at United, air cargo has become the major revenue driver for the entire airline.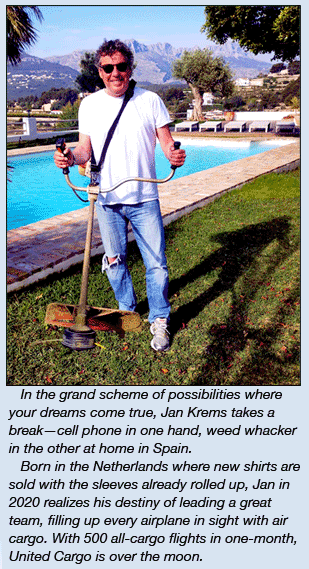 Turns out Jan—who was born in the Netherlands where new shirts are sold with the sleeves already rolled up—lost no time energizing his team onto every account, securing positions and flights that now add up to more all-cargo movements per week at UA than several other carrier's cargo efforts combined.
Today the United Cargo team is energized as never before as it continues out front and pulling away.
This is a cargo guy that legendary cargo reporter Dick Malkin, industry pioneers like KLM's Jacques Ancher, or Seaboard World's John Mahoney would have deemed as "a natural."
You cannot imagine Jan Krems anywhere else other than moving a large group of people ahead on a mission.
He is the most exciting and entertaining air cargo executive in the business today.
We note all of this as Jan directs moves during the world-wide, industry-choking COVID-19 while sheltered in place with his family in Spain.
Here we share some thoughts from the man himself, and as usual Jan finds plenty to say about his team and service partners.
"On a personal note, we want all our customers and partners to know that everyone at United Cargo sends our deepest wishes that they and their families are in good health, and we urge them to take every precaution to ensure they remain that way! We're all looking forward to the day when the cargo community can meet face-to-face again.
"While the safety and health of our team members, customers and service partners is always our #1 priority, and we've escalated our safety-related efforts to match the unprecedented circumstances, we want our customers to know we are more committed than ever to providing the quality of service they've come to expect from us. We're proud of the role our growing cargo-only flights network is playing in supplying what the world needs to manage through this crisis."


Value of Human Connection

We ask Jan whether the new normal of operating now via teleconferencing and other 21st Century methods is going to be the norm going forward. His answer is not only refreshing, but reassuring, "There's no doubt that today's teleconferencing and 'virtual meeting' tools are amazing. The quality and effectiveness of connections with our team and customers, especially in the current situation, would be much poorer without them.
"But I've said many times, and I still believe, air cargo is a 'people' business more than anything. And to really engage with people you've got to look them in the eye, shake their hand and make the type of human connection that's not possible via technology. I don't think the value of those connections will change as business gets back to normal."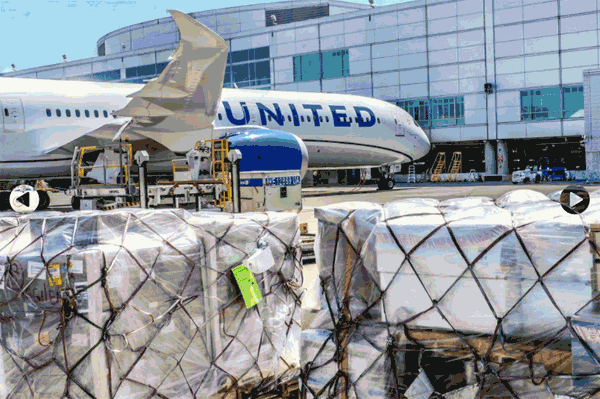 500 Cargo-Only Flights Since March 19

"I've been very pleasantly surprised by how quickly we were able to ramp up our cargo-only flights program and, with the support of our customers, what a success it has been.
"Since we began the program March 19, we've operated over 500 cargo-only flights carrying over 8.2 million kilos of cargo.
"These numbers are even more impressive when you consider that United hadn't operated a schedule of cargo-only aircraft since we stopped flying DC-10 freighters in December of 2000!
"We are now averaging 150 cargo-only flights a week between six of our U.S. hubs and twelve cities worldwide: CTU, HKG, PEK, PVG, and SYD in the Asia Pacific; AMS, BRU, DUB, FRA, and LHR in Europe; SJU in the Caribbean and TLV in the Middle East. We expect to begin service to and from additional cities soon, and continuing to expand our cargo-only flights program is a top priority for our team."


Don't Got to Show You No Freighters

We ask Jan if freighters might be on the horizon and his very direct answer, albeit softly spoken, is as determined as the most famous line from the movie The Treasure of the Sierra Madre when the character says to Bogart:
"Badges? I don't have to show you any stinkin' badges."

Hidden Freighters

"With the success of our cargo-only flights program, there's no need for United to investigate freighters at this point.
"We're essentially operating freighters using passenger aircraft from United's fleet—without the ability to carry the larger and heavier pieces afforded by freighter aircraft. We're flying a mixture of charters where all capacity is purchased by a singlecustomer and flights with multiple customers' freight on board, and we're adjusting our capacity to meet customer demand by increasing the frequency of our flights in certain markets."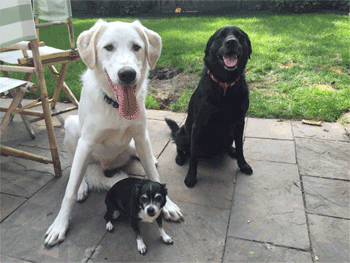 Perfect Space in Time
Asked as to how he would characterize working from home, he smiles, "I'm at my home in Spain. We're 6 hours ahead of Eastern time in the U.S. and 6 hours behind Hong Kong, so that works out well.
"I can speak to our Asia team in the morning, and by early afternoon in Spain the U.S. team is beginning their day.
"Other than walking our three dogs and an occasional trip to the grocery store, I'm 'confined to quarters' as we would say in the military—like a lot of people around the globe!"


Inspirational and Uplifting

We point out that right now there are many stories of individual and collective positive actions in navigating through a very difficult and changing minute-to minute scenario. We ask him what he has discovered at United Cargo that has been uplifting.
"Two groups of people have been an inspiration to me throughout this crisis: the first is United Cargo's team in Asia. They were on the leading edge of the virus outbreak and have been dealing with it longer than anyone, and their dedication has been extraordinary.
"I am also inspired by the collaboration it has taken to establish our cargo-only flights program and keep it running smoothly to provide maximum benefit to our customers. It's not an exaggeration to say that dozens of United departments and hundreds of teammates are playing critical roles, and their teamwork is definitely an inspiration!
"This is particularly true because what's behind these numbers I cited above is so much more important: keeping the global supply chain moving and connecting people to the products they need during this crisis. Our flights are carrying vital medical supplies like test kits and personal protective equipment to healthcare professionals all over the world, and this gives us extra incentive to work harder and continue to deliver exceptional service."
Although Jan has seen and experienced much through his journey in this industry, what is he telling friends and business partners about coping in these times? His answer is direct and firmly positive.
"In my 30-plus years in air cargo, I have lived and worked through many times of upheaval in the airline industry. Two things I've learned: the storm always passes, and cargo usually recovers more quickly than other facets of the business.
"So the message I'm giving our team—along with thanking them for their tireless efforts and commitment—is not to lose hope when it seems like the resolution to the crisis is a long way off, and be ready to hit the ground running when business begins to recover!" Jan Krems declared.
Geoffrey