Airlift To After Christmas Disaster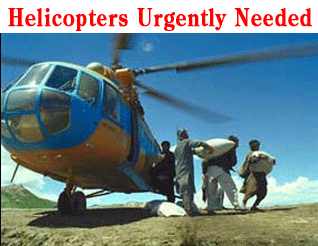 The day after Christmas earthquake and tidal wave disaster with unimaginable death and destruction has frozen the world's attention to the plight of people across eleven Asian countries.
Humanitarian groups and governments worldwide are launching what could be the largest ever disaster relief effort in a race to save thousands of tsunami survivors.
An international airlift is under way to ferry critical aid and medicine to places like Phuket and elsewhere, and to take home shell-shocked tourists.
Jets from France and Australia were among the first to touch down at airports in Thailand and Sri Lanka. Greece, Italy, Germany and Sweden planned similar flights.
One relief expert thinks that a massive continuous airlift - similar to the one that supplied West Berlin in the early days of the Cold War is needed.
"The magnitude of this is huge," James Lee Witt, a former chief of the US Federal Emergency Management Agency who's now a disaster-response consultant said.
"It's going to take every country with means to get this done.
"Getting resources into the countries is difficult, but getting it out and into the affected area is even more difficult," he added.
Hugh Parmer, president of the American Refugee Committee, told reporters the country where disaster strikes usually coordinates relief.
"There has hasn't been much experience with multinational disasters," he said.
"In some places, too many supplies will build up. There will be bottlenecks at airports, and other places will not get enough to cover basic needs," said Parmer, who was associate director of the U.S. Agency for International Development from 1998 to 2001.
"That will gradually sort itself out.
"But, given everybody's best efforts, you're going to see a lot of chaos in the next few days."
A major concern of officials in the countries is getting goods quickly to aid in saving the population devastated by the disaster.
But relief agencies have learned from experience that cash rather than goods can often spread help further.
Money in hand is proving to be a vital tool in the battle for survival, as air cargo transportation costs can often exceed purchases made in or near the affected areas.
The International Federation of Red Cross Charities (IFRC) that is spearheading relief efforts, gets a major test of its multi-year program to develop better logistics solutions aimed at getting aid where it is needed fast.
IFRC has been working on logistics solutions with The Fritz Institute - a private foundation financed by former air cargo industry leader and logistics executive Lynn Fritz.
Mr. Fritz sold his company to UPS a couple of years ago and then turned his attention to taking what he learned and earned to help others, spending over a million dollars to meld modern logistics solutions to IFRC's need to speed up emergency operations.
While relief agencies like IFRC, drawing upon private sector expertise for lessons on how to manage supplies is nothing new, use of sophisticated "just-in-time" solutions and the role of logisticians to master those systems are thought to be still years behind the private sector,
George Fenton, logistics manager for WorldVision's Global Rapid Response Team, believes "many relief agencies appear to be at a similar stage in their approach to supply chain management as the commercial sector was in the 1970's and 1980's, when personnel engaged in logistics were underpaid and poorly trained. "
No doubt this most horrid world disaster will result in closer scrutiny of just how well these organizations handle logistics.
Many big air cargo resources having just weathered some of the worst economic conditions in the history of the airline business are busy once again and in some cases committed elsewhere.
World Airways Cargo has been closely associated with humanitarian and troop flights since the airline's chairman the late Ed Daly personally flew the legendary last flight out of Danang, Vietnam almost thirty years ago.
World said its current fleet of 16 aircraft is fully deployed elsewhere.
"We have been inundated with calls from around the world for our aircraft and are closely monitoring any possibility to help the situation," said spokesman Steve Forsyth.
Tim Clark, President Emirates Airline said:
"We are horrified by the scale of the disaster that has affected so many of the communities that we serve across South Asia.
"From Emirates staff at airport operations across the region we are hearing that many passengers are arriving in rags.
"Our people are assisting them by providing clothes, beverages and comfort, and ensuring that they fly home on the first available flight."
Ram Menen Senior Vice President Cargo said: "Emirates SkyCargo is working closely with SriLankan Airlines to facilitate quick transport, provide cargo space and coordinate relief activities. Emirates also is co-sponsoring the Airport Emergency team based in Dubai, part of the Disaster Resource Network, a non-profit consortium of blue-chip companies that offers humanitarian aid during such disasters.
"Eight staff members from the Emirates Group will travel to Colombo to coordinate and support these relief efforts."
Lufthansa which currently operates 152 flights weekly to 18 destinations in Asia /Pacific said operations remain normal and that the carrier would keep offices open throughout the New Year Holiday in Phuket and Bangkok and that the airline is cooperating with the German embassies, local authorities and all relevant parties in the affected areas to provide support and assistance
LHC spokesman Nils Haupt said:
"We share the very deep sorrow about the tragic seaquake and tsunami that has had such an extreme impact on the affected countries in Asia-Pacific. We express our sincerest concern and condolences to everyone who has suffered losses and been affected by this natural disaster.
"Condor, Lufthansa Group's leisure airline, has operated additional flights to and from Phuket, and chartered a Lufthansa Boeing 747 aircraft to provide additional capacity to assist the travel requirement of passengers to and from the area.
"A special Lufthansa operational team has been established in Phuket.
"In Bangkok, Lufthansa staff members are assisting in an emergency center set up by the authorities at the airport to help passengers who have lost their travel documents, passports and other belongings."
Many countries have utilized aircraft and scheduled services to secure passage for their nationals out of the stricken areas.
In Finland, the newspaper Helsingen Sonomat reports ongoing evacuation has moved beleaguered tourists into Finland, Sweden and elsewhere in Northern Europe aboard Finnair and connecting flights via Helsinki-Vantaa International Airport from Thailand and Sri Lanka.
Two to three flights a day are scheduled to arrive in Helsinki from the affected region throughout this week.
Russia dispatched aircraft to Sri Lanka with medical supplies, rescue teams, sniffer dogs and other relief goods including tents and blankets, while U.S. Air Force flew six C-130 Hercules cargo planes and five KC-135 refueling tankers to Udapao Air Field in southern Thailand, which will be used as a regional base for the relief effort.
Six U.S. Navy P-3 Orion aircraft were also sent to the base for search-and-rescue operations.
The U.S. also sent a pair of military transport aircraft based at Dubai and equipped for emergencies, into Bandaranaike International Airport in Colombo.
On Wednesday 29 a fully loaded B747-400F of China Southern Airlines arrived from Beijing in Colombo with 100 tons of relief materials.
| | |
| --- | --- |
| | |
Elsewhere, from India Air Force MI-17 helicopters with medical teams, medical and general relief items, an IL-76 and other all-cargo aircraft were sent to Colombo International Airport with relief provisions as the first wave of help got underway.
Helicopters are urgently required in Sri Lanka, with relief workers and supplies unable to reach many parts of the devastated country because of the collapse of the local transport.
While long-range aircraft carrying relief have arrived safely in Sri Lanka, goods and much of the aid and personnel are stranded at Colombo's Bandaranaike International Airport.
World Vision Australia chief executive Tim Costello arrived in Colombo early yesterday, but was unable to get to the stricken south until late in the day, with transport routes either cut or clogged with traffic.
"It's taking eight hours to do a three-hour road trip, and that is time we have not got," Mr. Costello said. "Helicopters are urgently needed."
In Sri Lanka, four planes arrived in the capital bringing a surgical hospital from Finland, a water purification plant from Germany, doctors and medicine from Japan and aid workers from Britain, the Red Cross said.
Supplies that included 175 tons of rice and 100 doctors reached Sumatra's Banda Aceh.
Wildlife enthusiasts in Sri Lanka noted their surprise in seeing no evidence of large-scale deaths of animals, suggesting they had safely made it to high ground.
"Maybe what we think is true, that animals have a sixth sense," a hotel manager in the Yala National Park said.