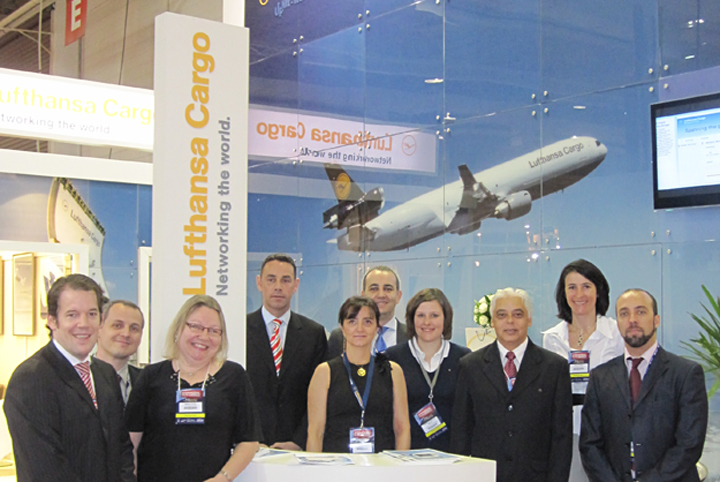 The Lufthansa Family—(left to right): Daniel Bleckmann, Leonardo Porto, Marcia Feche, Reto Hunziker, Leslie Valenti, Cleverton Vighy, Christiane Müller-Rostin, Mauricio Pereira, Silvia Helmer and Eduardo Faria.
Enthusiastic crowds, big deals either closed or on the table, and great networking meetings and seminars were the hallmarks of Intermodal 2011 held April 5-7 in Sao Paulo, Brazil as more than 45,000 professionals gathered for the 17th Intermodal South America and three days of logistics, cargo shipping and international trade.
This year no doubt the event booked itself into becoming one of the top meetings for transportation in the world.
"SAO was just great," said Heide Enfield, (left) Head of Marketing and PR at Lufthansa Charter.
"Here were represented the emerging markets of Middle and South America; it was the absolute place to be for Lufthansa Cargo and Lufthansa Cargo Charter to present our menu of products and services," Heide added.
Daniel Bleckmann, Regional Director South America, the Caribbean and Florida for Lufthansa Cargo, and Reto R. Hunziker, Managing Director of Lufthansa Cargo Charter, told ACN/FT that they both were impressed by "the quality of the exhibition and its visitors."
"The exhibition was extremely busy with many regional customers from South America, plus a growing number of visitors out of North America and Europe also were in evidence," said Reto.
"The market is gaining importance and its growth potential is being recognized," Mr. Bleckmann added.
"After the first joint appearance in 2010, Lufthansa Cargo and its subsidiary Lufthansa Cargo Charter can now say that this Intermodal 2011 show was a solid success," Ms. Enfield said.
"We will be back together in 2012," Mr. Bleckmann and Mr. Hunziker assured.
Ram Menen, Divisional Senior Vice President of Emirates SkyCargo reports that Intermodal South America 2011 was "an all around winner".
Worth noting is that SkyCargo has attended several of these events in the past, even when others were not in evidence.
Indication is that in 2011 the Dubai-based carrier will continue to press development of its air cargo business in Latin America.
"Since Emirates SkyCargo inaugurated its freighter service Dubai to Viracopos-Campinas (Sao Paulo) in November last year, the route has increased capacity for cargo transport between Brazil and the United Arab Emirates by 500 tons per week.
"With all flights on Mondays and Thursdays, aboard a Boeing 747-400F, this newly launched service have been key to boosting trade between Brazil and the Middle East and also to Asia and Europe, since it creates a direct, fast and secure export channel.
"Intermodal SAO was an excellent opportunity for "face time" with our South American customers and partners as people travel from all over the continent to attend.
"Moreover we are very serious about South America.
"It is one area where we see a lot of potential growth."

New GSA Accord—Left to right: Robert Siegel, Regional Manager Cargo Commercial Operations Europe & the Americas, SkyCargo; Marcos Oliveira, CEO, Scand Air Cargo; Ram Menen, Divisional Senior Vice President SkyCargo; Dener Souza, South America Cargo Manager SkyCargo; Marcelo Pereyra, Managing Director Scand-Repremar Air Cargo Services, SkyCargo's new GSA based in Montevideo, Uruguay; Prakash Nair, Manager Network Cargo Sales Development SkyCargo and Dener Souza, South America Cargo Manager SkyCargo.
We note that according to the Arab/Brazilian Chamber of Commerce, exports to Arab countries totaled USD$ 12.57 billion in 2010, representing a growth of 34% over the previous year. Imports from Arab countries ended the year with USD$ 6.96 billion, a jump upward of 33% compared to 2009. Among the main destinations for Brazilian products are precisely the UAE (USD$1.85 billion, up 4.7%).
"That's right and the momentum in trade between Brazil and Arab countries should continue in 2011.
"So far this year during January and February exports reached USD$2.02 billion - an increase of 46.97% over the same period in 2010.
"To that end at Intermodal 2011 Emirates announced new services to Rio and Buenos Aires beginning January 2012.
"The belly hold capacity on the 777-300ER we will deploy on the route will support key imports and exports including automobile parts, accessories, manufactured goods, fruit and vegetables, machinery and pharmaceutical products from Rio.
"For Buenos Aires, we see key imports and exports including perishables, textiles as well as pharmaceuticals.
"Also at Intermodal SAO we formalized our agreement with Scand-Repremar Air Cargo Services, our GSSA in Uruguay," Ram Menen said.
In a related, 'one hand washes the other move,' Panalpina, which has both pioneered a service and also proven beyond a shadow of a doubt that the inventive and intuitive can also work in air cargo, has connected its North American hub in Huntsville, Alabama to Sao Paulo, Brazil and recently received the Global Trade Award for 2011 from the North Alabama International Trade Association.
Panalpina pioneered all-cargo air freight service between Luxembourg and Huntsville in September 1990 as the first freight-forwarding company to offer scheduled cargo service between Europe and North America.
Panalpina—in cooperation with Atlas Air—has expanded its "Dixie Jet" service from Hong Kong to Huntsville and an express service to Brazil, with an airport-to-airport time of 30 hours from Hong Kong via Huntsville to Sao Paulo.
"This transportation leg is offered due to the big demand for fast and reliable connections from Asia to Brazil," said Markus Muecke, (right) Panalpina Head of Air Freight Procurement at Intermodal 2011.
We spoke collectively to Michael Hatfield (UA), Jim Bellinder and Maddy Munoz (CO) who were in SAO for Intermodal South America to network with conferees while raising the excitement , anticipation and promise of the "New United Cargo."
Talk about good looking: these folks see a more positive future every day.
The consensus opinion was that "the Brazilian market is very important to the New United Cargo, so it was important to meet with all subsidiary CO and subsidiary UA customers in one place at one time.
"We were able to discuss our integration progress with both existing customers and many potential new customers.
"We feel that the Latin America air freight market is growing as fast or faster than any other region in the world, and IATA statistics support this.
"We're very bullish on Latin America's future growth potential as well.
"Intermodal South America has always been a high-quality event, but this year the quality of the event and the exhibitions exceeded other years.
"We were very pleased with the number of decision-makers who attended, and how eager they were to learn about new solutions to their logistics needs.
"It was also, for us, a learning process.
"It was amazing to see the number of companies that are putting new resources into the Latin America region.
"Clearly, United Cargo is not the only organization that is bullish on Latin America's future."
| | |
| --- | --- |
| | |
Also on the airline side, TAP Cargo was present at SAO Intermodal 2011.
During the event, TAP Cargo's CEO, José Anjos (above), revealed an 18 percent growth forecast for TAP Cargo this year in Brazil.
TAP plays a key role in business relations between Portugal and Brazil operating (from June 1) 74 weekly services to 10 Brazilian cities.
"In 2010, we reached a perfect operational balance: we transported 17,000 tons from Portugal to Brazil and then 17,000 from Brazil to Portugal," Mr. Anjos said.
Speaking to the ambitious upward curve of business in the southern climes, Delta Cargo President Neel Shah noted:
"For us the entire Latin American market has shown some tremendous strength and we are very pleased with our year on year performance in all gateways including SCL, GRU, GIG, EZE, LIM, and BOG".
Geoffrey/Flossie