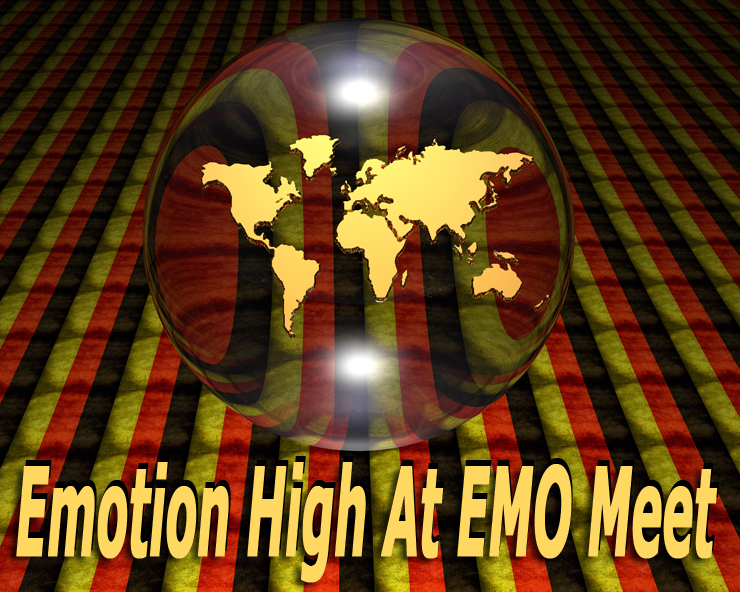 Jo Frigger is extremely content. "So far 2010 was our most successful year as EMO Group," stated forwarding agent EMO-Trans' North American Chairman and CEO.
"The revenue increased to USD$350 million U.S. dollars, compared to USD$250 million in 2009."
Important markets like China, Latin America, India and Southeast Asia stabilized and EMO's global network expanded further with establishment of new offices in Minneapolis, Seattle, Adelaide, Auckland and Nuremberg, thus enlarging the worldwide reach.
These were the key messages Frigger delivered to the more than 120 EMO-Trans representatives and delegates from international partner agencies gathered in Frankfurt, Germany on the occasion of the agent's 10th Global Network & Partner Meeting, which took place March 27-31.
Air freight remains EMO's prime business, accounting for roughly 60 percent of the total turnover, but ocean freight, which for many years has been of secondary importance, is on the rise, accounting for nearly 40 percent of the annual turnover.
"In 2010 we moved more TEU's than ever before," stated Jo, adding that "markets are rapidly changing with customers getting tougher and rate structures more complicated."
The global EMO partners' network produced nearly U.S. $200 million in airfreight revenue and shipped more than 150,000 TEUs. The executive concluded his speech by asking the EMO representatives and their network partners to push ahead with value-added services, provide utmost quality to shippers and consignees and increase investments for IT development, compliance and security.
Thomas Huchler, member of Germany's EMO-Trans managing group, fully agreed by emphasizing that, "our customers seek more than the relatively simple carriage of goods from point to point. They demand more visibility and less interfaces in the entire supply chain."
Having said this, Huchler announced the creation of EMO-LOG GmbH, a Stuttgart-based subsidiary for customized global logistics. A key account of the newly established firm, which commenced operations April 1, is Brooks Sports GmbH. Brooks Sports designs and markets footwear, apparel and accessories in more than 40 countries worldwide. While EMO-Trans organizes the air and sea transports of all Europe-bound shipments on behalf of Brooks, the new LOG subsidiary is responsible for value-added services like commissioning, storing, picking and packing, and preparing the packages for final delivery.
"This extremely customized product is a pure B2B endeavor," explained EMO-LOG's Managing Director, Frank Wachter, and it will "hopefully open up doors for additional users and thus extend our own portfolio." He estimates EMO-LOG will handle roughly 700,000 pairs of shoes and 300,000 packages of apparel until year's end, thus turning over one million euros in the remaining nine months.
In addition to announcing this new subsidiary for the company, EMO-Trans welcomed new partner agencies that are joining the group and helping to widen its market presence.
An important new partner in EMO's African market and in the U.S. and Canada is French service provider SAGA, (see story below) a member of the mighty Bolloré group.
"We signed an agreement with the EMO group giving us full responsibility for their business from Sub-Sahara to Mozambique and Angola, but excluding South Africa," described SAGA's Directeur Général, Olivier Boccara, of the accord. At the same time, EMO will refrain from establishing its own stations or branches in countries like Nigeria, Tanzania, Togo, Angola, etc. In return, SAGA's New York and Los Angeles offices will be fully integrated into EMO's organization in the U.S.
"We'll manage their North American business while they become responsible for our entire shipments to and from Africa," said Jo Frigger.
In addition to SAGA, Irish agent, Quinn Freight Forwarding and Portuguese Spedycargo Transitários joined the EMO world network.
Left to right—Jenni Frigger Latham, Director-Global Network EMO Trans, Harald Zielinski, Lufthansa Cargo's Head of Security and Environment and Jo Frigger, EMO Trans North American Chairman and CEO.
In a noteworthy presentation, guest speaker Harald Zielinski of Lufthansa Cargo raised the question of whether consistently tougher and more security regulations imposed by state authorities like Washington's TSA might threaten future growth of air freight.
"From my practical point of view, an increasing number of regulations established by both the TSA and the European Union mean more and more challenges for the airlines."
He strongly opposed the increasing development of different security regimes on a global scale without synchronization. "We have a very stringent control system in Europe including certified known shippers, authorized regulated agents, ground handlers, and airlines that has proven to be highly efficient," stated Harald.
"This security regime, however, is not accepted by the U.S. authorities. We desperately need a harmonization of the international security measures in our global industry.
"Cargo security all around the globe is currently focused only on one national rule – that of the U.S."
He urged both Washington and Brussels to quickly sit down together to structure compatible, mutually acceptable and workable security standards.
Zielinski also questioned whether the rule 100 percent x-raying of shipments flown in the lower decks of passenger airlines demanded by the TSA as of January 1, 2012, is the ultimate solution. "Screening has its limits," he said. As an example, he mentioned a box full of metal screws with a hidden device in between. "An x-ray machine cannot detect this explosive," said Zielinski. His conclusion: A multi layered approach consisting of x-raying, sniffing dog controls and physical spot checks secures air freight much more efficiently than just the screening of goods.
EMO's Jo Frigger commented: "My greatest concern is that any customer not complying with TSA's and Customs' rules is in danger of losing business right on the spot. Our job is to help customers find their way through the jungle of regulations."
Heiner Siegmund /Flossie