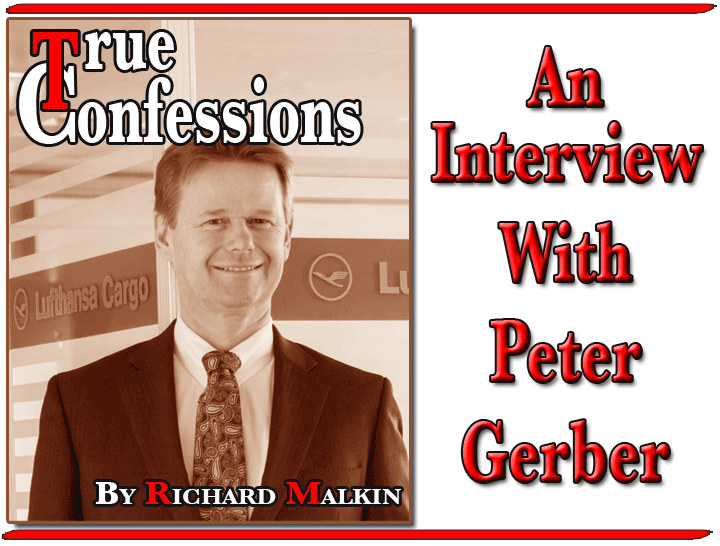 Peter Gerber assured me that he has kerosene in his blood, which translated to a simple though important fact: virtually the entire career of the 51-year-old CEO of Lufthansa Cargo has been within the Lufthansa Group. The kerosene apparently has turned out to be an effective mix, and Gerber replied to cargo-related questions without stumbling. He gave strong evidence of a tight fix on world markets, and the various forces of competition—and he had ideas. Was it vital that an aspirant spend their entire career in cargo in order to reach the uppermost rung of the ladder? Certainly not in Gerber's experience, who maintained that "the great thing about Lufthansa is that it is possible to engage in completely different fields over and over again"—and lead to a solid challenge. Admittedly, "cargo is truly special."
Asked for his outlook on the current year, Gerber described it as "demanding and volatile," but there is some expectation of "a slight rise in demand worldwide" and will compete to benefit from this. He expressed optimism, and was preparing for the "benefits" in terms of investment in services and quality.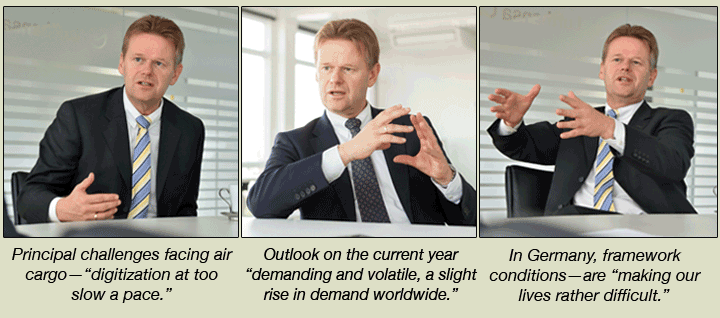 Are the levels of competition in the world's regional markets relatively stable, or are some subject to volatility? Gerber declared that there were "clear imbalances" between global regions. Some countries, he said, used aviation as a "strategic weapon" to enhance economic development. In Germany, framework conditions—restrictive night flights bans and emissions trading, for instance—are "making our lives rather difficult." Speaking for himself, Lufthansa Cargo's chief stated that it is of great importance to have a "level playing field," for the airline industry is global, which requires "level framework conditions."
At this point in the interview, Gerber was asked to identify the principal challenges facing air cargo's forward movement. Gerber said:
"In many cases, the industry is driving innovation and developments such as the digitization of the most important processes at too slow a pace. We need to become faster and, above all, cooperate even better with other companies. And the rapidly expanding presence of the Gulf carriers is definitely a major challenge, "especially for the established airlines from Europe, Asia, and the U.S."
Gerber went on to point out capacities that are "thrown" on the market, especially the huge amount of belly capacity, impact heavily on the markets. No longer is there a level playing field. He charged that "massive state subsidies have led to" distortions of competition "which should not continue in the long run." He was emphatic in calling for politicians to "step in to ensure fair framework conditions."
Narrowed to the reality of Gerber's top cargo office at the airline, he was asked what he considered to be his foremost challenge. Addressing the query in terms of a management team, he maintained that its uppermost task was to "put the customer first in every aspect of decisionmaking" within Lufthansa Cargo—the single approach taken to "steer" the company in to a successful future.
Atop this effort is Gerber's commitment to "good and fair framework conditions." Alongside this pursuit, Gerber's unfailing focus is on "implementing our strategy program (Lufthansa Cargo 2020) with new planes, up-to-the-minute IT, digitization of processes, innovative cooperation, etc." In a muted burst of enthusiasm, Gerber painted a picture of a future Lufthansa Cargo "even more efficient and, above all, fit for coming generations."
A native of Giessen, Germany, Peter Gerber studied law and business management in Giessen and Hagen, and years later completed the senior executive program at Columbia University. Joining Lufthansa in 1992, his initial duties were in human resources and law. Five years later, the young man was assigned to head intercompany transfer pricing, fees, and charges, focusing on airport and air traffic control costs and relations with the Federal state authorities.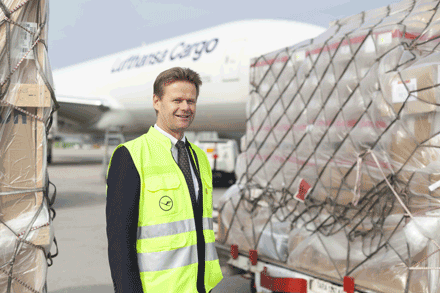 In the period 2001-04, Gerber's responsibilities shifted to direction of the D-check program, which sought to consolidate corporate earnings. During the eight years starting in 2003, he served as Lufthansa spokesman for the Air Transport Initiative for Germany. At the same time, he was responsible for strategic corporate development. Then came a five-year period (2004-09) in which he headed corporate industrial relations and social security.
The door to cargo opened for the first time in 2009 when he was named to Lufthansa Cargo AG's executive board with responsibility for finance and human resources. Three years later Gerber found himself on the executive board of the passenger airline, heading human resources, IT, and Services Division. He bounced back to the universe of air shipping with his 2014 appointment as chairman of the executive board and CEO of Lufthansa Cargo AG, plus chairing the Supervisory Board of Lufthansa Cityline and holding membership on the Supervisory Board of Albatros and Fraport.
Mark Twain is not unknown in Germany, and it was Twain who observed that "work consists of whatever a body is obliged to do, and play consists of whatever a body is not obliged to do." But in Gerber's case, time permitting, leisure translates to sports, especially running. And, on other occasions, "a good game of chess."
One of Gerber's priorities is direct and frequent contact with the industry's intermediaries. He strongly conveyed the impression that this was a basic element in his job. A CEO, he said, "can only successfully lead a company if he is always in touch with his customers." It is a business environment that contributes 8 percent to total company revenue.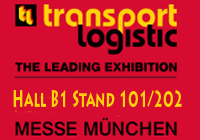 In a discussion covering the international air cargo market, Gerber said that tonnage was "fiercely contested. The field of competition is marked by enormous oversupply, price dumping, and the creation of huge fleets by, in some cases, strongly subsidized carriers." Generating reasonable margins is a tough occupation. Asserting that "complaining is no strategy," Gerber said the carrier is bearing down hard on its strengths, investing in its product, and winning customer recognition of Lufthansa as the "best choice." Is this strategy working? Its 2014 profits topped the previous year's results by 25 percent. Freighter and belly cargo revenues are roughly equal.
Is Gerber disturbed by reports of air shippers returning to surface modes? The airline head replied candidly: "Air cargo is, and always will be, a market for certain goods—goods that either need to be transported fast, or are critical for production and have a high value. For these products air freight is and will remain the only reasonable mode of transport."
Do Lufthansa's current plans include cargo-facility activity at one or more airports? His answer was quick, as if he had been waiting for the question. The focus is on the "home hub, Frankfurt." Along with other firms, have developed the Air Cargo Community Frankfurt the objective of which is to "join forces to strengthen Frankfurt as an air cargo hub, noted for its strategic geographical location."
Gerber's voice gained in drive and enthusiasm, stressing Germany's high position as an exporting nation. In his telling, Frankfurt is Europe's No. 1 logistics hub. Gerber ultimately was careful to point out that the airline also invests regularly "in our infrastructure at other locations that are vital to the airline."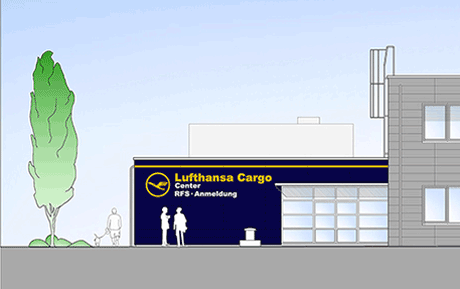 "Cargo facilities never die, they just find another commodity."
All people older than an MD-88 can recall a time when cargo facilities were not much more than former hangars used for heavy maintenance and other tasks.
We can recall when Hangar 12 at JFK was utilized for both air cargo and B707 C Checks back in the day.
But then came the super-air cargo terminals, like the giant land-swallowing facility Lufthansa operates at Frankfurt, which opened in 1982.
Well the planners that created Lufthansa Cargo's Frankfurt facility must have done something right because apparently the venerable set up is okay to operate into the future; an expected move to build a new cargo center for FRA, where 80 percent of all Lufthansa cargo is handled, has been put on ice "for at least two years," as we learned last week.
But the venerable Frankfurt hub will also receive "necessary enhancing measures" according to the announcement.
We asked Lufthansa to elaborate on the enhancements and the reply was that news would be forthcoming.
So while the "LCCneo" plan remains in the future as the carrier assesses the landscape and grows more efficient in the air (having added a stable of new B777 freighters to the fleet), positive words flow from the airline:
"Air cargo is a core business," is heard again and again.
"'LCCneo' is a significant building block of our 'Lufthansa Cargo 2020' strategy for the future," said Peter Gerber, chairman of the Lufthansa Cargo AG executive board, while pointing to some pluses.
"Five modern Boeing 777 freighters already fly for Lufthansa Cargo, the modernization of our IT for handling will be completed this year, and we are excited about our close cooperation with ANA Cargo on routes between Japan and Europe," Mr. Gerber said.
We recall a retrofit Lufthansa applied in Frankfurt just a couple years back that modernized their cool handling facility (see video), so as they say: "There is life in the old girl yet."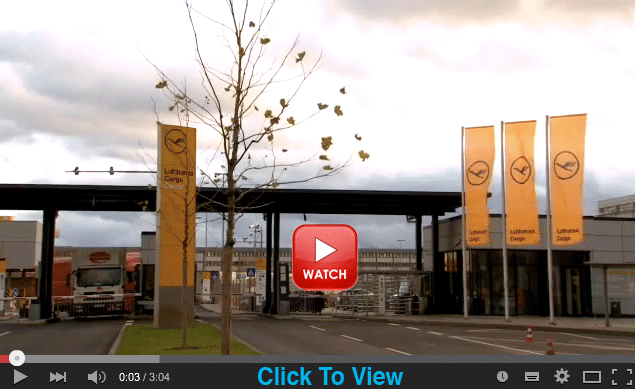 From our vantage point, the ways things happen in the airline business can often not only fill the bill, but also exceed the need.
Take the MD 88s mentioned above.
Although the last one was delivered in 1994 and more than 1,100 of the last variant of the DC-9 was supposed to disappear by now, some new and amazing 2015 cockpit technology refits will now allow carriers that still fancy the airplane to continue at least another five years.
What goes around comes around.
Geoffrey/Flossie

The question of cargo security produced a somewhat lengthy statement directed at the heart of the subject. He declared:
"The level of air cargo security has increased enormously over the past few years, and I think it is fair to say that Lufthansa Cargo contributed strongly to this development. Of course, it is clear that we will make every effort to further improve our security standards wherever possible. But it is also important to point out that additional requirements—for example, those imposed by public authorities—must also be feasible in practice. Unfortunately, this was not always the case in the past."
In last year's closing month, Lufthansa Cargo and Japan's biggest air carrier, All Nippon Airways, launched an air cargo joint venture between Japan and Europe. Gerber hailed the alliance as a "great step for our customers" who would benefit from an improved network.
Despite renewed deadlines for an industry free of paperwork, Gerber expressed optimism that e-airwaybill will be developed and implemented by the end of 2015.
With the reins of Lufthansa Cargo in his hands, would he favor establishing air cargo economics as a special course in universities or business schools? Gerber declared that "as a company" LH is doing a great deal in "the development of young people and supporting many university projects." He brought forth the example of guest lectures or assisting in the development of academic courses. Add to the foregoing the airline's offer to more than a score of young people "an opportunity every year to train with Lufthansa Cargo, frequently leading to recruitment."
The topic brought to Gerber's mind his earlier years with human resources management. The development of staff members has become "a matter close to my heart." At Lufthansa, he continued, there is a tradition to "fill most of our important management positions with our own staff."

Lufthansa Cargo US A team takes a break from non-stop, face-to-face meetings to enjoy the cool shade of a friendly tree in the hotel garden at the 25th Annual CNS Partnership in Orlando, Florida, two weeks ago.
Pictured (L to R) Gabriella Galantis, Director US Midwest and Canada at Lufthansa Cargo; Uwe Glunz, Regional Director USA West, Mexico & Central America; Alexander Karst, Dorector Sales & Handling USA Northeast and Mid-Atlantic; Karen Earp, Global Account Manager Lufthansa Cargo;Gunnar Loehr, Regional Director South America Caribbean and Florida; Achim Martinka, Vice President The Americas; Carl A. Unger, Director USA South; Alison Ricker, Head of Global Accounts and Ron Sanford, Global Key Account Manager The Americas.
Traditionally in this series of interviews, I request the interviewee identify three persons who most influenced his career. Gerber resisted the request, holding that in the space of the last 23 years, his many contacts and friendships in the aviation world served to mold his professionalism. If he had to boil the request down to a single person, "it is clearly my wife, Annette," with whom he has two children.
Richard Malkin