After 100+ days, President Trump is still focused on his campaign promises to provide the U.S. with security, GNP growth, and improved infrastructure.
Politics have slowed down a few of his programs, but he seems to be on a positive flight path.
Growth & Challenges
As I have suggested in my past articles, these policies will help to grow the U.S. airline industry, but this growth will create secondary problems, among which are the need for improved and increased airport infrastructure and more pilots.
In this article, I will focus on the pilot shortage, which is being called a national problem for both the U.S. Military and the U.S. commercial airline industry.
The Pilot Crunch
Both military and aviation industry experts have long predicted, even based on the existing trends and policies, that U.S. aviation would face a serious shortage of trained and qualified pilots.
Although this problem has long been identified, the remedial steps have so far proven inadequate as a growing number of commercial pilots approach mandatory retirement and airlines increase capacity without an adequate pipeline of qualified new pilots.
U.S. Commercials Move
As a result, the U.S. commercial airlines have incentivized military pilots to leave early to join the commercial airlines and this has become a national issue.
Military pilots leaving early has implications to mission readiness and the maintenance of core military capabilities.
Pilot Turnover Accelerates
Due to the aging of the current commercial pool of trained and qualified pilots, it is estimated that approximately 45,000 out of 153,000 U.S. airline pilots will reach mandatory retirement age in the next five years.
It has been reported that over the last 10 years, pilot numbers inside the U.S. have decreased by approximately 6,000 annually without adequate replacements.
In addition to this attrition, the U.S. airline industry faces significant labor pressure because of the predicted rapid growth as an effect of President Trump's policies, with current shortages of pilots ballooning to 15,000 by 2026, as outlined in a major study by the University of North Dakota.
High Costs, No Seed Incentives
One of the major contributing problems is the high costs of training U.S. non-military pilots has shifted over time from employers onto perspective learners, who must often personally finance education costs, in many cases, over $500,000 without any government assistance.
In 2009, after the crash of a commercial airliner, the FAA increased the flight training hours required for U.S. commercial airline pilots from 250 to 1,500 hours, a figure that is cost prohibitive for most student pilots.
The Commercial Pilot Certificate at 250 hours will allow them to get their Flight Instructor Certificate (CFI).
Their flight instructor certificate will allow them to get paid for teaching others to fly.
This method is generally regarded as the best way to build up to the 1,500 hours if they plan on working for the airlines.
Their only other option to build their hours would be to pay for them.
But, even then, the major carriers usually require "seasoning" flight time over the FAA 1500-hours requirement, which usually involves flying at regional carriers for a few years at a low salary.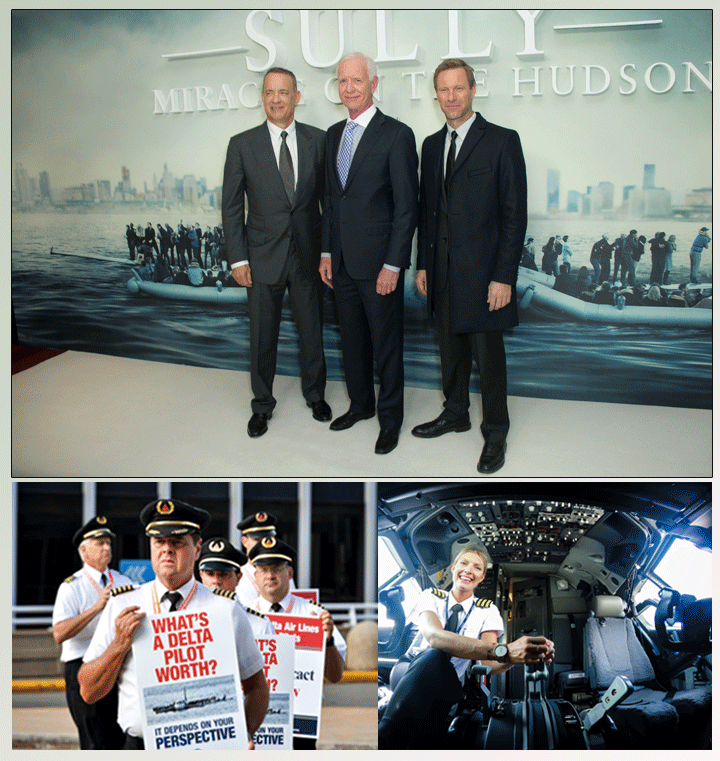 Pilots as folk heroes… Here at the movie premiere depicting his epoch landing of a USAir A320 in New York City's Hudson River is "Captain Sully" Chesley Sullenberger (center) with actors Tom Hanks (left) and Aaron Eckhart (right) as the film Sully opened in London last year.
Delta Air Lines pilots take part in an informational picket at Minneapolis-St. Paul International Airport on Thursday, Sept. 15, 2016. In December DL pilots agreed to a new contract that delivers a 30 percent pay raise by 2019.
Swedish pilot Maria Pettersson smiles from the cockpit of a Ryanair aircraft. She currently has more than 200,000 followers on Instagram.
Flight Time Exported
Because of this, some 250-hour trained U.S. pilots opt to sign on to airlines in countries like China, Europe, and the Middle East, which also face pilot shortages but only require 250 hours of flight training and pay high compensation.
Pilots For All Seasons
To make matters worse, the pressures placed on the commercial airline industry exacerbate the shortages the U.S. military already faces.
Pilots serving in the military accumulate extensive training during their service, which costs the U.S. Government more than $10 million over their first "gate" of 10 years.
These highly trained pilots are considered seasoned by the large commercial U.S. airlines shortly after separation from the armed forces, thereby avoiding years of seasoning at smaller airlines or regional carriers.
This makes them very attractive to the major commercial airlines.
As a result, their earning potential is considerably greater than a starting civilian flyer with 1500 hours.
Therefore, rather than spending years seasoning at a low salary, they immediately earn the major airline union pay scale and benefits and are also being offered considerable bonuses to leave the military at their first gate of 10 years.
Filling Pilot Ranks From Military
The risk of the commercial airline sector cannibalizing the capacity of the U.S. military is real, and the size of demand in the commercial sector dwarfs any surplus pilots the military trains, meaning commercial recruitment of military pilots will have a direct and immediate impact on sustainment.
Think about this as well—every pilot who leaves the military early for a commercial job costs the U.S. taxpayer over $10 million to replace.
No Other Choice?
If the commercial industry does not develop ways to recruit and train sufficient non-military pilots and merely continues offering military pilots huge incentives, the military may have to resort to appropriate actions to maintain the force needed for national defense.
Unless the U.S. commercial airline industry solves this problem, they may not be able to take full advantage of the growth that could result from President Trump's planned and pending business policies.
Bill Boesch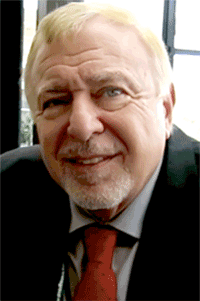 Mr. Boesch started his career in global transportation and logistics in 1965 working for Seaboard World Airlines. He later joined Flying Tiger Airlines and Emery Worldwide. Mr. Boesch then left Emery to become Pan American World Airways' Senior Vice President where he headed both Passenger and Cargo Sales and Operations. He left Pan Am to lead American Airlines' Cargo operation and retired from AA in 1998. Under his direction American became a world leader in the air cargo and logistics business.
Mr. Boesch was part of the extensive on site planning and support of the Iraq drawdown, involvement with the Afghanistan operations, and has worked on all aspects of the Civil Reserve Air Fleet (CRAF) from both an airline and government standpoint.
Mr. Boesch has also served as Chairman of the International Air Transport Association (IATA) Cargo Executive Subcommittee in 1996 and 1997, Vice Chairman of IATA's Cargo Committee. Mr. Boesch served on the Board of Directors of Air Cargo Incorporated, Air Cargo International, The International Air Cargo Association (TIACA), Envirotainer, Cargo Logistics Solutions, Deutsche Post/DHL Global Mail, al Seqir and consulted for major U.S. companies including Flight Safety.
Mr. Boesch is the recipient of numerous awards including the Lifetime Air Cargo Achievement Award, the Ellis Island Medal of Honor and various awards from the U.S. Department of Defense.
Mr. Boesch is presently continuing his work for the U.S. Government and heads up The Council For Logistics Research.
To Read Part 1 of This Series, Click Here
To Read Part 2 of This Series, Click Here
To Read Part 3 of This Series, Click Here
To Read Part 4 of This Series, Click Here
To Read Trump Effect—India Walks Softly Carries Big Stick, Click Here
To Read Trump Effect—Implications Of A Trump Trade War, Click Here
To Read Trump Effect—Trump Across The Pacific, Click Here