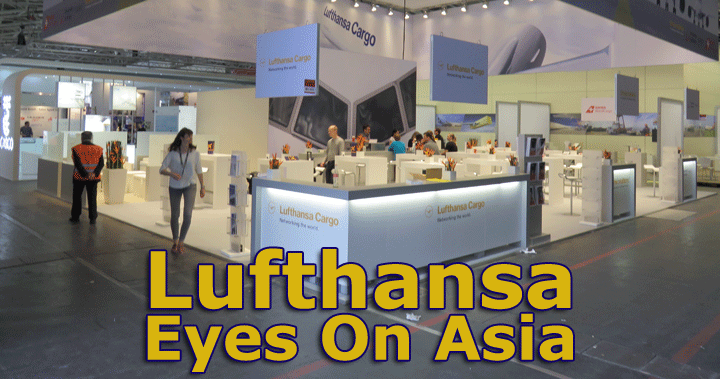 If you found the recent Air Cargo Europe a bit tight on breathing room, you will get no argument from us.
Just like many others, we spent time earlier this month walking the very narrow trade show aisles at Messe Munich.
Last year, the aisles at TIACA Paris (which probably could have used more business) felt as wide as runways.
It was just the opposite at ACE. A complete sellout of booth space delivered an aisle experience that felt like navigating the inside of a sardine can.
Air cargo went cheek to jowl in Munich, Germany, inside an exhibition hall with only two bathrooms (that we could find) located near the entrance.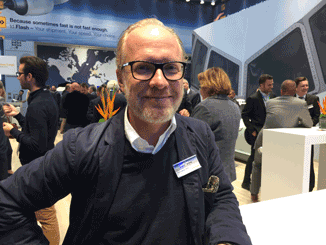 However, close quarters amongst colleagues provided the opportunity for plenty of face-to-face business. On the bottom line, that is what matters.
It just might be nice if trade show organizers might work a bit harder to deliver more space and bathrooms.
Lufthansa Group's large exhibit extravaganza at the immediate entrance was set up to include all the German carrier's partners and acquisitions.
The Lufthansa Group booth was notable in its spread, which seemed to stretch on into forever and included scores of attendees eating pretzels and soup throughout the three-day event. It also boasted the presence of Franz-Joseph Miller, (left) the founder of time:matters, the high-powered, high value shipping service partnered with Lufthansa Cargo.
FJ is packing it in after he sold his stake to Lufthansa earlier this year.
As FJ describes it, it's all nice-nice, but we wouldn't count this rather brilliant logistics professional out of the industry just yet as he retreats to his thinking place.
Whilst passing on Lufthansa's canned press dinner in a Munich basement, our ace reporter SkyKing spoke to LCAG's Director South China, Hong Kong, and Taiwan Konstantin Stathopoulos.
Loss & The Light
By now, Lufthansa's net loss of €68m Q1 2017 compared to an $8m loss a year earlier is old news, but the performance of the carrier's logistics division, which includes Lufthansa Cargo, proved a shining light. Europe's leading cargo airline earned €33m before interest and tax, a turnaround performance from the €19 loss booked a year earlier.
A recovery in demand enabled a year-on-year quarterly revenue increase of 18.5 percent while traffic, measured in revenue cargo ton kilometers, expanded 6.3 percent led by the Asia-Pacific region, where net traffic revenue grew 19.8 percent year-on-year in Q1 to €218 million euros.
Hope Springs Eternal
The positive results have encouraged Lufthansa Cargo, which currently services 300 destinations in 100 countries, to expand its freighter flights to Shanghai from the current seven per week to nine in September. Guangzhou will also see more capacity, up from the current four freighters per week to five starting in July.

Asian Demand Up
Konstantin Stathopoulos told FlyingTypers Asian demand had been positive throughout the first quarter with China (including Taiwan and Hong Kong) a top performer both before and after Chinese New Year and on both inbound and outbound lanes.
"The peak season at the end of last year was definitely higher than we expected," he said. "We always experience good demand in the fourth quarter from October, but last year it was bigger than expected and we didn't really see a cut-off of demand over the Christmas and New Year holidays.
"That made a very nice ramp going into this year.
"We saw very good demand before CNY and then March and April were also very good in both directions in and outbound China."
Varying Factors Driving Growth
Stathopoulos said a number of factors explained the prolonged boost in demand. "On some lanes, not least from Europe to Asia and more recently ex-China," he said, "port congestion had contributed to modal shift.
"The Hanjin bankruptcy last year definitely played into it and the sea carriers overall reduced their capacities," he explained. "This led to a reduction in stocks in the warehouses in Europe and the U.S. that needed to be refilled quickly. As well as product launches, we had the recall of the Samsung phones and quite firm management by Chinese authorities on extra capacity going out of Chinese airports.
"Many airports are very, very restricted for chartered flights but as a line operator you have the advantage to add capacity in these markets, whereas the pure charter operators can't.
"All of that combined led to the extraordinary peak we saw last year and also then into the first half this year," he declared.
New Normal At Hand
Konstantin believes higher demand to and from key Asian markets could represent a 'new normal,' at least for 2017 and possibly beyond.
"This is a trend that has been evident for quite some time now—that the demand ratio in and outbound China is actually quite balanced from an airfreight point of view," he said.
"There are definitely more and more imports as the government encourages domestic consumption.
"And exports are up this year," he said.
China Never Went Away
"You can't say that the Chinese economy is recovering," Mr. Stathopoulos said, "because it was never really in a bad situation.
"But certainly this negative trend of decreasing growth rates has changed from our perspective and, given the right environment, this will continue for the remainder of the year, which is why we've expanded our freight services into our existing gateways at Shanghai and Guangzhou, hubs where we have seen positive developments."
Healthy Balances
"The most important part for us is to have a healthy loads on our aircraft, in and outgoing.
"There are not many markets in the world which have a healthy balance so this helps us have a good profitable operation and, on the other side, of course as soon as the demand is high enough, it gives us more room to work on the revenues, on profitability and on rates.
"In China, we have seen rates increase. It's not huge but it's certainly a few percentage points."
Look Up To See Down?
"I think the interesting phase will now come over the summer months—the traditional low season.
"The question really is how far down do rates have to go, and can we still keep that gap of positive growth in terms of rates towards last year as well?"
HKIA "Shì de, qing"
"Yes, please," HKIA remains a key part of Lufthansa Cargo's Asia strategy.
The carrier has now moved its ground handling operation at the world's largest freight hub to Cathay Pacific Cargo Terminal (CPCT), cementing the joint business agreement signed with Cathay Pacific Cargo last year that sees the two airlines work closely on network planning, sales, IT and service enhancements as well as now sharing a single location for export drop-off and import delivery.
"HKIA certainly remains one of most important hubs in our network in Asia," said Stathopoulos.
"If you look at the development of HKIA overall as an air cargo port, it is still growing.
"Certainly not with big growth rates as you can see in Mainland China cities, but it's still growing.
"In the future we still see HKIA as the main gateway in southern China. Obviously, what we want to reach is the market position and also a position in front of our customers that makes us indispensable for them and gives us more growth opportunities jointly together with Cathay. Cathay as local carrier has different opportunities here than we have. We think, as two big global cargo companies, we can definitely achieve more here than we could achieve individually."
Look Up To See Down?
As to the future, it belongs to Asia.
"We see a positive drive for exports, especially into Europe but also into the U.S. and other markets," said Stathopoulos.
"One of our biggest benefits is we've established ourselves as the quality carrier in these markets with only very little changes and customers do appreciate and see the value of our very reliable service.
"A lot of carriers have withdrawn services, or withdrawn completely from the freighter market, so it really shines in the market that we've been very reliable and that our services are there to stay in our market."
SkyKing