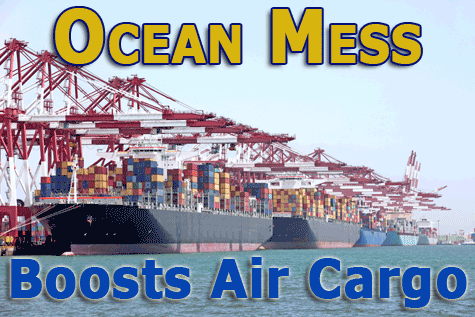 The global air cargo market has made a rather positive start to 2017.
As reported in FlyingTypers, the macro economic environment has been upbeat, with most key markets showing growth and demand on air via East-West freight lanes encouraging in both directions.
Disruptive Ocean
But what has really stood out this year is how supply chain disruption in ocean shipping services can quickly change the dynamics of air cargo demand.
Container Shortages
So far this year, forwarders and airlines have reported spikes in demand in Europe and Asia related to the shortcomings of container services by sea. Similar disruption is also expected in the U.S. in the coming weeks, which could also boost air cargo.
Shipping Alliance Focus
The key to all this has been changes in the liner shipping alliance system this year.
In simple terms, four alliances became three with new schedules introduced in late March and early April.
But the reality of the realignment was far more complex.
Hundreds of ships had to be repositioned ahead of the new alliance schedules and many lines also had to prepare plans for vessel calls at different terminals within individual ports. Given the long transit times of vessels—the operational transition started far before the launch of new schedules last month and is still being bedded in now—some disruption was inevitable.
And where this disruption has occurred, it has been the equivalent of a seasonal cargo boost for the air freight business, which has benefitted from modal shift.
SkyTeam Sails
Stéphane Lemaire, (right) VP Asia at Air France KLM Martinair Cargo, said ocean capacity constraints in key markets—as well as shippers diversifying risk by using both sea and air in their logistics plans, not least due to the alliance reshuffle and the bankruptcy of Hanjin last year—had given demand a critical extra boost this year.
First Indicators
This first ocean crunch was apparent in northern Europe during March, when export demand was also higher than expected.
Blank sailings from Asia during Chinese New Year enabled lines to reposition vessels ahead of the transition.
But this led to a shortage of capacity in Europe for forwarders loading cargo for Asia through most of March and April.
Lufthansa Chimes In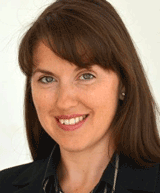 A spokesperson for Lufthansa said demand from Europe to Asia had been strong this year, especially to China, boosted by the lack of ocean slots available.
"The shift from ocean to air is clearly one driver of the situation," said Jacqueline Casini, (left) Director Communications & Environmental Management. "It started right from the beginning in 2017 with a peak in March.
"Capacity became very tight, with the effect that our express numbers went up significantly.
"It remains to be seen how long this situation will continue."
Modal Shift Beat Goes On
"Modal shift is part of the overall driver for increased demand, but not the only reason.
"Generally," Casini said, "demand for air cargo capacity has improved over all markets driven by the high tech, automotive, and ecommerce sectors."
In late April and early May, changes to port calls by lines allied with bad weather also caused lengthy congestion and delays at the port of Shanghai, the world's largest container hub.
Casini confirmed ex-Asia lanes had been vibrant all year and the carrier saw a further uptick in demand from China as ocean delays worsened.
"There are several possible explanations, for example, the ocean delays, but also the limited capacity on offer, since authorities limit extra capacity or charters," she added.
Yang Ming Thing
Another factor in the shipping conundrum has been the financial position of Yang Ming. Many forwarders are wary that its well-documented troubles could presage another Hanjin—a bankruptcy that left supply chains in disarray—so avoidance of the line has, to all effects, taken vessels out of the market as shippers and forwarders steer clear, exacerbating any short-term local shortages in container slots, particularly in Asia where Yang Ming has traditionally been a major player.
Lufthansa said that it has now added more capacity on routes to and from Asia.
"We have been able to flexibly increase freighter capacity to meet the additional demand with the focus on China (SHA/CAN) and Japan (TYO)," said Casini.
To Be Continued
As FlyingTypers went to press, reports of additional ocean supply chain disruption linked to the alliance reshuffle were emerging at U.S. West Coast ports.
This is forecast to spread to the east coast later in the month.
From our vantage point, the air cargo industry looks to be the beneficiary.
SkyKing