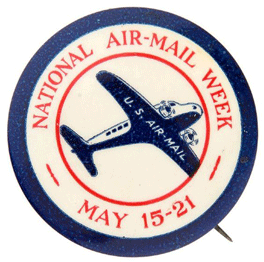 Just 80 years ago last month, in May 1938, four carrier pigeons went up against against an Eastern Airlines mail plane in a race to see which method could cover the 200-mile route from Washington, D.C., to New York faster.
"The wing-weary birds, their feathers drooping, swooped down on [the] Journal and American Building a half hour before their man-made competitor slithered to a stop at Newark Airport," read the newspaper report.
It was the first Air Mail Week, celebrating the 20th anniversary of both the airlines and airmail in 1918.
James Farley, Postmaster General during the President Franklin D. Roosevelt Administration, cooked up Air Mail Week 1938 as a publicity stunt.
Air Mail Week encouraged every U.S. citizen to send an airmail letter during the celebration, which ran May 15-21.The campaign had a catchy slogan: "Receive To-morrow's mail to-day!" and a new six-cent airmail stamp to boot.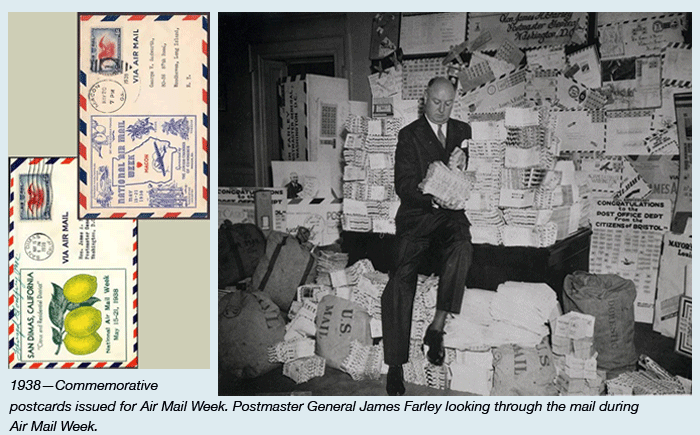 Beginnings

On May 15, 1918, aviators 1st Lt. Torrey H. Webb and 2nd Lt. James C. Edgerton utilized Curtiss "Jenny" JN4s surplus U.S. Army WWI aircraft to move 144 pounds of mail between Washington, D.C., and Philadelphia.

First of the Firsts

In the spirit of absolute accuracy, air mail was first introduced in 1911 at an air meet above Mineola, Long Island, New York, when pilot Earle Ovington tossed a full mail bag out of his plane that was picked up by the local Postmaster.
This ad-hoc effort was the first time a pilot officially carried any U.S. mail.

Air Mail Delivered LaGuardia Airport

Between 1918-1939, all the air mail bound for New York landed at Newark Airport.
New Jersey, it turns out, was way ahead of New York in embracing the commercial potential of aviation, even though many pioneering firsts happened in New York and particularly over Long Island.

Speed Was The Need For USPS

It was very simple.
The Post Office (USPS) demanded the fastest service from aircraft to processing.
The official New York City airport at the time was Floyd Bennett Field (FBF).
FBF is located at the end of Flatbush Ave. in Brooklyn. During that era, pushcarts, horses, and trolley cars crowded the area and it was about an hours ride away from the General Post Office (GPO) located at 34th Street and Eighth Ave. in Manhattan. But New Jersey delivered the mail bound for (GPO) in under 30 minutes by building roads that dispatched Newark Airport mail flights via express lanes to the Holland Tunnel in Elizabeth, New Jersey, connecting to downtown Manhattan where it was a quick ride up the west side to the GPO.

"My Ticket Says New York"

Newark aerial service landings and tickets that identified those flights as New York existed for the first 21 years of airmail and air passenger service.
But in 1934 when Mayor LaGuardia told his TWA pilot aboard a tiny DC2 flying from Chicago Midway to New York (Newark), "My ticket says New York and that is where I want to go," the aircraft (another publicity stunt) steered its way to New York airport and the aforementioned FBF, and the air mail future for New York was cast.
In 1939 LaGuardia Airport opened and everything changed.

Newark Airport Closed

The airlines abandoned Newark Airport and shortly after that in 1940 the airport minus the airlines actually closed.
Newark Airport opened again in 1941 at the outbreak of WWII, but it never fully recovered as an airport until 1978, when the deregulation of the airline industry brought on the advent of Don Burr's People Express.
Air Mail Week 2018

Spend 3 minutes as Aircraft Owners and Pilots Association (AOPA) present an interesting, fairly accurate view of air mail days gone by, including a modern day salute.
https://www.youtube.com/watch?v=86qL5Y-aDqY

A P.S. - "Postal Script"

In 1938, those "wing weary pigeons" actually won the race from Washington to New York, but only because they were spotted a 24-hour head start.
All in good fun . . .
Geoffrey