Victoria has a secret and it's connected to her garments. Not many people know that a wide variety of Victoria's Secret undergarments are made in the port city of Visakhapatnam in the state of Andhra Pradesh in south India.
In addition to VS, there's Pink, Calvin Klein, and Marks & Spencer.
In fact, one of the units manufacturing ladies' undergarments produces the largest number of brassieres exported from India to the U.S.

Vizag Over Under As Pharma Rises

However, Visakhapatnam, or Vizag as it is known, is having a tough time sending out shipments of the undergarments to the U.S. and Europe.
In addition to garments, the city is also a hub for pharma products, perishables comprising fruits and vegetables, as well as marine products.
Since the international air cargo terminal lacks capacity and basic infrastructure—lack of temperature controlled rooms, for example—exporters have no other option but to send their consignments to Chennai (800 km, 15 hrs), Hyderabad (625 km, 12 hours), or Bangalore (985 km, 19 hrs) by road.

All Modes Shortages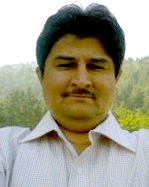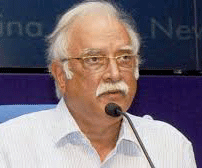 Launched barely six months ago, one of the other major issues facing exporters is the lack of palletization.
This, despite the fact that the former Civil Aviation Minister P. Ashok Gajapati Raju (left) inaugurated the new international air cargo complex at the airport just last November 2017.
"Launching the terminal," Raju had said, "is a small beginning.
"Vizag should go on to compete with Mumbai and Chennai in handling air cargo in view of the vast potential of the area."
Samir Mankad, (right) CEO and Executive Director of GSEC, which operates and maintains the Viszag cargo complex pointed out that though the focus was on pharma, marine, and valuable cargo, he expected many more product groups to use the complex. The complex is spread over an area of 674.64 sq. meters, including 120.06 sq. meters of open space.
He also mentioned that the airport "is starting bonded trucking from the complex to Hyderabad and Chennai airports for international connectivity."

The Pitfalls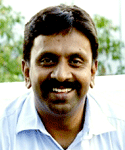 Even so, Murali Nandakumar, Head-Logistics, Brandix India (Brandix India Apparel City, or BIAC, a unique, integrated apparel supply chain city) managed by Brandix Lanka in Vizag, spoke at length about the difficulties his company faces to send shipments to the U.S. and Europe.
"Brandix sends out two kinds of shipments: LCL and air shipments via Chennai and Bengaluru and FCL via Vizag.
"Air and LCL shipments go to the U.S. (primarily). FCLs go to Europe and small quantities go back to Sri Lanka (Brandix is headquartered at Colombo)," he said.
"Our shipments are based on FOB basis and freight is booked by the customers.
"The main challenge faced specifically by Brandix," according to Nandakumar is "none other than the distance between Vizag and Chennai or Bengaluru."
He also mentioned that "talks are on with customers to route shipments via Visakhapatnam."
As for the cargo terminal that was in operation at Vizag airport, he said, "it is not sufficient to serve our requirement of an average of 20-25 tons/week."

Cargo Stalled

Today, while SriLankan Airlines and Silk Air are the two international carriers touching Vizag, in addition to Air India flights from the city to Dubai, there is very little movement of cargo.
As Nandakumar pointed out:
"SriLankan Airlines and Silk Air are servicing for smaller tonnages (1-1.5 tons)."
In such a situation, exporters said that there was an urgent need for a widebody freighter service—at least on a weekly basis.
The exporters along with the local chamber of commerce have made representations to the Ministry of Aviation and were awaiting a response. "We are looking forward for a freighter to further increase the usage from Visakhapatnam," said Nandakumar. Reports indicate that SriLankan is willing to start freighter services to the city if it was assured a regular supply of cargo.
Fruit and vegetable exporters had a similar story.
Many of them received orders for mangoes, for example, from Europe and South Korea and one of the major obstacles they faced were the high cost of transportation.
What is more important is the fact that the pharma producers from Vizag do most of their exports from Hyderabad airport because of the facilities available there.
In such a situation, the government, they felt, should provide some form of freight subsidy for exports from Vizag.
Stay tuned . . .
Tirthankar Ghosh