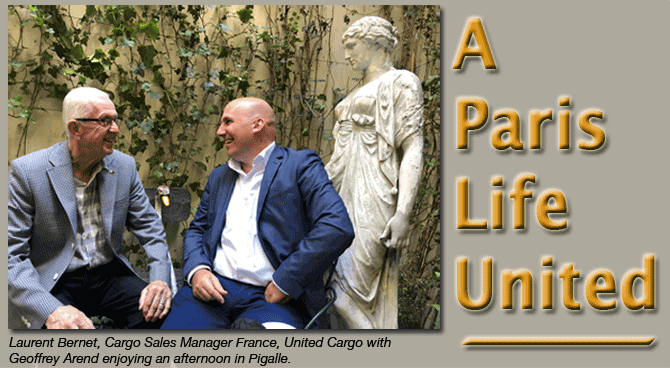 "The reason I love what I do is the people I connect with. Moving from what's familiar to places yet to be discovered—that's what I appreciate about being in the airline business.
"The unique quality United Cargo brings to this industry is our commitment to making sure everyone does well in their business—our airline and our customers."
When we met with United Airlines' France Cargo Sales Manager Laurent Bernet in a small, elegant hotel garden in Place Pigalle Paris recently, we discovered a seasoned veteran of the air cargo business. He's worked both sides of the Atlantic; first at Fritz, where he did an internship in 1992, and next at United Cargo, where he has been comfortably situated for the past twenty-four years.
It turns out that during his formative years in air cargo Laurent served as a Cargo Account Executive at United's critical major global hub in Chicago, Illinois.
"I wanted to work for the airlines. In 1994, I had a meeting scheduled with the United Cargo Manager in CDG, but he had to cancel that appointment due to a strike.
"So I came to the U.S. and applied for a job with United's passenger service team.
"I took a test to prove I was fluent in French (smiles all around) and was accepted at an hourly rate of $7.25 when I joined the 'Friendly Skies' in December 1994.
"The rest, as they say, is history."

Theme of Life & Work

"Keep it simple" was a recurring theme as Laurent revealed his deep-seated love for the logistics industry.
"I love cargo, because this business is an ever-challenging game.
"The core of what we sell is customer service. I realize this isn't rocket science, but still, you always have to be your best," Laurent says. "The fundamentals are having respect for and listening to your customer.
"A good portion of our business out of Paris is express, so consistent quality is essential. Our Sales Team needs to be respectful but also aggressive."

Mission Impossible

Chatting with Laurent generates a mood as cozy and relaxed as a cardigan sweater. As someone who from all outward signs enjoys what he does, it's natural that he would extend himself to serve others.
We learn that Mr. Bernet is current President of SYCAFF, a most respected and vital organization of air cargo transportation leadership professionals in France.
SYCAFF includes 37 members and associate members.
"SYCAFF is an organization that meets monthly, where servi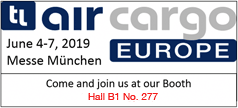 ce providers work together to build cooperation and knowledge by exchanging technical and operational experiences on a variety of airline topics.
"SYCAFF's agenda is to develop concrete solutions to multiple issues impacting our business. We bring all the perspectives and ideas together from the airlines side and strive to ensure that whatever measures we take benefit all users of the freight platform."
Of course, the old adage of "all work and no play" at least gets a nod from the SYCAFF gentry, as the group also participates in several social events throughout the year.
Crucially, for the past 20 years, SYCAFF has been in the forefront defending the interests of the air cargo sector with public authorities.
"In addition to strategic, economic, and regulatory monitoring, we also work to develop strategic partnerships whose overall aim is improving the quality of service," Mr. Bernet said.

Life in Paris

Laurent Bernet lives in Paris with his wife, Annare and two daughters, Fiona and Emily.
Asked what his priorities in life are, Laurent is quite clear and characteristically French:
"Love, family, good food, travel and job satisfaction," he smiles.
While he gets great pleasure from an evening stroll in the small village where he lives, or excitement from a night with friends in the "City of Light," he also relishes opportunities for more far-flung travel.
"Most recently we visited Cuba, and it was a unique and wonderful experience," Laurent confided.
He also has warm memories of his life in otherwise windy and (at times) brusque Chicago.
"It's a great city where we really got into living in America.
"We have wonderful memories, from when our daughters were born, to when Annare ran in the Chicago Marathon, to many other people and places that are special to us."
A favorite place to be—besides Paris, of course—is Buenos Aires.
"Buenos Aires is a city of constant discovery and adventure, no matter how many times I visit," Laurent revealed, adding: "The people, history and hospitality in Buenos Aires are all fantastic."
Laurent admits his love for life extends to culinary delights such as sushi and red meat dishes like the famous "steak tartare."

Advice to The Next Generation

Laurent Bernet's outwardly spirited approach is genuine, coming from deep within.
We learn that Laurent continues to battle cancer and, in addition, he gets a portion of his drive to embrace life fully from having survived a harrowing automobile accident in 1998.
So as Laurent gives advice to those seeking a long and positive career in air cargo, everything comes full circle:
"Learn from other sources," Laurent advises.
"Take the best, but remember to separate the wheat from the chaff.
"Be bold but humble, but in the right circumstances don't be afraid to be insistent, even arrogant.
"In life, be sure you're right, and then go ahead.
"Never forget that people make all the difference.
"Keep your word, and never promise what you can't deliver.
"I take great pride in the United Cargo product. Nobody does it better than us, so I'm thankful I have a part in providing it and I'm never far away from my cell phone or email.
"But sometimes you have to say no, and that is difficult.
"Whether you say no or yes, in the end the secret is trust," Laurent Bernet said.
Geoffrey/Sabiha