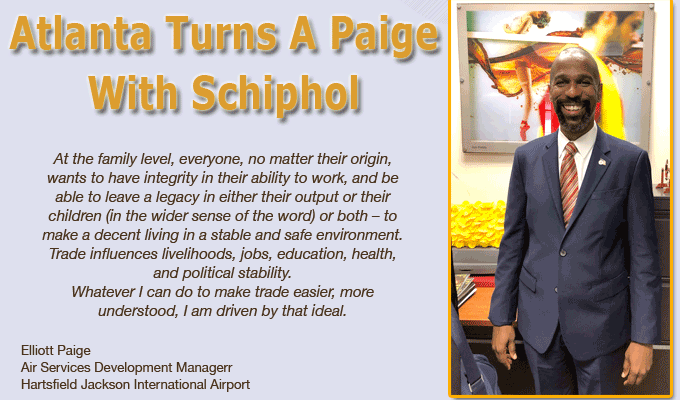 If Elliott Paige had any better a handle on what it takes, and what Atlanta has to offer, it would be hard to discover.
The Air Services Development Manager at Hartsfield Jackson International Airport is so smart and upfront about HJIA's cargo program you can go to school on the word picture he paints.
"Air Cargo efficiency improvements," he smiles and speaks softly, "is the name of the game.
"Success in this arena brings opportunities, for the airport, the Aerotropolis—our airport city and the surrounding community, and the southeast.
"These opportunities include potential to increase volume of cargo, increased value as we focus on higher value verticals, increase air service to Atlanta, as well as increasing jobs and business connections between the rest of the world and Atlanta.

The Atlanta Schiphol Air Corridor

"The Atlanta-Schiphol Trade and Logistics Corridor Project starts as an airport-to-airport collaboration making ATL the preferred airport hub for moving air cargo goods between Europe and Southeast USA. "We will have a formal announcement on the afternoon of June 5, in Munich Air Cargo Europe.

A New Cargo Building

"After a long wait, (understatement for some of my cargo affiliates), we have selected an operator for Building C, a 100,000 square foot warehouse with airside access.
"Our City procurement machinery does not allow me to say who yet, but we should be able to announce very soon.

First Air Cargo Community System

"We are moving ahead with the first in the USA, Air Cargo Community System.
"Kale Logistics is working with a variety of freight forwarders, trucking companies, ground handlers and airlines, with the support of the airport, to introduce the first 'Air Cargo Community System (CCS/ACS),' one that streamlines freight movement, and create transparency that allows everyone in the supply-chain to see cargo.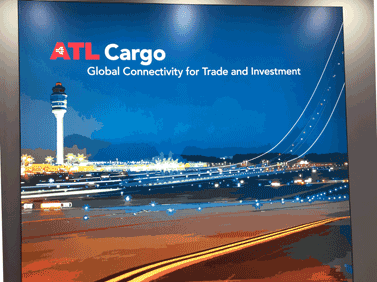 Passion For The Job Ahead

"At the macro level," Elliott insists, "I am most passionate about partnerships we are forming with other global cities to connect airport cities such that we are creating eco-systems around airports that attract cargo, create live, work play environments, and bolsters the logistics industry, the lifeblood of trade.
"At the micro-level, I am excited that these big strategies to create growth are guiding our infrastructure and collaborative efforts. "They are introducing innovations like CCS/ACS, among others.
"We are working with the Atlanta logistics community to foster an huge advocacy group that can look out for the interest of the people who make trade happen – business people."

My Playlist?

Ojala Que Llueva Café – Juan Louis Guerra, One - U2, The Soul Cages - Sting, Emancipate Yourself - Robert Nester Marley, So Many Stars - Emile-Claire Barlow.

Three Qualities That Got You Here Today

"Passion for "peace!" Elliott declares with that slammer.
"Sounds strange and this may sound idealistic, but at the family level, everyone, no matter their origin, wants to have integrity in their ability to work, and be able to leave a legacy in either their output or their children (in the wider sense of the word) or both – to make a decent living in a stable and safe environment.
"Trade influences livelihoods, jobs, education, health, and political stability. "When countries close their borders, people starve, and despots rise.
"Whatever I can do to make trade easier, more understood, I am driven by that ideal."

The Second Quality

"Probably, my second quality is determination and commitment.
"I know it seems like two qualities.
"But these are all wrapped up with uncompromising tenacity to push ahead even when everyone, seems out of touch with the reality of the world and does not give you their support.
"Where the support is void, due normally to an inability to see the forest for the trees, I press on to those who want to grow and be successful.

Third Quality

"The third one is respect for the main variable resource in production in any job I have—people.
"Colin Powell once said in one of his books, 'take care of the troops, and the rest will take care of itself.'
"With whatever power I have, I have always respected everyone, from the janitor to the big boss, recognizing the contribution that they all make to making an organization, and therefore me, a success.
"I have not been wrong in that approach so far," Elliott Paige said.

How To Change Air Cargo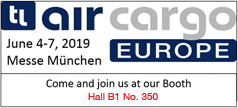 "I would love to see more women and younger people in cargo.
"They bring fresh blood and new ideas.
"I would also like to see greater collaboration between all stakeholders in air cargo, and educational institutions.
"We have not yet perfected the art of apprenticeship programs, as in some European cities.
"We in the USA need to work on that to ensure we get the best qualified people to work for us.
"We also need to invest more in our workers to prepare them for the next generational demands of the industry, for even greater speed, technology enhancements and efficiencies."

What Do You Love Most About Work?

"The ingenuity of the productive people I meet who love what they do, have a passion for things that others find to be a cure for insomnia (trade and logistics corridor, harmonized standards, trade facilitation, e-airwaybills…).
"I am energized by and equally enjoy energizing such people.
"I love that I am making a difference and the legacy, even if it's only to my knowledge, is good enough for me."

Solve One Problem in the World

"Let's eliminate trade barriers, not just in goods trade, thus for air cargo, but in services trade.
"Closed borders do not foster prosperity. "Open borders do!
"Eliminate most, if not all tariffs, bring transparency to domestic regulations – globally via multilateral WTO-rules, and streamline border procedures as the Trade Facilitation Agreement is aimed to achieve."
Geoffrey