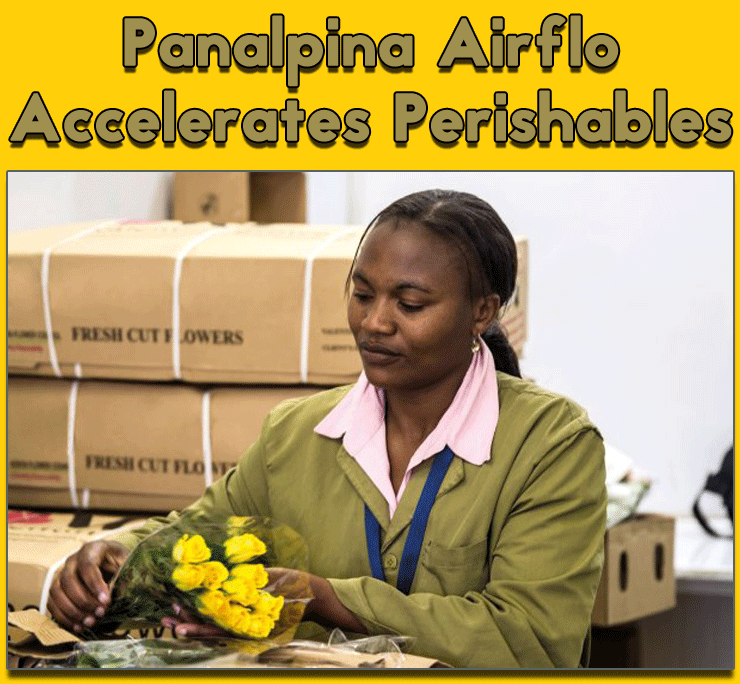 In an air freight industry characterized by overcapacity and struggles to cope with macro headwinds and technological trends such as miniaturization, 3D printing, and the commoditization of technologies, which has reduced surges in demand for 'must-have' products, finding verticals that offer stable and profitable sources of cargo has become increasingly difficult. But, according to Panalpina, one such source of succor is the perishables business, defined as products that are time and temperature sensitive.
Last November, the Swiss forwarding giant expanded its perishables logistics business with the acquisition of a majority stake in Airflo, Kenya's second largest airfreight forwarder and a specialist in the worldwide export of perishables such as fresh flowers and vegetables flown from Africa into key European markets, most often via Amsterdam Airport Schiphol.
Airflo employs over 150 staff in Nairobi and the Netherlands, organizing up to 1,500 temperature-controlled shipments each week and more than 40,000 tons of flowers each year, so its addition to Panalpina's air freight forwarding division was something of a coup. Indeed, it is one of the reasons why Lucas Kuehner, global head of airfreight, believes Panalpina will continue to grow its air freight volumes by around 5 percent this year in line with Q1 performance, even as global air freight markets remain flat.

Explaining the rationale behind Panalpina's decision to focus more closely on the perishables trade, Kuehner said fresh products were in demand around the globe all year long, and successfully forwarding them required a logistics provider to ensure products such as flowers, fruits, and fish were safely and efficiently steered through the cool chain to their final destination.
"As consumer behavior changes, markets shift, and global demand grows, Panalpina's specialists provide 'field-to-shelf' services to make sure shipments arrive in the right place, at the right time, in peak condition," he said.
"It requires a lot of experience, which suits us. This is one of the reasons why perishables as a market is so attractive and why we're diversifying into it.
"It is also a growing market. Along with the purchase of Airflo, focusing on perishables was one of the wise decisions we made last year when the oil and gas sector cut projects, which was tough for us.
"The consumption of more perishables is a macro trend that will continue. It is mixed in with urbanization and more people globally moving into the middle class. They are demanding more from food and other products that require careful temperature control."
Panalpina transports perishables for a wide range of customers, from large- and medium-sized companies that work across borders in global and regional markets to small local businesses. Customers include retailers, export and import traders, producers, florists, food chains, and restaurants. Globally, fish is the top commodity moved by air, closely followed by fruits, flowers, and vegetables.
The perishables trade is also attractive because of the nature of the trade's flows. Although it is complex and global, most of the perishables trade moves from south to north, with South America and Africa standing as two key export regions, especially for flowers. Fish is also a major cargo on intra-Asia lanes and from Europe to Asia. Important trade lanes for Panalpina are Columbia and Ecuador to the U.S. as well as Kenya to the Netherlands and the UK for flowers.
"We have a global footprint so we can offer end-to-end solutions," said Kuehner. "Because perishables are often flown from places like South America and Africa, which are predominantly import markets, filling planes with them for the backhaul makes a lot of sense."Generally, margins are lower within the perishables sector, however this is offset by the critical mass, meaning the size of shipments, as well as lean and efficient operations and value-added services on our part. And I think as e-commerce retailers look to sell more perishables, it will grow even faster."
SkyKing