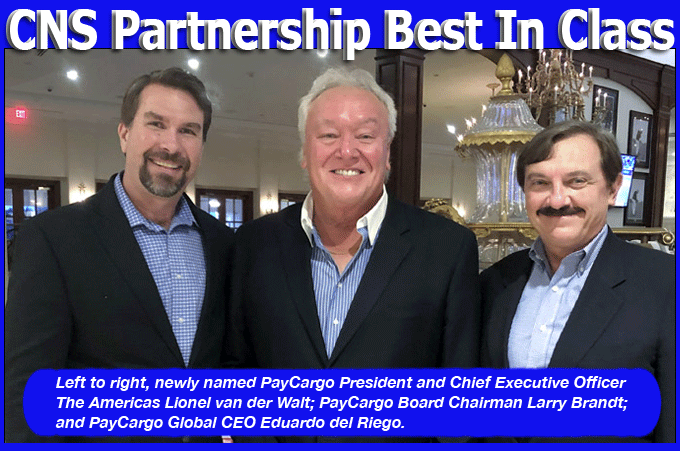 As trade show season ended for the summer we asked Lionel van der Walt newly-named board member of fast rising PayCargo to share some thoughts about the CNS Partnership Conference in his new role after having served as President of CNS.
Here is his reaction.
"I was very glad to see that the Partnership Conference is still the premier U.S. cargo industry event.
"As the conference boasted another record attendance this year, its success in drawing key decision-makers both locally and globally has become more than evident.

Delete The Heat

"Thankfully, there is a lot less pressure as an attendee than as a host, as I vividly recall the long hours leading up to and during the event.
"Nevertheless, I do have fond memories of leading this effort as CNS President.
"But I gladly embraced my role as attendee, benefiting from Mike, Carmen, Walesa, and the McVeigh Global Meetings and Events team's selfless efforts to meet our every need.
"If you have not personally experienced it, it's difficult to fully grasp the task of organizing a conference as prestigious as this, but again, they did a splendid job.
Cargo Community/Family

"Arriving in Miami for the conference reminded me that the cargo community really is one big family.
"The warm welcome I received from ex-colleagues and industry friends alike really made it almost as if I had never been away.

Fixing Leaking Roofs?

"The only constant reminder of my career change being questions as to where my tool belt was and how I enjoyed repairing roofs – I eventually gave up trying to explain what a building enclosure consultant was and focused on more important matters, namely networking and getting down to business.

Why CNS Matters

"Really, that is what CNS is all about: the trade show, plenary and innovation stage sessions are obviously important, but not why most attendees are there.
"Attendees are driven by succeeding in doing as much business as is possible in the limited time decision-makers have together there.
"This remains the biggest value-add in my opinion.
"I often wonder how many business deals are finalized behind closed doors at CNS and what that dollar amount might be.
"My assumption being, that we would all be impressed with the result should it ever become known.

I Like Mike & His Team

"I think Mike and his team did a great job this year hosting the CNS Partnership Conference.
"It was clear to me that they are continuing their efforts to modernize the event, with a strong focus on improving our attendee experience.
"The new onsite conference registration process was a pleasant surprise.
"No long queues anymore; you simply step up to one of the many available iPads, and self-check in or self-register.
"Considering all the work IATA has done to drive the adoption of this philosophy across the airline industry, the self-service option is a very appropriate and welcome change.
"I was also pleasantly surprised by the great content that was presented at the conference, both during the opening plenary sessions, and at the innovation stage.
"As a PayCargo board member, it was music to my ears to hear our company's name being mentioned multiple times during the plenary sessions by speakers in referring to the positive benefits and trends of industry innovation and transformation.
"Our very own Marion Freijsen, PayCargo Europe Executive Vice President Sales and Marketing did an excellent job at the innovation stage talking about the link between eCommerce and Cargo.

Missed Brian Clancy

"With a tip of the hat to everyone who made Innovation stage true to its title, I did miss Brian Clancy and his economic update.
"He is such a great speaker and never ceases to amaze me in his ability to simplify and clearly communicate complex economic challenges that face our industry.

Wall of Noise

"As with most things in life, there is always room for improvement. So here is some gentle further observation:
"At CNS 2019, Innovation Stage suffered poor sound quality caused by the overpowering trade show ambient noise that, at times, made it very difficult to hear and follow what innovation stage speakers were saying.
"I can only imagine the challenge, speakers had to face competing with this constant background noise.
"Now I know, that this can be resolved.
"Not 100% sure how they did it, but the Air Cargo Europe team uses the same format in Munich successfully, with little to no background noise apparent.
"Hopefully the CNS team will pay attention to this aspect during their 2020 Partnership Conference planning.
"Overall CNS Partnership Miami 2019 delivered a great event that I consider best in class here in the USA!" Lionel van der Walt said.
Geoffrey