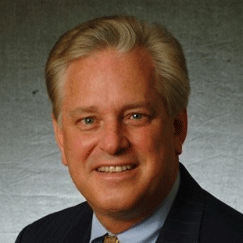 Warren Kroeppel
COO
Shelter Aviation

A Visionary Airport Man

What have you been up to?
I am currently the Chief Operating Officer of Sheltair.

What are you most passionate about?
I am most passionate about "doing the right thing" for our wonderful staff and our customers. I am always trying to improve performance and relationships.

What's on your agenda right now?
Right now I am working on a number of development projects that are ongoing at many of our airport locations, as well as improving the services that we provide to our customers.

Name three qualities that got you to where you are today.
Hard work, honesty and perseverance.

What change would you like to see in airports?
Make them much more user friendly and efficient in security operations and baggage systems.

What do you love most about your work?
The long-term relationships with people – our staff, our customers and other people I've had the pleasure to know within the industry.
If you could solve one problem in the world, what would it be?
Get rid of the extreme "polarization" between people with different viewpoints – people don't listen to each other and there are almost no attempts to work together for common goals, as was done in the past.
About Warren
Warren Kroeppel is a visionary airport man, who once upon a time led New York City's favorite (despite what you might have read), LaGuardia Airport as that gateway's General Manager.
Against what should have been an overwhelmed LaGuardia a decade ago, we recall Warren as always a 'Cool Hand Luke' in his determination and effectiveness to keeping operations moving.
Warren Kroeppel is genuine, caring and a nice guy who was a true inspirational leader of the LaGuardia Airport team at a time the place needed it, following the great tradition of Ed Ingraham and Tim Peirce.
Interesting to note—Ed, Tim & Warren's combined service of managing LaGuardia adds up to over 50 of the airport's 70 years since opening in 1939.
Thinking about the years since he departed LGA, no doubt anyone would have had a tough time managing that airport.
But Warren was, and I believe still is, the kind of person you can put into any situation and he will know just what to do.
For the past decade at Shelter Aviation, Warren now serves as COO of one of the largest most respected privately-owned, aviation companies in the world with airport properties in FL, GA, NY and CO offering FBO, real-estate and construction services.