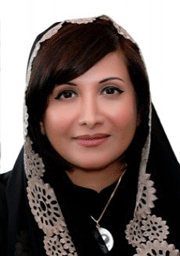 Salma Ali Saif Bin Hareb is the Chief Executive Officer of JAFZA and Economic Zones World.
She is intelligent, unafraid, beautiful, dynamic and she handles her wide-ranging executive responsibilities in the Jebel Ali Free Zone as well as other management roles in the public and private sectors, nationally and internationally with great style and class that lifts everyone around her.
Ms. Hareb was the first lady in the Middle East and North Africa to be appointed the CEO of a free zone.
She currently oversees the Jebel Ali Free Zone (Jafza); Jafza International; Dubai Auto Zone (DAZ); Techno Park; and Al Awir Zone. Jafza International was created in 2000 to meet the requirements of overseas governments and private investors seeking to establish a free trade zone, or any other type of Special Economic Zones, within their own territorial borders.
Today, Jafza International is involved in Tangiers Free Zone in Morocco, Djibouti Free Zone, and Port Klang Free Zone in Malaysia.
Now that these entities operate under one umbrella—Economic Zones World, Ms. Hareb is thriving to meet the challenges of successful global presence.
Ms. Hareb is also a Board Member of the newly formed Ports & Free Zones Board that is responsible for the oversight of the ports and free zone businesses operated by the Group.
She was also recently appointed a Board Member of the newly announced Dubai Export Development Center (EDC) in which she plays an active role in supporting and promoting manufacturing exports in the UAE.
As Jafza CEO, Ms. Hareb led the implementation of a new business model based on a customer-centric approach.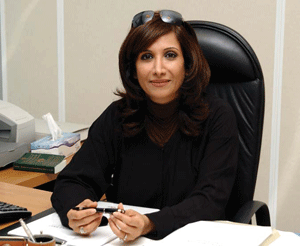 Ms. Hareb is a graduate of Al Ain University. She pursued post graduate education in Medical Lab Sciences at Cardiff, United Kingdom.
She minces few words and goes right to the point:
"If business is your passion, Jebel Ali Free Zone, Dubai is the right place.
"Our free zone has the most conducive economic conditions to cultivate entrepreneurial ambitions anywhere in the world today.
"We are an investment destination par excellence, situated in the middle east, with a thriving work culture that helps achieve aspirations.
"Our host of integrated and value-added services facilitate business to go further.
"Excellent logistics capabilities, state-of-the-art communications infrastructure and ancillary professional services are available for all our clients because Jafza believes in supporting a vision and ambition for the future.
"As one of the primary catalysts for business development in the GCC and Middle East region, we are keen on brokering new partnerships and to help capitalize on emerging opportunities in Dubai, the UAE and the whole region.
"So come step through Jafza's doors today, and let's talk business."
Air Cargo News/Flying Typers
is honored and proud to share what we discovered about Salma Hareb, an outstanding Woman In Air Cargo.
Geoffrey Arend