On Wednesday, October 4, FIATA opened its Annual World Congress in Kuala Lumpur in grand style, revealing a new crop of young, up-and-coming Gen Y logistics professionals. The gathering included the best and brightest forwarders who are bringing innovation and creativity to the industry.
The FIATA Young International Freight Forwarder Award (YIFFA) is no walk-in-the-park handout. It reflects the best practical application of the transportation scheme by young professionals in the business today.
The beautiful and well-appointed Kuala Lumpur Convention Center lies amidst a fantasy venue of world-class hotels in a business district landmarked by the skyscraping Petronius Towers.
But just listening to these youngsters topped even the towers in terms of excitement.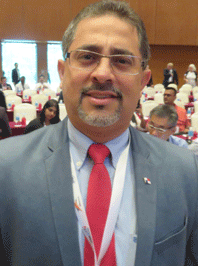 Positive Audience Feedback
Rolando Alvarez, newly elected President of the Freight Forwarders Association of Panama and Director, Up Cargo-EMO Trans partner in Panama, noted, "the training programs of FIATA are the best in the world."
"As capabilities of the Panama Canal have increased activity across the sector in our country, the need to deliver the best trained personnel to grow with the industry brings us here to FIATA 2017.
"Panama is on the move and we are looking to partner with this great organization," Rolando declared.
Xuan G. & Ai Huey, young forwarders from Korman Worldwide located in Selangor, Malaysia, declared that their day at FIATA was spent "learning from other young professionals."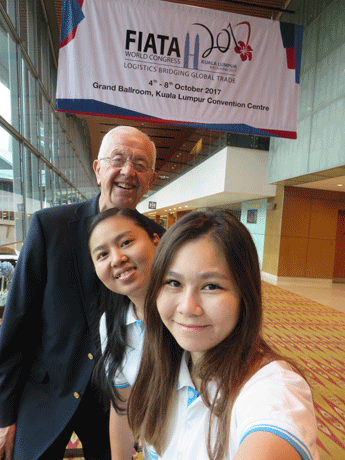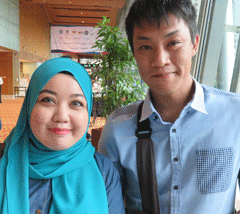 "We are just starting out and the atmosphere here provides growth & understanding," Xuan G. declared.
Note that when the photographer went for a two-shot, Xuan, in typical Next Gen fashion, insisted on a selfie instead so we all got into the picture.
Elsewhere, Western Warehousing, a company in Selangor, sent in Operations Manager Tham Tze Yuen and Shasha, who heads up Import.
"FIATA offers a window to smart thinking in every aspect of the shipping arts," Tham Tze said.
"It is also an opportunity to learn about advances in warehouse techniques from a truly world-based crop of attendees," Shasha noted.
World Regional Winners
Pictured at the top of the story is the "Class of 2017" regional winners who submitted dissertations of how to best handle an import and also an export shipment.
There were twenty-two entrants, four regional finalists, and nine judges.
The most oft-repeated comment was "how hard the work was," and that "it was really worth it."
"We made friends and learned from each other," said one winner.
"I was in sales but learned how operational logistics work," said Bradley Davis from Canada, Americas Region winner.
Nina Brose, Europe Region winner from Lübeck, Germany, utilized transporting goods across the famed "Silk Route" in her dissertation about determining cost and operational efficiency optimization.
Wan Nian, Asia Pacific Region winner from Hubei province, China, wrote of multi-modal freight movements between India and China and Africa and China.
"Combining ocean with air and even road is a precise and difficult job; the more you do it, it actually can become an art," Wan Nian observed.
Wan Nian took a moment to share "Mid-Autumn Day Greetings" with the FIATA assemblage.
As Wan Nian spoke, we thought 'here is a youngster who travelled from home during one of the most important family celebration weeks on the Chinese calendar to be with others, to share what can only be described as the future of cargo transportation.'
From Zimbabwe appeared Africa Middle East Region winner Tinashe Chiwanza, who noted:
"This competition was no easy journey, but several things were brought home loud and clear, including the impact of weather in all aspects of transportation.
"But for me it is a matter of national pride to be considered, let alone win this recognition.
"My dissertation underscored the benefits all around to practical follow-through.
"The exercise was time-consuming and expensive given the condition of doing business in the African market.
"But it also showed knowledge is power, and power can move mountains.
"Special commendation goes to The FIATA Logistics Academy, which provides a great education," Tinashe said.
Thanks To The Supporters
Especially touching were short presentations from David Logan, The South African Association of Freight Forwarders; Alvin Chua, Federation of Malaysian Freight Forwarders; Ruth Snowden, Canadian International Freight Forwarders Association and Seamus Kavanagh, Irish International Freight Forwarders Association, some of the organizations around the world that support YIFFY.
For example, Ruth Snowden from the Canadian International Freight Forwarders Association said:
"Forty-five years ago there were no trained employees nor global training available.
"Today we have four international courses with text books and basic and advanced certification.
"We need to continue to expand the search as employers of choice to attract the next generation to freight forwarding."
Geoffrey