As long as man is unable to beam a piece of freight from one end of the world to another, the essence of knowledge and physical maneuvering is as important as the technological application.
Technology is one side of the coin and skills is another.
Working Hand In Hand
The two concepts go hand in hand, exerting complementary pressure. Experience has shown us that in any business cycle the organization must be agile. There needs to be a focus on customer service, and lastly but equally crucial is talent development.
Technological advancement must be complemented with training & education of humans.
So, no beaming of freight means skills are here to stay—at least through my lifetime!
The Human Factor
One final point on this—the best & worst asset remains the human element.
It is humans that make or break organizations.
I see no change to this narrative.
I recall that the popularized "y2k"did not stop the world.
Having said this, there is adequate space for virtual forwarders (VF), but only those that will base their offering with complementary skills—this will be crucial in the long run.
The Technology Burden
If the VFs rely purely on technology, the disruption will hit them and wipe them out with one swoop.
In a perfect world where there are no surprises of irregularities of weight, dimensions, storms, and bad weather, technical or mechanical hiccups of transportation conveyance, this would be heaven for the virtual forwarders. But any of these disruptions, and others not specified, can cause havoc to the system and this is where the skills of an international freight forwarder shine brightly.
Ponder Yonder Brexit
Another point to stress is the real impact of Brexit.
Brexit could take the world to the reverse of globalization in some respects.
The consequence, even slight, means more border crossing, etc., but by any measure a change is occurring in what used to be routine.
Like it or not, Brexit adds up to another area that very much needs human intervention application skills.
This is change in the broader sense.
Credit Worth Applause
The virtual forwarder has indeed streamlined the processes and made "donkey work" palatable.
No doubt this is remarkable, impressive, clever, and essential for modernization. And it is a track that that will continue with the use of robotics, drones, and artificial intelligence.
I have learned to embrace this thinking.
My concern and at times disappointment is with colleagues in the sector that dismiss human skills.
Traditional Forwarders Playbook
We should make no mistake, the traditional forwarder, if one does not embark on innovation, will be wiped out.
There is a process that demands that everyone get on board, catch up, and embrace the new thinking of this modern age.
What suffices today is outdated tomorrow. Those that are content with today's deliverables are in for a surprise.
The emergence of virtual forwarders is all because the traditional forwarders have left all the windows of innovation wide open for newcomers to jump in.
So better think of what the customers of tomorrow want, while keeping innovation and talent development moving forward on a priority basis.
All effort must be raised toward more investment and forward-looking activities.
Issa Baluch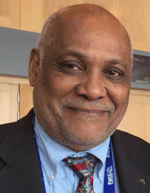 Issa Baluch launched his career as a tally clerk in Dubai at the Swedish-owned Gulf Agency Company in 1973.
He was general manager of the supply chain department where he helped initiate sea-air multimodal transport between Asia, Europe, and North America before he established his own business Swift Group in 1989.
By 2008, when Baluch sold Swift Group to South African-owned Barloworld Logistics and retired, Swift Group had expanded to 24 countries –16 in Africa –and 49 branches.
Mr. Baluch had, also among other things, served as the founding President of the first Freight Logistics Association formed on the Arabian Gulf Peninsula in Dubai, the National Association of Freight Logistics (NAFL).
Today Mr. Baluch serves as Senior Advanced Leadership Fellow at Harvard University. In addition to addressing strategies that would allow logistics to help reverse trade imbalances, Mr. Baluch has also been involved in agriculture projects in Africa aimed at addressing food shortages.