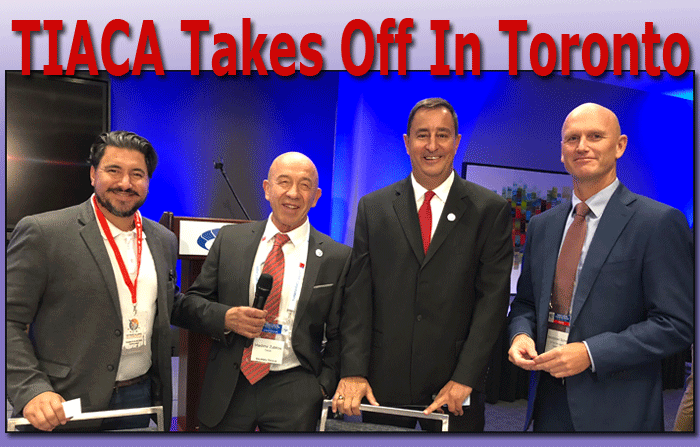 TIACA Air Cargo Forum is back flying high, wide and handsome in Toronto starting today October 16. Left to right—Juan Cruz Racana, CEO Americas Alliance SAL; Vladimir Zubkov, Secretary General TIACA; Warren Jones, Executive Director TIACA and Sebastian Scholte, Chairman TIACA.

The clouds hung low over the tall buildings on Monday, but inside the gleaming downtown Toronto Metro Convention Center, Greater Toronto Airport Authority hosted a bright and enthusiastic welcome luncheon for a roomful of executives from the industry. Amongst the attendees were the Canadian International Freight Forwarders Association (CIFFA), Air Forwarders Association (AfA) Board of Directors, Miami International Airport officials and other invited guests.
The International Air Cargo Association (TIACA) Air Cargo Forum officially opens for business on Tuesday, October 16.

Vlad Glad & He Shows It

"It's an exciting time and many of the people in this room worked very hard to make our show a success, especially Greater Toronto Airport Authority," said Vladimir Zubkov, TIACA Secretary General.
"It's going to be a great conference, enthused Sebastian Scholte, TIACA Chairman.
"We are expecting more than 3,000 visitors and will feature the most prolific sessions ever attempted at any organized air cargo industry event with over 90 featured speakers.
"Technology is on the half shell here," Sebastian enthused, "as TIACA pushes the envelope encouraging the industry to change.
"We are excited to be a major thought leader in air cargo.
"As example, a year ago TIACA embraced Cargo Service Quality (CSQ) that offers what shippers want, better transparency across the entire supply chain.
"CSQ is like a Trip Advisor for air cargo, as TIACA is also working toward greater transparency.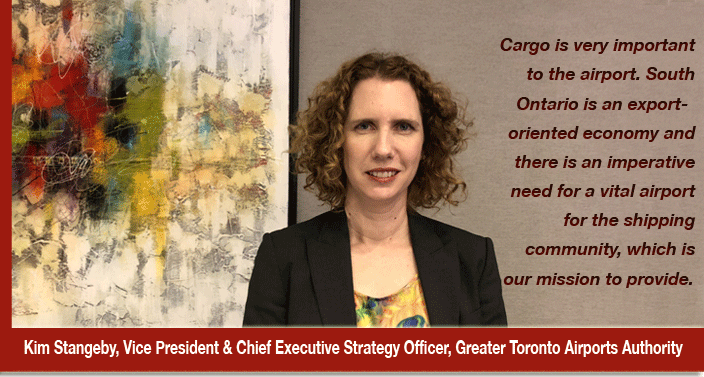 Toronto Night Move On Air Cargo

"We are on the move," said Kim Stangeby, VP & Chief Strategy Officer for Greater Toronto Airport Authority.
"As the ninth largest airport in North America, YYZ has come a long way since our gateway facility opened for business in 1939.
"Cargo is very important to the airport. South Ontario is an export-oriented economy and there is an imperative need for a vital airport for the shipping
community, which is our mission to provide.
"Perhaps even more significant is that our major growth, a great leap forward has occurred during the last ten years.
"Our gateway is a world leader in terms of connectivity, with 175 destinations serving 70% of the world's GDP.
"Cargo is top priority here as we build tonnage that is expected to double in the near future.
"We hope," Kim said "that everyone at the TIACA event will stop by our display, have a cup of coffee, and learn of the exciting plans in store for air cargo in Toronto."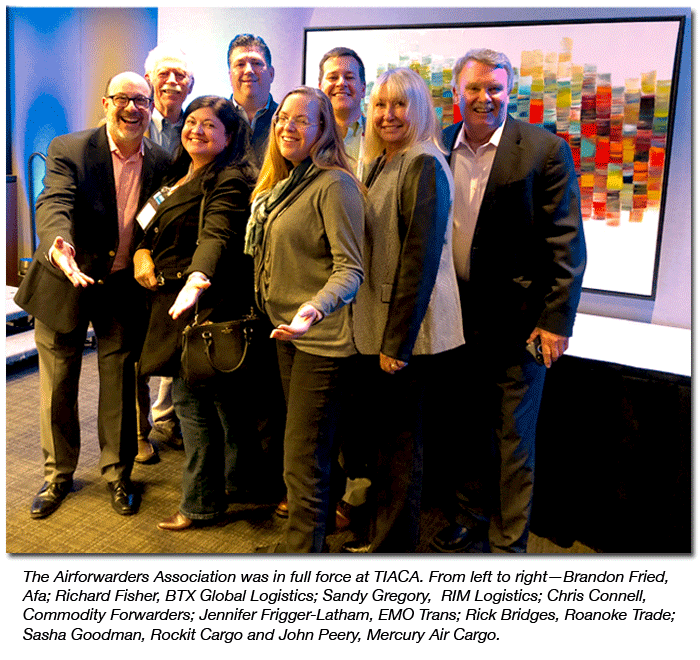 AfA Goes Face To Face at JFK

Next up, AfA goes Face To Face at JFK International Airport on November 13.
"We support TIACA with our Airforwarder Association (AfA) Board Meetings ongoing in Toronto this week," a smiling Brandon Fried, AfA Executive Director declared.
"Our big news is that AfA will conduct a one-day gathering for the New York/New Jersey air cargo community at Building 14, Port Authority of New York & New Jersey on November 13 from 4:00 to 7:30 pm."
The meetings will address various topics challenging air cargo growth, including congestion at the airports.
"AfA wants to work with the local community toward the betterment of the cargo business by strengthening the airline forwarder partnership up and down the line.
"We will hold discussions inviting participants to drive change by raising their voices.
"Edited transcripts of our discussions will appear in FlyingTypers and be available on the AfA website as well.
Cost to participate with cocktails and an excellent variety of 'food to nosh on' in a relaxed professional atmosphere is $55 for members, $75 for nonmembers.
"We care about the state of business in every community we serve.
"AfA is dedicated to building a better business and hope that others in New York/New Jersey will participate in "AfA Face To Face at JFK," Brandon Fried, said.
For more information Contact: www.airforwarders.org