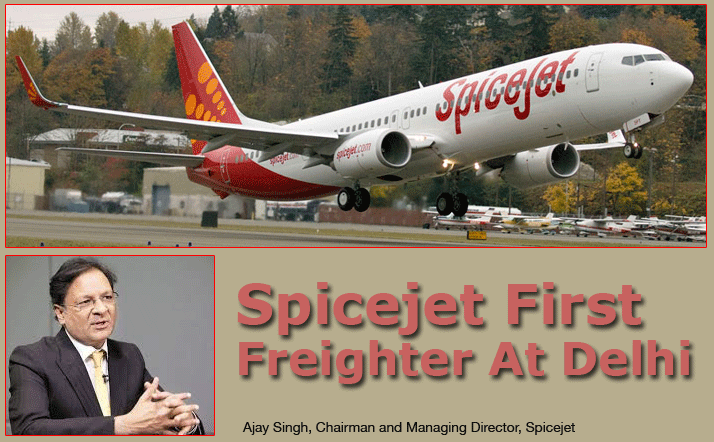 SpiceJet showcased its first freighter at Delhi airport last month September 10, making it the first domestic carrier to launch freighter services with a converted B737-700BDSF.
With the livery of SpiceXpress – a cargo division of SpiceJet – the freighter comes at an opportune moment.
As Ajay Singh, SpiceJet's Chairman and Managing Director put it:
"With our proven operational capability, this is an extension of our 'belly cargo' service to a 'dedicated freighter' with Boeing 737 aircraft."

First of Four

The freighter – the first of four – will be inducted in the SpiceXpress fleet and started operations from September 18.
Over the course of the next 12 months, three more freighters will join the fleet and ultimately, as Singh said, there will be 10 aircraft.
While another of the three will be a B737-700BDSF, the other two will be B737-800BDSFs.

Proud Bird

Mr. Singh said it was a proud moment for SpiceJet to be the first airline to facilitate the logistics requirement of the nation. "There is a great demand for high value services," he said while pointing out that with the induction of the freighter the cargo volumes will rise from the present 15,000 tons to 27,000 tons per month. SpiceJet expects tonnage to rise to 90,000-100,000 in the next few years.

e-Freight Lifts Freighters

The first freighter will initially be used on the Delhi-Bengaluru route and depend primarily on ecommerce.
Singh put it rather bluntly that e-commerce was a big driver behind the carrier's move into the freighter business.
He also emphasized that the aircraft will be used at night to ensure that deliveries can take place the next morning.
"With next day delivery services of Amazon and Flipkart delivering high-value goods and equipment, there is a need for a freighter airline, which can offer time-specific services," he said.
"Other than Bengaluru, the freighter will be used to connect with Guwahati in the Northeast and Amritsar.
"It will also touch Kabul and Hong Kong, though according to a representative from the lessor, there will be a load penalty.
SpiceJet proposes to offer direct freighter operations across Asia and Europe in time powered by its fully integrated transportation network, ground transportation and warehousing facilities across the country.
Tirthankar Ghosh