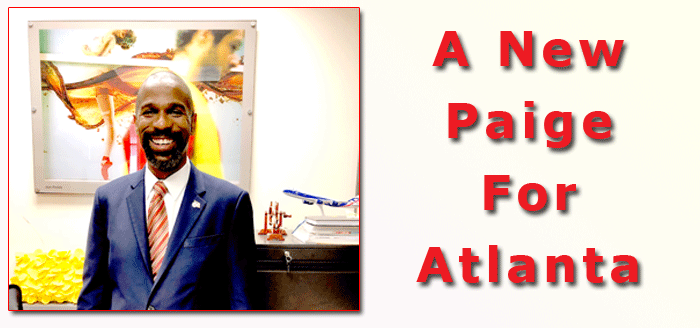 Elliott Paige is in his office above the atrium welcome area of beautiful Hartsfield-Jackson Atlanta International Airport.
The ATL Air Services Development Manager is looking at a vertical picture of the airport taken from about 1,000 feet above the field.
Airport people from Atlanta to Timbuktu love those vertical pictures. They help visualize how buildings can be moved around, reshaping the airport as needs and business changes.
"You see our cargo area today," Elliott says, pointing at the picture.
"We have an additional 100,000 square feet of handling on the way, but beyond that what we will eventually build another half-a-million square feet of handling capabilities that will accelerate our air cargo growth by delivering advanced, state-of-the-art air cargo facilities."

Demand Quality

"The buzz-word around here is quality," Elliott says, leveling his gaze.
"Last year (2017) was a good year for ATL air cargo growth with an increase of more than 6 percent, and cargo YTD June 2018 is up 4 percent.
"Our mission moving forward is to offer the highest levels of service quality, specialized services, facilities, systems and product offerings to attract the highest value cargo.
"But we also are moving to recapture cargo volumes that are "leaking" to other airports, while at the same time broadening ATL's own cargo catchment area.
"We are all into the cargo business recognizing that we need to be inventive, but also hands on, supporting existing and prospective carriers at ATL, which are increasingly dependent on air cargo contribution for profitability."

Growing Cargo Enterprise

"Latin America and Asia rank high on our list of markets that we want to grow.
"Latin America pharma imports and perishables exports continue to grow. Asia is a growing market, of course, with its continued dynamism and growth across the region via our direct services to Shanghai and 30-plus freighter flights per week from China and elsewhere in that region.
"But in all cases, everything comes back to quality.
"I don't have a challenge convincing an airline to fly into Atlanta because it's a great location for air cargo distribution.
"That is not a problem," Elliott insists.

Facing & Accepting Challenges

"Quite frankly, my problem is that when they get here, we need to provide the best world-class quality service.
"I know that if we deliver the best services from ground handling to warehouse handling, new service will fly into Atlanta, and folks that are already here that want to increase their schedules can be accommodated."

On Tap New Warehouse

"The warehouse challenge is being solved. A new facility will be out on bid for a ground handler to invest and take control of it, adding 100,000 square feet of Class A cargo handling space to our cargo area."

Meanwhile Down On The Ground

Elliott notes without hesitation:
"Staffing our cargo terminals is also a challenge as Atlanta is building like crazy, so we compete for every job here with a building industry that is going great and pays a bit more than air cargo.
"Atlanta airport right now is under a 6 billion USD capital improvement program, so when we get an individual badged and working for a ground handling company, suddenly a contractor who is doing something on the airport, building or renovating the airport infrastructure offers more money.
"So with the ground handler having paid to obtain their badge, we lose an employee that goes to work for more money elsewhere on the field.
"The ongoing challenge continues to be getting enough people to join and stay with ground handling.
"We are trying different approaches, in fact as we speak there is a group meeting in this building with State and the City of Atlanta, Clayton State University and Georgia Tech University, outlining our priorities and offering training programs to open up the talent pool to the full range of positions that we have created at this airport.
"In my view, the potential for air cargo is unlimited, so taking nothing for granted with the increasing demand, we are actively making our case in an aggressive outreach effort to attract new talent into this business."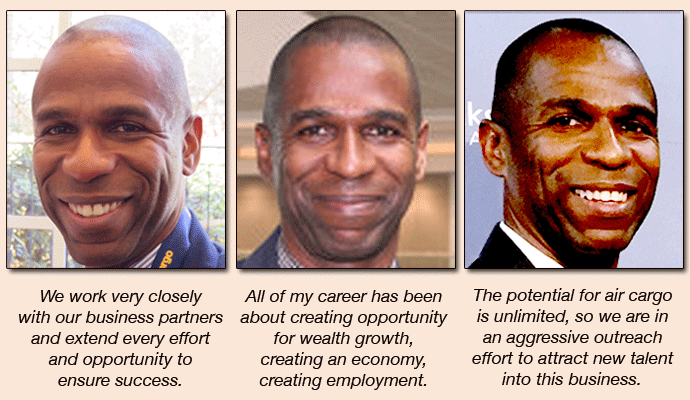 Elliott Man For All Seasons

Elliott often says "we" when referring to projects, like securing more and better staff for ground handling.
The thought arises: doesn't Alliance Ground Handling, Swissport and Lufthansa, for example, handle ground?
But in talking to Elliott, you recognize the word "we" means that the attitude of the airport is simply not "us or them" when it comes to challenges like staffing, badging, or the needs of the aforementioned and others.
"We work very closely with our business partners and extend every effort and opportunity to ensure success," Elliott assures.

Knocking Around The Zoo

"Today I am trying to make sure a vaccine needed at once gets on a flight to Mumbai.
"The antidote is manufactured in Athens, Georgia and is needed to save the lives of some lions and tigers (oh my!) suffering from a deadly virus in a zoo in Mumbai.
"It's all about relationships, plus recognizing and acting upon challenges," Elliott says.
"Whether it is an issue at customs or some needed, must-ride pharma, most of the meaningful contact does come to bear as we go the extra steps as friends to help each other out," Elliott assures.

Beginnings In Air Cargo

Elliott Paige is a development economist by training.
Born in Antigua, Elliott, who speaks easily with a light rhythm in his voice, recalls that one of his first jobs was working in air cargo.
'While in college I worked for Leeward Islands Air Transport (LIAT), a small carrier that flew Dash 8s, Twin Otters, and today utilizes ATRs.
"I got to do everything in air cargo from sales to customer service to bookings to loadings and loved it, and now I suppose a positive memory of an earlier time in my life has stayed with me."

A Career Twist In Atlanta

"I was well ensconced in trade policy, diplomacy, and trade promotion based in Geneva, Switzerland, for the World Trade Organization (WTO), negotiating trade agreements, and I worked for WTO Secretariat in technical assistance and training.
"Later I was responsible for Latin America & The Caribbean, where I went to conduct the training courses in policy and trade rules.
"As time moved on, I worked at the International Trade Center (ITC) assisting countries in developing their export sector.
"But I wanted to return to the Americas, specifically Washington, D.C., where the action is and where I thought I would fit in well.
"A friend mentioned: why don't you apply for this job in Atlanta?
"I landed the position in Atlanta, began travelling the world, again, promoting Atlanta, selling the airport and with some focus on air cargo, added four new freighter services my first year."
If you ask a "money" guy with no lack of passion and courage which virtue is paramount to make a success out of any situation, the answer is deceptively simple:
"I think all of my career has been about creating an opportunity for wealth growth, creating an economy, creating employment.
"I like to see that my impact on an economy has made it work and function to the benefit of its stakeholders.
"I like to smooth things out for a company so that they can trade and build success and continue to do business.
"Years ago, here in Atlanta, a company told me that they could not export their products via ATL, which were armored vehicles. U.S. Customs thought the vehicles were potentially going to terrorists.
"The finished vehicles were being trucked to New York for shipment around the world.
"So, I went to U.S. Customs, requesting that the officers walk the plant to see what was going on.
"Customs was amazed at the degree of technology and sophistication of these vehicles, from armor plate to communications.
"These vehicles are exported to top political leaders all over the world who feel the need for added protection.
"Today the company loves New York, but ships via Atlanta," Elliott smiles.
Geoffrey