Bill Spohrer, a true pioneer in air cargo and a key player at Gateway Miami during its critical formative years died at home in Sarasota on December 16th.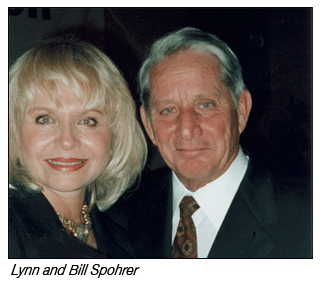 Bill did about as much as anyone you ever met, to lift organized cargo when he served as CEO of Miami-based Challenge Air Cargo. He became a driving force of a great all-cargo enterprise that landed four square behind a new idea for a trade show called Air Cargo Americas and also helped engineer the comeback of The International Air Cargo Association (TIACA).
He was voted into the TIACA Hall Of Fame in 1999.
Bill celebrated reaching 91 years of age this past June 23rd. He retired quietly from air cargo to live comfortably in Sarasota, Florida with wife Lynn.
His story from the high road to adventure was often punctuated with the excitement and immediacy of a Zane Grey novel straight out of the history he helped create.
When "Gentleman" Bill Spohrer came upon the scene at Miami International Airport, air cargo operations were dominated by the likes of Pan American, Slick Airways, Eastern and National Airlines.
When he "left" nearly a quarter of a century ago, having sold the airline he founded—Challenge Air Cargo to UPS—Bill had among other things transformed what was "Corrosion Corner" at the airport into something else.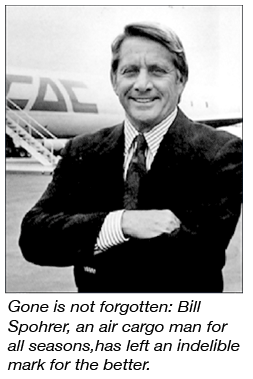 Today in 2022 at Miami International, where a colorful and rich part of airport history and legend are recalled, there stands a giant, around-the-clock, automated refrigerator, surrounded by the streamlined cladding of a modern air cargo transfer facility.
It's a giant reefer masquerading as a cargo terminal emblazoned with the name UPS, as a centerpoint created by, you guessed it, Bill Spohrer.
I thought about Bill this week when our friend Ram Menen reminded us that the Cool Chain Association is celebrating a significant 20th anniversary this month.
Bill, like Cool Chain Association founder Robert Arendal was at the inception of the cool chain movement around the world, and especially at Miami International Airport
Bill Spohrer, very early, saw the handwriting on the wall and ramped up the Challenge Air Cargo Terminal into a new landmark for air shippers at Miami International Airport.
Miami, of course, owes much of its standing in the world of air cargo to Bill Spohrer.
Bill, able to speak several languages, including French and Spanish also knew the Latin American air cargo market like the back of his hand.
Post Challenge Air Cargo, a small bed and breakfast interest up in the panhandle area of Florida with Lynn, provided some focus in another area, plus an exercise in broadened horizons, not to mention a respite from aviation.
Bill Spohrer had always been an explorer. He enjoyed discovery not from an arm chair, but out in the wild, where the "challenge" is in your face, and real.
He once spent three months exploring the Mosquito Coast of Honduras.
There have been other multi-month "interludes" in Bill Spohrer's life, including an early latch up with Eugene Fodor, the guide book guy.
Bill Spohrer was tutored in the Latin American airline game, first by legendary Lowell Yerex who founded the TACA chain of airlines during the 1930s, and later by C.N. Shelton who took on mighty Panagra with his TAN "barefoot airlines," providing service down the west coast of South America much in the fashion that Southwest and Jet Blue operate low-cost airlines today.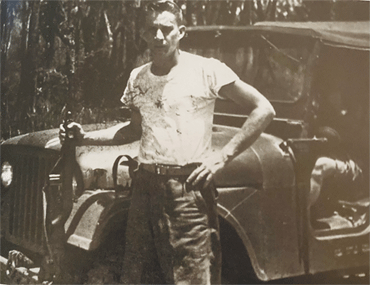 But when the music stopped at Miami International Cargo, the UPS transition completed, Bill reached back across the decades and took a sentimental journey to Saigon (Ho Chi Minh City), where (pictured right) he had served as aide-de-camp in 1954 to the American Advisory Group commander there.
Gentleman Bill moved about Saigon, looking for what might be left of an era out of Graham Greene's book "The Quiet American."
"I just wanted to see if I could remember the places and times of nearly fifty years ago," Bill told me.
Another journey of discovery, most lovely to recall, had Gentleman Bill and two companions—lifelong friends, on an extended trip of discovery down the Mighty Amazon River in Brazil.
"You hear about the Amazon River, and images of jungles and swamp wild areas are conjured by the name," Bill said of that trip 20 plus years ago.
"The truth is that the Amazon that we think we know is nothing at all like the reality of traveling through an area as big as Montana and California.
"We rode first class on the top deck which costs a grand total of $18 bucks a day, including meals.
"Of course you need to bring your own hammock which is strung up at night, up on the top deck for sleeping.
"I also managed to learn something else. For years I have been stuffing aircraft full of freight. But when I stood wide-eyed and saw how these river traders on the Amazon stuffed dripping oozing crocodile skins into the lower holds of the river boats, I felt like a kid in school again.
"Now that kind of work is the real cargo business, unadorned and right down to cases. Imagine what the people who go into those holds to retrieve the shipment of skins have to be made of, considering conditions after the skins have been packed away for a couple of days?" Bill said.


Gentleman Bill, a most beautiful human being made easy work out of discovery.
There was something tremendously uplifting about Gentleman Bill Spohrer.
His life, so well-lived, tells all of us is that there is always a reason to explore new horizons, or to visit old haunts and enrich our appreciation of history.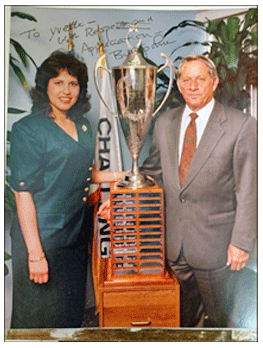 In 1994 Gil Gursky, then president of the Greater Miami Aviation Association presented the Wrights Brothers Memorial Award to Bill Spohrer, saying "Bill is a Floridian whose substantial contributions to the aviation industry have gained national recognition and thus reflected favorably on the state of Florida—a pioneer in United States/Latin American airline development." Pictured with the award are Bill Spohrer and his long-time executive assistant, Yvette Armenteros.


What kind of person was Bill Spohrer? Yvette Armenteros, his executive assistant for a decade at Challenge Air Cargo said, "I've had many mentors in my life. Bill Spohrer was my first mentor and I credit my career to all I learned from him. He was a consummate gentleman. Working for him, I saw that he was truly an inspiration to anyone that met him. I carry what I learned from Mr. Spohrer every day of my professional life."
"Just like Mike" was a popular phrase I heard my kids say, admiring the great basketball star and hero, Michael Jordan.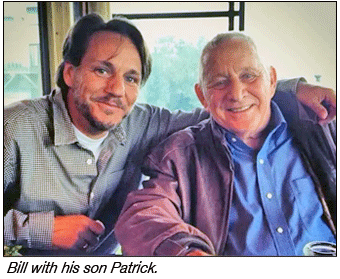 For me, I am hoping for a week, a river and if allowed, a hammock when its 90 in the shade, to be just like Bill.
"Dad called me to come to see him in Sarasota," his son Patrick told me.
"So I got right over there and he was up for it, and we talked and talked.
"The plan was for a Christmas visit, and we actually talked through one day for maybe 8 hours.
"Then we had dinner, the conversation was right there, lots of laughter and good times. He said good night and went to bed.
"That's the last time I spoke to my father.
"He died peacefully in his sleep.
"Through a long life he was a great Dad."
"He is on his newest adventure now," Patrick Spohrer said softly.
Geoffrey Arend