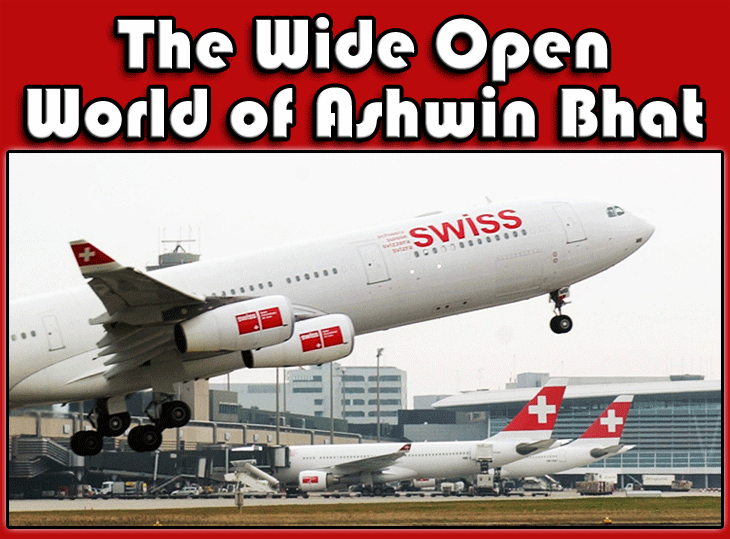 There is a high, stark white wall Ashwin Bhat faces from his desk as Head of Cargo for SWISS International Airlines in Zurich, Switzerland.
Just over his shoulder, a floor-to-ceiling window reveals the outside neighborhood and the ensuing seasons.
But the white wall offered Ashwin a unique opportunity to forge a personal window on the world, so he took it.
He placed a giant and colorful map of the world on his white wall, which may not be so unique, as business offices go.
Lots of people with the kind of global responsibility that Ashwin shoulders include a map of the world in their office scheme.
"I always like to loosen up the conversation by saying something like:
'Let's take a picture in front of your territory,' and it usually works," he says.
Ashwin also collects artifacts from his travels for Swiss WorldCargo; right now the collection is rather amazing and tells its own story of the growth, development, and keen understanding of an air cargo executive who climbed the ranks and appears to have no fear about succeeding a widely popular Oliver Evans.
Ashwin Bhat has a plan, his eyes are on the prize, and every time he is in his office we imagine he is thinking about new worlds to conquer.
Up Against The Wall at headquarters Ashwin Bhat is flanked by members of his executive team. To his right is Alain Guerin, Head of Cargo Marketing and to his left is Urs Stulz, Head of Central Services Cargo.
The Year That Was
"Our corporate results were excellent for 2015—record breaking, really. As an airline we had the third best report in history and for that we have to thank all our customers both passengers and cargo.
"On the cargo side, the numbers were not so good with some reasons.
"Firstly, our business was impacted by two external factors in 2015.
"The decision of the Swiss national bank to peg the Swiss Franc to the Euro meant that when the Euro collapsed from 120 to 101 we were stuck flying with our usual high load factors; we could not compensate selling one Euro and getting one Swiss franc in return where previously we were selling one Euro and getting 120 Swiss Francs in return.
"In other words, in 2015 the money conversion alone—where close to 80 percent of Swiss WorldCargo revenue is in foreign currency—accounted for about 50 percent of our decline during the year.
"The other factor that impacted 2015 was the artificial first quarter uptick everyone experienced due to that U.S. West Coast dock strike, which drove unnaturally high numbers our way.
"Unfortunately, for the remainder of 2015 business trended downward, with everything from yield to surcharges under tremendous pressure.
"So our results for 2015 did pale as compared to 2014, a year that was one of our best cargo performances ever."
Looking Ahead
"Now we are advancing our plan and look ahead to our offering for 2016.
"I can say if somebody out there can forecast this year, lots of luck; what I can see this year will also be a challenge.
"My take is that there is a new normal taking hold that we all have to deal with, and we have some exciting additions to our offering as well as upgrades."
As he speaks, Ashwin takes a long, deep draft from his cup. On it are some words to be remembered when speaking to Ashwin: "Attitude Is Everything."
Ashwin Bhat smiles and says, "We work at every point to stay close to our customers and let them now that we never forget how important they are.
"The world is changing.
"Right now in technology we are on the second half of the chessboard, where the growth is exponential and where what we knew was happening during the last five years is changing rapidly to something completely different ahead.
"So in such a grey rather than black and white world business situation, especially in air cargo, we need to have a positive attitude with the drive and will to succeed.
"Swiss WorldCargo is confident of who and what we are and that is exactly what made our cargo business successful in the first place.
"The second factor for us is that we are fielding an excellent team worldwide.
"The name of the game is collaboration—not confrontation.
"Our customers know that they can expect Swiss WorldCargo to lead the way in product offering and value for money.
"All of the above and more come out in the exciting plans we have for the future," Ashwin Bhat said.
Back To The Future
"Put simply, we are evolving as should be and working to be even more focused than ever before on developing and deepening our resolve to work into our strengths.
"It's all about value, plain and simple."
"For example, Swiss has an image in the marketplace of being a high-priced resource.
"While it is true that we are very high quality and we take immense pride in our product offering, and our services are priced accordingly, at the same time we are not unmindful of market conditions.
"We sell air cargo and are in a world market that is operating under certain limitations, which Swiss WorldCargo both understands and competes with.
"Our offerings, products, and services are not only superior, they are also competitive.
"In other words, people that do not approach Swiss, thinking that we might say 'no,' will be surprised to discover that we want their business and are willing to talk about it."
As Head of Cargo, Ashwin Bhat is a member of the Board of SWISS International Airlines.
"When it comes to running the airline, cargo has a seat at the decision-making table for the entire enterprise," Ashwin Bhat said.
Little wonder that today air cargo accounts for about 16 percent of the total throughput of the airline.
Excitement As B777s Add Services
"Swiss adds new B777-300ER services into Los Angeles in May 2016, offering 25 tons of uplift.
"We have always flown with a high load factor (80 percent); even in a down market there is demand for our services,"Ashwin Bhat said.
Swiss deployed its first Boeing 777 on regular long haul flights from Zurich to New York JFK from February 21 four times weekly, then switched to daily Montréal services on March 27.
In mid-April, the B777s will add Hong Kong services, a route well suited for the aircraft, followed by Los Angeles (June), Bangkok (July), and then San Francisco and Sao Paulo.
The Experience So Far
As the conversation wound down, Ashwin Bhat made the point that while remaining vigilant and ready for every opportunity, the work has also been a bit of an internal consolidation exercise.
"Much of my work has been with the team, working alongside my people, developing ideas and strategies.
"I like to be outside my office working alongside and amongst the people here in Zurich.
"You learn about things in the day-to-day closeness of working together.
"Collaboration is fine, but we need to virtually integrate our systems to create a seamless experience for our customers.
"I think there is much to be considered from the start-ups of today and especially from the culture of bringing change faster.
"A good idea in 2016 that takes until 2018 to implement is no longer acceptable in a world where changes are often put into force overnight," Ashwin insists.
Up Against The Wall
"Sitting in my office at my desk one day looking at the blank white wall that lines one side of this room, I thought a bit about the canvas I have been given, leading the cargo fortunes of a great and storied international airline.
"Of course, as we all know, air cargo is about people, so I thought this wall should represent the world we serve to bring a sense of the global village into our headquarters.
"For example, the blue bowl on the wall with the image of fishes inside is from Hong Kong, and it says that everything you want in life should be yours in abundance and should overflow the bowl.
"The horses pictured here were sent from our station in Singapore: 'Let your hopes and dreams have the speed and strength of galloping horses.'
"The Spear from Kenya symbolizes determination and resistance that the native tribes employed to end the colonial era there."
"A small U.S. Presidential Seal on the wall sent from (where else?) Washington, D.C., proclaims that this is the enclave of 'the commander in chief,'" Ashwin laughs.
Geoffrey