As Air & Sea Cargo Americas gets underway this week in Miami, the airport welcomed its first ever SAS schedules on Sunday, October 29. An A330 touched down after completing what will be a weekly Sunday flight from Stockholm.
MIA Deputy Director Ken Pyatt (center), SAS General Manager-Americas Max Knagge (left of center) and Greater Miami Convention and Visitors Bureau President & CEO Bill Talbert (right of center) were at the arrival ribbon-cutting ceremony.
Whether the weekly flight will be added to the carrier's bio-fuel schedules (United operates far and away the most biofuel flights in U.S.) is yet to be determined.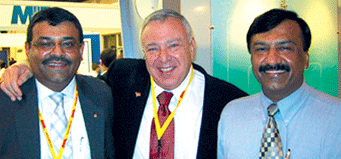 The One & Only
We are gazing at another picture. This one includes Ram Menen (left), Bill Boesch, and Prakash Nair (right) taken almost 15 years ago at the high point of Air Cargo Americas (ACA) in 2003. The event feted Mr. Boesch with the prestigious ACA Award for "Outstanding Contributions To Air Cargo."
Each time we look at these three guys (although they are not at ACA much anymore) we also remember some people who have been active from the beginning, or along the way making this event great, including (in no particular order) Bill Spohrer, Daniel Fernandez, Joe Smith, Chris Mangos, and Eric Andrews. We relish the time spent with the great people who are always part of an event that, for Latin American air cargo, is the biggest of its kind.
The Grand Wazoo
Air Cargo Americas (today correctly titled Air & Sea Cargo Americas, although the show is mostly air) is the Grand Wazoo of American industry gatherings—a wide, open, lusty, and frenetic couple of days of warmth and Latin fellowship and spirit.
Yes, the event can also be a bit wild and even rough around the edges, especially when the party gets going on the trade show floor at 12 o'clock, or as the time is known there, high noon.
Beer For Breakfast
If you ever wondered what the people having a beer for breakfast at the airport are thinking or talking about—or, in the case of ACA, a fine Chilean wine or Mexican tequila—it is all about business, life, smiles, and friends.
Larger Than Life Event
The old and young who network here are always larger than life, representing the heart and soul of this American air cargo industry.
We have always thought that the location of the ACA venue—just off the main runways of MIA—offered great access for an event.
For certain, ACA is not as polished as some trade shows, but dig a little deeper and embrace all of ACA, from its pipe rail booths to the bigger, slicker display stands.
This year, the ACA tradeshow floor opens at noon with scheduled sessions taking off each day (Wednesday and Thursday) at 0900.
Lady Charlotte Still At The Helm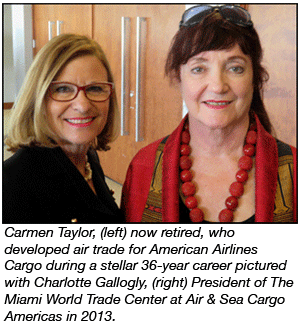 A tip of the hat goes to Charlotte Gallogly, President of the World Trade Center Miami, who has been at the helm of this event since it began twenty-four years ago.
Miami International Airport gets a nod as well.
No other airport in the world has a biennial cargo event of this size and dimension that has lasted as long, nor greeted more members of the air cargo industry.

Friends For All These Years
Thinking about all the things we do while employed in air cargo, making friends from all over the world is better than anything else.
A curious thing occurs when we gather at air cargo events—sooner or later, our humanity takes over.
The "mission" gets pushed back and we become much more than the voices and faces and thinking of what passes as air cargo today.
This is our life, this career in air cargo. These are our friends who are there for us, like touchstones, whether in Atlanta, Istanbul, Basel, or Rangoon.
What a great example of international relationships these air cargo trade shows can be!
People from all over the world, connected by the desire to advance the speed of international commerce, meeting in Miami, Florida, for a couple of days in November, under the warmth of the sun.
Just when the cold slap of the arctic express is ruling out any hope of one more languorous day up north, we join the birds down south.
Don't miss it.
Geoffrey