Roger Samways has served as Vice President Cargo Sales for American Airlines since March of this year. During that time, it has been easier to catch up with him on the road at a trade show or out in customer country than in his office down Texas way, where AA Cargo is headquartered.
Since American is growing by leaps and bounds internationally, that also means Roger is sometimes several time zones away each month as he builds the face and image of AA Cargo worldwide.
Roger speaks with a soft but definite British accent. He has spent just shy of 17 years in cargo at American, beginning in 2001 as regional cargo sales manager in Northern Europe.
We caught up with Roger (in between flights) just as Air Cargo Americas readied takeoff this week in Miami.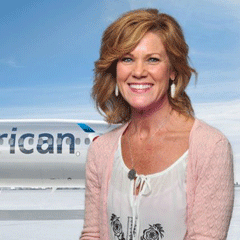 New Faces Not Surprising
"Although nothing about my position has surprised me per se, I can tell you I'm grateful for all of the support I've received from the cargo community and our internal worldwide team.
"It's been a great year so far, and we're excited to bring in Lisa Oxentine as managing director of global and key accounts for Cargo Sales at American Airlines.
"An industry veteran with more than 30 years of experience, Lisa will lead our global and key accounts team, with an emphasis on further building and growing lasting relationships with our customers."

Keeping a Good Year Coming
"As we wrap up 2017, we are continuing our focus on the importance of our customers and their overall experience. We're investing in our ExpediteTC product with improved cold chain facilities, which is crucial to us. Our success hinges on our ability to move delicate materials through our network, which serves more than 157 cities in 45 countries around the globe. We are making strides towards earning a CEIV certification from IATA. That is so important to us because it impartially validates the proper transportation of delicate, temperature-controlled pharmaceutical shipments.
"Beyond that, it's business as usual for us. We are always promoting our network development within the Cargo division, supporting fleet renewal and delivery, and focusing on sustainability."

Looking At Tomorrow
"The cargo industry is on an upswing, and we are extremely pleased with how we've performed over the past year.
"We have really focused a lot of our efforts on eAWB and making sure we have the right processes in place to facilitate our growth. We were off to a slow start relative to the industry because of the merger a few years back, but it's been really wonderful to see us reach new highs with every passing month. We are the fastest-growing U.S. carrier in eAWB adoption, and now more than two-thirds of all of our international AWBs are being processed digitally.
"As we move forward with developing products and reaching new markets, I believe we are well-positioned for even further growth. Considering that we offer about 6,700 flights per day with a widebody fleet that's 150-aircraft strong—including our newest, the Boeing 787-9—we are confident in the future.
"We're also expanding our network to include our brand new PEK-LAX route, which we view as an incredible opportunity to provide additional capacity into an incredibly important cargo market. We are also planning routes to Budapest and Prague next summer.
"We have also increased our number of domestic widebodies in order to strengthen the connectivity between our U.S. hubs. Collectively, such an efficient aircraft fleet ensures that we'll be able to continue expanding our network, offering customers more and more choices out of Asia, South America, and Europe every year. Truly, one of our network strengths is our ability to effectively and efficiently move shipments between Asia and Latin America through our U.S. gateway hubs. This is particularly true when it comes to temperature-controlled commodities like perishables and pharmaceuticals."

Peg Of My Heart
"We're extremely proud of our operational service performance, as well as our ability to adapt to ever-changing demand. It's all possible because of our entire team—from fleet service clerks and crew chiefs to agents and our ramp team.
"During 2017 AA Cargo broke the new station record for outbound monthly freight out of LHR. Totaling 16,043,003 pounds, we broke our previous record from the year before, when we eclipsed 16 million pounds last October.
"I could go on and on about our incredible team, but I won't; suffice to say that one thing is certain: without the excellence, cooperation, and dedication of our team, these records and awards could not have been achieved."

Landmark Investments In Future
"We are investing in the future of our business like never before. The most important part of that investment is in our team members. Investments in new infrastructure and systems directly translate into our ability to better take care of each other and our customers, and to forge lasting partnerships with vendors and others in the field. We know the best way to improve business is through collaboration. For example, tools like our customer relationship management software help our entire team keep in better touch with our customers and allow us to more effectively coordinate the way that we manage relationships. We also have a new open plan headquarters facility, which helps us better collaborate between teams. "When we all work together, it's truly remarkable what we can achieve."
Face to Face With Roger
"With the exception of a couple of years spent in Nigeria where my parents were teaching, I was born in Oxford, England, and grew up in the UK. I'd always wanted to become a lawyer (they are called solicitors in the UK, but think this has a different meaning in the U.S.!), so I studied law at Huddersfield University. After graduating, my sister and I travelled around the U.S. and Canada, driving cross-country from New York to Los Angeles. "It took about 6 weeks, but it was incredible to be able to climb the Half Dome in Yosemite and go whitewater rafting in Canada.
"Although I did find law interesting, my heart just wasn't in it. Truth be told, I wanted a job meeting and interacting with people, so sales was a perfect fit. As luck would have it, a chance encounter during a cricket game the day after I returned from traveling around the U.S. led me to interview for a GSA position based at Heathrow, which I was lucky enough to be successful in. It's funny—the job description clearly stated previous experience was required. I must have been the only applicant!
"I love good food, exercising (necessary because of the love of food), playing golf (badly, and not nearly as regularly as I would like), and spending time with my family (not necessarily in that order!). I also enjoy watching football (the real kind, not the American kind) and I'm especially proud of my favorite club, Watford, a small team outside of London who are punching above their weight in the English Premier League!"
Why Air Cargo Americas Matters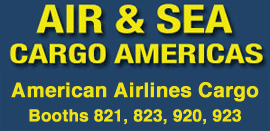 "Trade shows are a great opportunity to spend time with loads of customers, suppliers, and team members and provide a great opportunity for receiving lots of feedback
"Also air cargo events are a chance to keep your pulse on, and engage with people in, the industry.
"As mentioned, it's through feedback and participating in ongoing discussions that we can become more forward-thinking as a corporation.
"Using that feedback, we continue to position ourselves as cargo industry leaders."
The Freight Forwarder Partnership
"We rely on and have great respect for freight forwarders, as they are integral to the success of the Cargo division, and our partnership with our forwarder customers will continue to be key to our success.
"In fact, so far in 2017 our Cargo IQ scores have been fantastic in regards to the partnerships we've forged. We are the most reliable and fastest U.S. airline at notifying our partners when their shipments are ready to be picked up, and I think that truly speaks to how much we value those relationships.
"We also believe that there is room for broader discussions involving both shippers and forwarders in order to achieve a common understanding of shippers' needs and to enable us to jointly define solutions that truly meet these needs. We've seen this approach work particularly well in sectors such as cold chain.
"I am extremely proud of the relationships we've built with our customers. "But we're always looking to further improve and facilitate that connection. "We regularly look to freight forwarders for feedback—feedback that helps us continue to grow and evolve together.
Making A Difference
"It's obviously very early to talk about my legacy in air cargo as I hope to continue developing and expanding my career.
"If there is an enduring mark during my time here, I am hopeful it will be the formation of meaningful, long-lasting relationships in the industry.
"I want to make a difference in how we shape the customer experience, whether it's solidifying and expanding our organizational and technological foundations to better our core, customer-focused strategy, streamlining the customer communications process, and implementing initiatives that lead to greater consistency in communication… and I want to make sure that we have fun whilst doing so!
"Leadership is an awesome responsibility and privilege.
"Our 120,000 American Airlines team members, as well as their family members, rely on us to be a growing, thriving employer, one that provides an inclusive, supportive work environment that everyone looks forward to being a part of. That's why I support our core leadership attributes of caring for our team members and collaborating so we succeed.
"It's important to support the development of our team members. After all, we're not just in the air cargo business—we're also in the business of building future leaders. We respect our team members and give them the latitude to learn, make a difference, and succeed.
"American truly believes it can be the best at everything it does, so we are constantly seeking ways to improve and innovate. Naturally, we rely on our passionate team members to make that happen. Never content to accept the status quo, our leaders and future leaders are big picture thinkers, and we support their quest to create and innovate.
"Personally, I want to play a role in that positive change and know I helped make a difference, not just in the corporation but also in the day-to-day lives of our people."
Geoffrey