At last month's CNS Partnership Conference, which bannered itself as "Preparing for Tomorrow's Reality," the Airports Council International – North America (ACI-NA) Air Cargo Committee coordinated a panel titled "Airport Partnerships: Driving Solutions."
Considering that all of us are over, under, around, or through an airport every step of the way in air cargo, maybe what our world could use right now is a great, informative discussion of what is happening in places we all share.
Well, guess what? From the endless stack up of air cargo tradeshows that have happened so far in 2018, the Airport Partnerships CNS session towers head and shoulders above all of them.
Here is our firsthand report.

Discovering Columbus - Who Knew?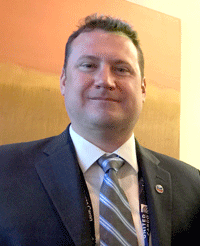 Bryan Schreiber, (right) Manager of Business Development – Air Cargo for the Columbus Regional Airport Authority, which operates Rickenbacker International Airport, moderated the panel. Panelists included Milton de la Paz, Vice President of Airline Relations from Dallas Fort Worth International Airport (DFW), and David Whitaker – Chief Commercial Officer for the Columbus Regional Airport Authority, as well as airport cargo consultant Michael Webber of Landrum & Brown.

First Person Partnership

Bryan Schreiber, who also serves as the ACI-NA Cargo Committee chairman, acknowledged the ongoing cooperation between the trade associations. CNS and ACI-NA embody the kind of information exchange needed at the individual operator level between the largely public sector U.S. airports and the private sector airlines, handlers, forwarders, and trucking companies.
"I'd like to express on behalf of the airport community our appreciation to CNS for including over the past several years, and now under Michael White, airports in the conference and seeking ways to extend this partnership," Schreiber stated.
"No issue on the ground is generally solvable by one entity, and airports are increasingly aware of their unique responsibilities."

Hey Friend, Do It Again

Evidentiary of this relationship, both Webber and de la Paz had been panelists in the previous year's CNS conference, and Webber hailed the role of CNS and of the Air Forwarders Association in holding "road shows" in key U.S. markets where airports need the private sector's support in elevating awareness of critical cargo issues. Webber observed that "airport operators are near enough to the impact of traffic bottlenecks and related issues but often report to municipal, county, and occasionally state agencies with little or no such exposure.
"So rather than being received negatively, airport operators may welcome the public complaints of a motivated private sector because elected officials often respond more affirmatively to angry business owners than to well-intentioned bureaucrats."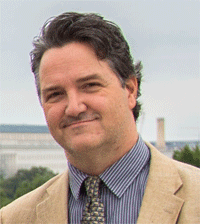 Overview Brief

A deep thinker on these matters, Michael Webber (left) provides a brief overview of cargo challenges confronting a variety of U.S. airports.
"Because airport operators' principal investments are in 'bricks and mortar,' the standard master planning horizon is 20-30 years, but must accommodate the needs of airline and handling tenants whose assets are more portable and whose planning is often in cycles of weeks and months.
"So airport operators must ensure that cargo operators have sufficient opportunities to provide input on cargo facilities planning, but similarly incumbent on the private sector to take full advantage of those opportunities.
"While on-airport tenants (airlines and handlers) are relatively reliable to show up for airport-hosted public meetings on cargo, critical off-airport cargo entities—such as forwarders and trucking companies—are much more challenging to engage.
"Localized traffic congestion that often overlaps between municipal roadways and on-airport arteries is an exemplary challenge for which on- and off-airport cargo operators must be part of the planning narrative.
"As the bridge between their private sector tenants' needs and essential approvals from municipal, state, and federal departments of transportation (DOTs), airport operators have a unique facilitation role," Michael Webber said.


Big D My Oh Yes!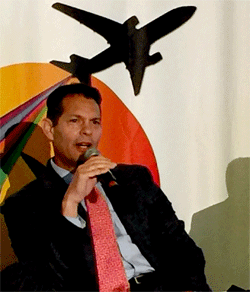 From the perspective of one of the world's busiest airports, Dallas Fort Worth - DFW's Milton de la Paz (right) recalled having fused "interests and efforts of the more airport operations-centric tenant group that focuses on ramp safety and operations efficiency with the broader commercial concerns of the DFW Air Cargo Association (http://dfwaca.com/)."
Although the two groups have some members in common, they historically worked more in parallel rather than finding intersections of common cause.

A Tale of Contrasts

"In terms of land, DFW is one of the biggest airports in North America," de la Paz noted.
Naturally, this caused panelists to observe the contrasting remedies for different airports' cargo challenges.
"At legacy gateways like Los Angeles International Airport, cargo improvements cannot be undertaken without complex management of existing assets and operations because some displacement and accommodation will be required."
"In contrast, land-rich DFW still has significant 'greenfield' areas that can potentially be developed for new cargo tenants and next-generation e-Commerce tenants."
DFW is noteworthy as it is extraordinary for an airport that ranks in the top five U.S. airports in annual passengers to also land in the top ten in annual air cargo throughput.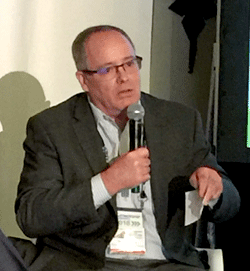 Hello, Columbus
Coming from a different angle was David Whitaker from the Columbus Regional Airport Authority, which oversees the passenger-focused John Glenn International Airport (CMH) and cargo-oriented Rickenbacker Airport (LCK.
Whitaker observed that "like land-rich DFW, LCK has the prerogative of accommodating distribution operations that might not fit at airports required to prioritize the flows of millions of passengers.
"Rickenbacker has been successfully transformed from a former military base to a surging international freight gateway.
"By design, the Airport Authority has ensured that its cargo facilities and services—provided by exclusive fixed-base operator Rickenbacker Aviation—are more than adequate to accommodate the growth LCK has enjoyed in recent years."

Easy As ABC

"In April 2018, AirBridgeCargo Airlines (ABC) became the fifth freighter operator serving LCK, joining Cargolux, Cathay Pacific Cargo, Emirates SkyCargo, and Etihad Cargo."

Developing Alternatives

The panelists discussed LCK's success in developing as an alternative to more conventional international cargo gateways, such as New York's JFK International Airport and Chicago's O'Hare International Airport (ORD).
"LCK's success is partially attributable to the operator's disciplined approach to development—both in persevering through some lean years and in not overreaching for market share."

Success, Plane & Simple

The Columbus-based management clearly understands why many carriers and forwarders serve legacy gateways like ORD, but knows its own market well enough to leverage opportunities driven by local demand, making LCK into a model worthy of copying—or at least considering.
Like Huntsville before it, Rickenbacker's success in developing an alternative gateway looks deceptively simple from the outside.

Innovation Stages Drives Conversation

This year CNS tried something different.
Rather than holding an avalanche of concurrent sessions, new CNS President Mike White opted for conducting meeting sessions adjacent to the static displays of various companies—a space that also hosted food services.
The result was an audience that included members of all the obvious air cargo sectors, as well as facilities developers and technology vendors.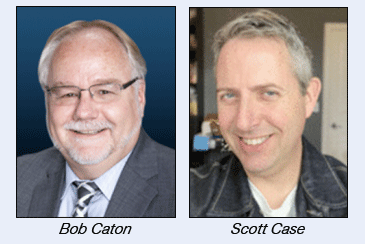 For this airport session, audience questions about complex issues were never likely to produce detailed solutions developed on-the-spot, but succeeded in inspiring lively discussions.
For example, Scott Case, founder of Position: Global and President of the International Air Cargo Association of Chicago (https://www.iacac.com/), suggested airport operators as potential mediators in battles between forwarders, trucking companies, and handlers with chronic labor and service issues that ultimately cause congestion at cargo terminals and roadways.
Developer Bob Caton from cargo facilities developer Aeroterm asked whether the "Guidebook for Air Cargo Facility Planning & Development" (available for download at http://www.trb.org/Main/Blurbs/173274.aspx) that Webber co-authored for the Transportation Research Board was still a reliable resource for airport planners and others.
Webber acknowledged that effort "had taken surprising turns en route to completion due to the majority of U.S. airports having surplus capacity due to bankruptcies and acquisitions of air cargo carriers since the industry's U.S. peak year of 2000.
"While airports long hoped that these facilities might provide capacity for new-entry cargo tenants," Webber cautioned, "many decades-old cargo facilities are poorly suited to 21st century users and therefore may be better candidates for demolition and/or replacement than for reuse."
Nonetheless, the guidebook reviewed an unprecedented range of U.S. air cargo facilities and introduced planning nuances (eschewing "one size fits all" cargo facilities planning metrics) and at less than five years old, remains a valuable tool for airport planners, many of whom contacted Webber post CNS to confirm this.

Swarm in The Warm

Palm Springs may have been 106 in the daytime during the CNS event, but it was good to see that immediately following the bright and lively panel discussion, audience members desiring to continue the deliberations on airport issues swarmed participants.
Vendors of technology solutions touted the need for better IT integration between on- and off-airport links in the supply chain.
Potentially working in tandem with physical improvements such as truck cueing lots, IT solutions are offered as a means of improving the utilization of capacity where physically expanding capacity is not much of an option.
And the thought process put in motion here will undoubtedly continue.
Stay tuned after a definite shout-out to CNS for proving change and quality presentations are more than an option—they're the new reality.
Geoffrey