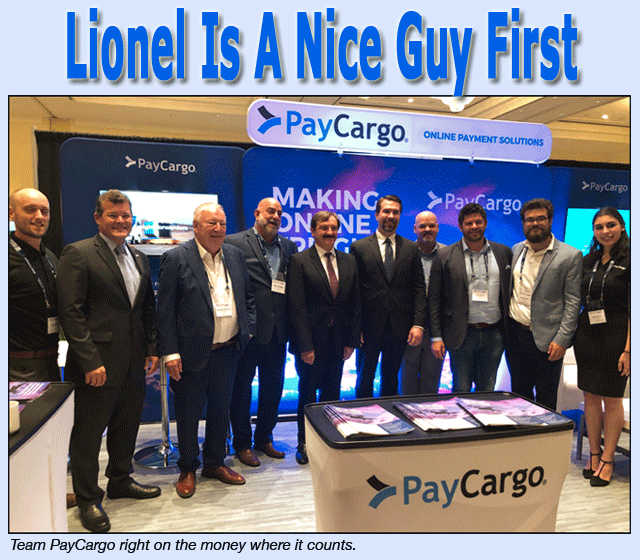 Most people in air cargo know Lionel van der Walt for the time he served as President of Cargo Network Services (CNS).
A short term perhaps, but it was Lionel who came to CNS as an agent of change, delivering a much-needed shot in the arm that favorably impacted the pioneering global organization.
That a tradition of intellect and decency begun 30 years ago with Jack Lindsey and Tony Calabrese, continues today at CNS with the very capable Mike White.
But what you might not know about Lionel is that Lionel began his transportation career at South African Airways Cargo, and today is back on the leading edge of change serving as CEO of PayCargo, the company that is out to change the way transportation settles up payments.

Good Guys Finish First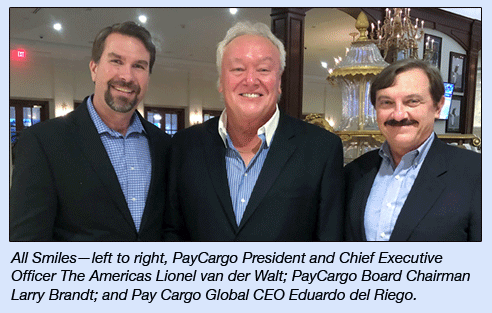 The thing about Lionel is, that he is a genuine good guy . . . in fact, it may be gender correct and no doubt, better to say Lionel is a good person.
We asked people Lionel has worked with in other lifetimes at SAA, CNS and now PayCargo about him and the results were unanimously positive up and down the line.
Somebody once said nice guys finish last.
Lionel is counterpoint to this rough and tumble century when even the U.S. President uses base language to make his points.
He is always a reasoned and considerate thinker, dreamer and doer, who speaks out, but listens and also reads books.
There is a calm, reasoned and eminently decent quality, a quick smile and always attractive air about Lionel.
If he tells you something, believe it!

All About Leadership

We asked Lionel, now that he has almost run the table in cargo on all sides of the business, to share some thoughts on leadership.

No Secret Sauce

"My success has always been achieved through the success of others.
"It's a very broad statement I know that can be interpreted in many ways.
"The recipe to this success is no 'secret sauce,' but a combination of some, what I now consider to be, obvious and self-evident common-sense principles.
"However sometimes we do need some help to see and comprehend what is so obvious to others.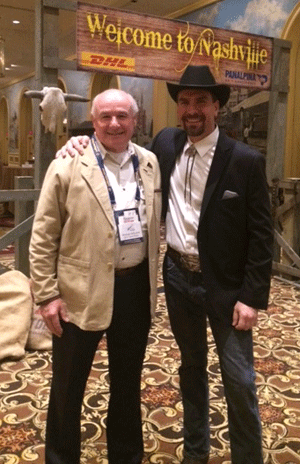 Help To Stand Alone

"My light bulb moment occurred back in 2001.
"I had just started my position as Manager Operational Scheduling at South African Airways (SAA).
"Until that point in my career, work was something that had to be done in order to earn a living and like many young ambitious managers, all I cared about was myself and getting to that next rung on the ladder, no matter what the cost.
"Then I met a man who changed my life in so many ways! Michael (Mike) Arbuckle (pictured here with Lionel) was the Executive Director Global Operations at SAA. "He was one of a small group of U.S. subject matter experts that had been hired to lead transformation at the airline, having previously served at Delta Air Lines from 1969 until 2000.

The Arbuckle Factor

"Mr. Arbuckle was a quiet spoken, yet very firm and direct man.
"What impressed me most was how much time he spent with all employees in the Operations Control Center despite his senior position and very evident busy schedule.
"And how much he knew about the business, and even more surprisingly, about each of us working there.
"I will never forget the day when he startled me while I was feverishly working away at resolving another scheduling conflict. Looking back on it now, it was such a small gesture, yet it had such a huge impact on my life.
"He had simply placed his hand on my shoulder and told me quietly what a great job I was doing and then explained the financial impact of what I had achieved for the organization by resolving the issue at hand as I had done.

A Matter of Adjustment

"Mr. Arbuckle also told me that I had a bright future ahead of me if I wanted it, but that I had to adjust some of my behavior if this was to become a reality.
"He opened the door to a lifelong mentorship; we are still in contact today and I always make a point to meet up with Mike when in Nashville.
"This was the very first encounter I had in my career where I felt that someone truly cared about me, the work I was performing and my future.

Caring & Sharing

"It is essential, that we as leaders take the time to engage with our teams and ensure that they understand where we are heading and the significance of their role to achieving how we get there.
"Sounds obvious, right?
"However, it is very easy to get lost in the details of our day-to-day activities, an urgent email followed by an important call, then an unexpected operational or strategic issue to resolve, a long to-do list and before you know it, your day is over, a week has passed, and we are at the start of another year.
"The end result being that both leadership and the team become focused on resolving day-to-day issues and are no longer thinking about where we are heading and how our actions impact on us, the team and the company's ability to get there.

Step Back & Survey The Landscape

"Taking the time each day to ensure that team members understand the vision, that they understand the importance of their contribution within the bigger picture, and getting them focused, energized, motivated and engaged to deliver outstanding results is critical!
"This does not require time-consuming meetings and campaigns, but rather ongoing conversations at all levels throughout the organization."

Building A Team

"Another key element is building and developing a powerful team.
"This means surrounding yourself with the most diverse, passionate, motivated, engaged, knowledgeable and experienced people possible.
"A mouthful I know, but an essential mix of requirements for success.
"In a fast-paced, demanding and continuously evolving world, sustainable results are not possible by controlling and doing everything yourself, and or surrounding yourself with people you like because they always agree with you.

You Gotta Have Heart

"Success is achieved by ensuring that you have the correct talent in place; they are motivated, understand what needs to be delivered; are always fearlessly challenging the status quo to improve; and are empowered to deliver results.
"This means you need to take the time to continuously engage with and get to know, understand and develop team members.
"If you had to ask me as a CEO, how much time should be invested in this activity, I would venture to say as much as 70-80% of your time should be focused here.
"That is how important it is.

No Fooling

"Ultimately, the secret to the sauce that brings this all together is your own level of passion for what you are doing, truly caring about people and trust.
"Without these elements you are doomed to fail.
"People instinctively know when you are being insincere, and as so eloquently stated by Abraham Lincoln:
"You can fool all the people some of the time, and some of the people all the time, but you cannot fool all the people all the time."
"Being caring, sincere and passionate are some of the most fundamentally important traits of leadership in my opinion.
"Many leaders talk about the aforementioned, but few truly get this right, but when they do, the results tend to speak for themselves.
"Now it does not mean that you have to be a "push over" and agreeable all the time. To the contrary, I have met many tough, demanding and decisive leaders, like Mike Arbuckle, who at their core are passionate, caring and trusting.
"And I am always impressed by the way employees gravitate towards such leaders, developing a strong sense of loyalty with their biggest fear being not to disappoint them.
"This in itself speaks volumes.

The PayCargo Phenomenon

"This is a culture we are striving to achieve at PayCargo, and I believe our success to date is directly correlated to this continuous effort.
"We ended 2019 achieving our objective to double earnings and EBITA, as was done the previous three years.
"And yes, we are aiming to do the same again in 2020.
"Personally, I think we are set to not only achieve, but substantially exceed this goal.
"PayCargo is growing leaps and bounds, adding additional 6,869 payer and 1,343 Vendor users in 2019, averaging 572 new payer users a month and 112 Vendor users a month – total payer users to date is 19,188 and total vendor users to date is 4,694. And we processed in excess of USD$2 billion through our system in 2019. Another record setting year for the company!

Focus 2020

"My Americas focus in 2020 will be an aggressive expansion in Canada, and to further increase our market share in the U.S.
"We are the undisputed leader and most trusted online payment platform in the industry, leading the facilitation of same-day release of cargo.
"A position that we do not take for granted! We know that in a competitive environment such as ours, it is imperative that we continuously work to better understand and resolve both payer and vendor clients' payment challenges and needs.

Greasing the Slides

Our objective is to remove as much of the friction out of the payment process by using leading edge technology and ensuring that we are collaborating with all willing industry stakeholders to achieve a holistic solution that's transformative and adds value across the entire value chain.
"Our vision, or if you will 'Focus 2020,' is to revolutionize the efficiency of the worldwide movement of goods and material shipped via land, sea or air through the use of our propriety online payment solution.

By The Book

Lastly Lionel shares some good business reads.
"Just finished Barbarians at the Gate: The Fall of RJR Nabisco
"Just started Railroader: The Unfiltered Genius and Controversy of Four-Time CEO Hunter Harrison."
Geoffrey