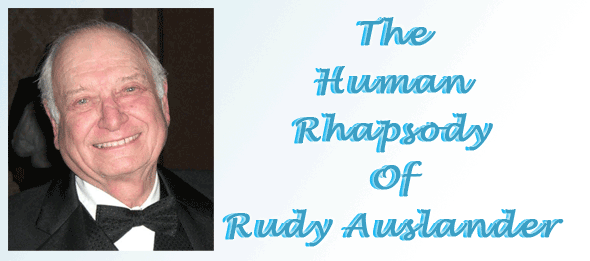 The firmament of bright lights in the transportation business flickered and dimmed when Rudy Auslander passed away at age 87 peacefully in his sleep on the morning of June 14th, 2022.
He is now joyously reunited with his wife of 41 years, Yoko, who died in 2004.
Rudy is survived by his daughter Lisa, who is also dearly beloved and deservedly well-known in New York for her pioneering work into the age of websites via her Tabby Cat IT services for several decades.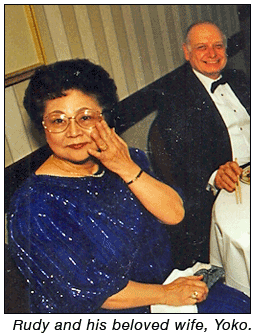 Rudy was a heads to toe gentleman, and considerate as ever, it was Rudy's wish that there be no funeral service due to his concerns about the COVID.
"In lieu of sending flowers or sympathy cards, and to honor his memory," Lisa said, *please consider making a donation in my father's name to either one of his favorite charities: English Springer Spaniel Rescue Club of Long Island – Rescue (ESSCLI-R) and Nassau County Society for the Prevention of Cruelty to Animals (NCSPCA).
"When he was growing up, dad always had dogs. ESSCLI-R is where he adopted his last two rescue dogs. He was also a member and a donor.
"My father was an avid supporter of NCSPCA and an advocate of the well-being of animals, especially dogs."

An Air Cargo Original

Rudy Auslander stands tall amongst the half dozen greatest people that we have met.
Often, you come across people who are good at their profession but their personal lives are impossible.
Rudy was at the top of his form in everything he did.
At one point in his career he oversaw and helped create the big Japan Airlines Management Corp. Hangar 14 complex (Cargo Building 151, at JFK International Airport in New York).
This mighty machine, which 20 years ago moved 40% of all the air cargo at JFK International Airport, was planned step by step by Rudy and was the standard, by which many advanced air cargo terminals are measured.
Japan Airlines Management Corp.'s distinctive towered air cargo facility at JFK two decades ago stood with the world's best; the greatest air cargo operation on earth.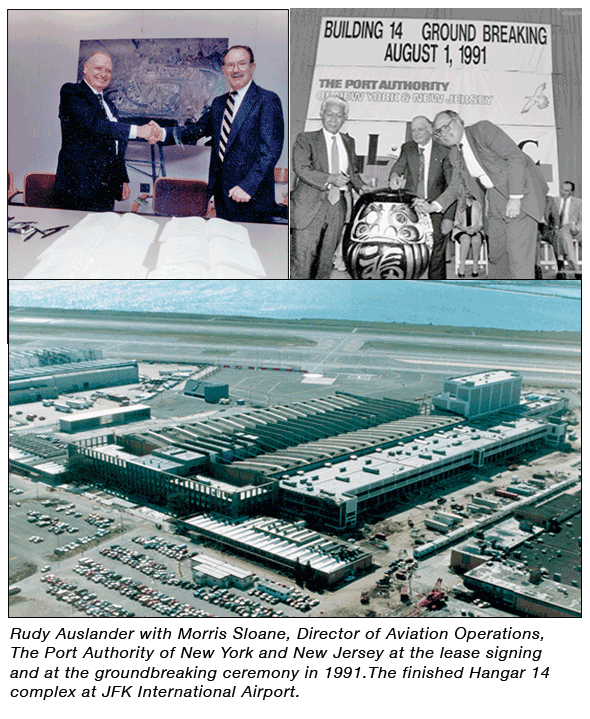 Rudolph H. Auslander was born in Cooks Falls, New York (a small town in upstate New York) in 1935.
"Rudy," as he liked to be called, served in the U.S. Air Force after graduating high school in 1953.
He attended the University of Alaska at Fairbanks. Before coming to New York in 1964, he worked for IT&T Arctic, which built and operated the Distance Early Warning System, known as the DEWLINE. It was there he gained his experience in transportation and construction working as a logistics specialist.
In 1964, he joined American Airlines and worked in various areas of their Air Freight Services.
In 1969, he was sought out by Japan Airlines and was instrumental in establishing their cargo operation at JFK.
During the next twenty years he held various positions in JAL at JFK.
In 1989, he was appointed by JAL as president of the newly formed Japan Airlines Management Corp. (JMC). JMC, a wholly owned subsidiary of Japan Airlines Co., Ltd., was charged with the redevelopment and management of the Bldg. 14 project at JFK (The former Pan Am Hangar complex).
Rudy was the driving force behind the project which involved the construction of the USD$115 million cargo terminal for JAL (Bldg. 151), a multi-tenant facility, and construction of the USD$51 million consolidated airport headquarters for the Port Authority Of NY & NJ and General Aviation Terminal.
Rudy liked to refer to this cargo facility as the 21st Century Cargo Terminal designed to take JAL well into the 21st Century.
The facility in early 2000s was not only the largest automated cargo facility at JFK, it was the only multi-tenant, full-service facility complete with a medical office, dental office, full service restaurant, custom brokers, GSAs, air cargo handlers, freight forwarders, air couriers and lawyers as well.

The Soft Touch

Rudy spent 38 years at JFK Airport.
He was a commanding figure, quite sure and determined.
But as mentioned by daughter Lisa, he was always a soft touch for a worthwhile cause.
His community service is undoubtedly the finest and most selfless of anyone we have ever known.
How he balanced his charitable work with all his other responsibilities was just incredible in every respect.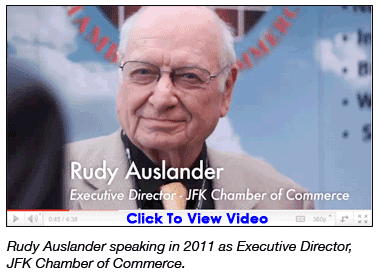 Rudy Auslander was an active member of the JFK Chamber of Commerce beginning in 1980 having served as its president 1996-1999.
He also served as KAAMCO Cargo Operations Committee President in 1980 and again in 1988.
Rudy was JFK Airport Security Council Chairman in 1984 after which he served as World Air Cargo Professionals (SWAP) Secretary in 1986.
Of course Rudy was a member of the Air Cargo Association, an active member of the JFK Protestant Chapel (Christ the World Chapel), and as his career wound down he served as JFK Rotary Club President 2001/2002.
Rudy had over the years received a number of awards for his outstanding contributions including the Bishop Wright Man of the Year Award, Recognition of Excellence from the KAAMCO Cargo Operations, Committee, Air Cargo Association most Valuable Member Award, Black Enterprise Association Award for his efforts to foster effective programs in the employment of minority construction firms, Queens Council of Churches award for outstanding leadership in Queens, Council of Churches City of New York for outstanding services, and Rotary International Award for 'Service Above Self.'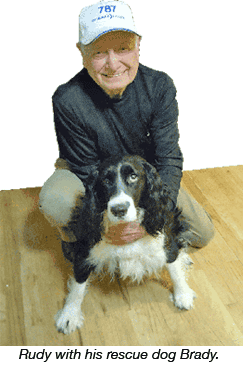 But the work Rudy has done serving as president of the Board of Trustees of Mill Neck Manor School for Deaf Children is really something.
Rudy was involved with Mill Neck for over 50 years. Mill Neck Manor is an 86-acre, publicly supported, privately owned non-profit organization located in the scenic hills of the North Shore of Long Island.
Mill Neck provides quality education since 1950 to over 175 deaf children from ages of infancy to the age of 21.
Mill Neck also provides job placement services for deaf adults, interpreter services, support a number of schools for the deaf in Brazil, Jordan, China and Africa and worldwide ministry programs for the deaf.
In June 2002 Rudy was honored by the Board of Trustees for his efforts in promoting the construction of a $12.2 million new two-story, 44,000 square foot Deaf Education Center which became the main educational facility on the campus, replacing the Manor House and farm buildings. The Center includes 24 classrooms housing the entire school population, from infant, toddlers on up. The Center features the latest technology and accommodations for the Deaf.
I think Robert Frost described Rudy in his poem "Into My Own."

"I do not see why I should ever turn back,
Or those should not set forth upon my track
To overtake me, who should miss me here
And long to know if still I held them dear.
They would not find me changed from him they knew
Only more sure of all I thought was true."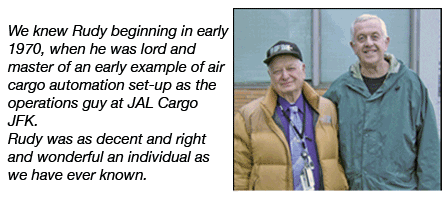 We got word that Rudy was gone, sitting on the soft summer grass in Cunningham Park, a block away from where we live in Queens on the evening of June 16th listening to The New York Philharmonic, back performing after a couple of years of COVID lockdown with a program of glorious music that moved from Wagner's Prelude to Act I of Die Meistersinger von Nürnberg to a work titled "A Human Rhapsody" created by a Philharmonic Very Young Composer, Alexander Rothschild Douaihy.
As the sound of the mighty Philharmonic swirled up from the stage into the trees and across the meadow in the park, and fireworks lit up the sky, the words and music came together celebrating the Human Rhapsody of Rudy Auslander.
It feels like we hardly knew you Rudy, you were always here.
But now that you have left you shall never be forgotten.
Rudy did so much over a long and dedicated lifetime to further air cargo and aviation in New York City at John F. Kennedy International Airport.
He was a key force for good every day of his life.
At some point he should be remembered somewhere at the airport.
Happy landings always Rudy.
Geoffrey