You remember what you liked when we were all together prior to the COVID-19 separation.
Being together and being there was always about "the networking".
Back in office when heads were put together, what aside from maybe a couple of contracts mattered from that last trade show?
It was always the people.
These brief encounters multiplied by years, as you read here or may already know, become something else— they become touchstones of our lives.
We grow up in the business, we meet new people, our lives intertwine with each other's, we become friends.
Then one day our time is up and we go home with our belongings in a box.
End of story?
The return to office in 2022 is still a glancing uncertainty in many parts of the world.
Some say, we may never go back.
Currently based on pent-up demand, open maskless meetings are a roaring success almost everywhere.
Some say that is a short-term phenomenon as these meetings are like a steam riser on a household radiator with events like CNS, TIACA and some others simply benefiting short-term from our desire to see each other; that Zoom and other web-based encounters developed during the pandemic are sure to take over centerstage, when a longer sober look at expense accounts and other factors weigh in down the road on airline and other management, always eager to save money any way possible.
It is easier to profess just how much people mean to you when the game is up.
You're retired and with your family, hopefully not having dinner at 15:00.
This story falls deep into what life is like at that reality, but also serves as a first of its kind in that it also makes the case for all of us to make an effort to preserve the fragile business and social network that has always been a vital and needed part of the air cargo business.
Today we don't have as many FAM trips or press conferences or facility tours or for that matter trade shows as were once mounted all over the world.
Engagement when you look at it by airline companies, as example, is minimal.
Some of our trade shows are more software exhibitions than anything else.
Nothing wrong there, it is just kind of sad to never see scores of legendary airline and freight forwarder company people at air cargo events.
Air cargo it seems will always find a way to stay close and working together on the local basis almost everywhere in the world. But in truth events that bring together and actually move the marble whilst searching for some big ideas from a host of attendees feel like they are fewer and further between.
As you read about Ram and Des, picture yourself landing and still engaged in some future situation and still loving it.
What in some part accelerated Ram and Des to become who they are, and who they are to each other was a vital, energized industry and the people they came up and worked with all during their career.
Right now air cargo is famous, respected and doing boffo landmark business all over the world.
We believe that it's a good thing to think of ways to preserve the vital open meeting format of the air cargo industry that in no small part produced these two gentleman and throughout the past sixty years, countless thousands of others.
If you agree and would like to lean in on all of this, we would very much like to hear from you.
Ram Menen and Des Vertannes were the big story in air cargo worldwide each in their own right for decades as the Middle East came alive with new carriers, and the organized air cargo business gathered as never before.
Ram, most notably as the go-to executive at Emirates SkyCargo during its start-up formative years with his vision and determination saw the carrier climb to the top of world rankings. Ram also brought the fledgling International Air Cargo Association to Dubai in 1996.
Des Vertannes played a similarly impressive role impacting the global air cargo business as he first defined with a very even hand and then guided the role of IATA as its Head of Cargo. Des can be applauded for his singular and very focused effort toward raising the level of professionalism amongst the many diverse factors of the combined air cargo industry.
He was always outspoken, sincere and thoughtful, but above all, fair.
Des and Ram first met in 1980 when they were both with British Airways.
Ram was based in Kuwait reporting to Des, who was based then in Bahrain looking after the Gulf and the Middle East.
Apart from the work relationship, they became friends right from the start.
Ram was responsible for BA Cargo in Kuwait.
Till they both came into the region, cargo was an adjunct to BA airport services operations.
What the duo did for BA was build the foundations for a dedicated cargo sales and operation.
Des then transferred back to BA HDQ at London.
Ram was later asked to go to Dubai to enhance the BA cargo operations.
But then Ram decided to pivot and part from BA when he joined a Kuwaiti shipping agency to set up their airfreight forwarding division in Dubai.
The rest, as it is said, is history.
Interestingly, in an unplanned bit of very good timing, both Ram and Des departed on the same day in 1984.
Des went on to manage his family-owned freight forwarding company.
Ram was throwing down some roots and connections that eventually placed him smack dab in the center of the action of the greatest sustained airline cargo growth story in aviation history.

Building Bridges

But those roots of friendship driving a unique friendship that is now in its fifth decade also includes a plus one, the cargo visionary Geoff Bridges.
Geoff became and remained a very good friend and mentor to both executives until his untimely passing in 2004.
"I began at BEA 1970 which became BA in 1974 but was due to leave and join Atlas Air (UK forwarder) until Geoff Bridges took the reins at BA Cargo in 1979 and had other ideas," Des recalls.
"Bridges posted me to the Gulf in 1980 to develop the airline's cargo business.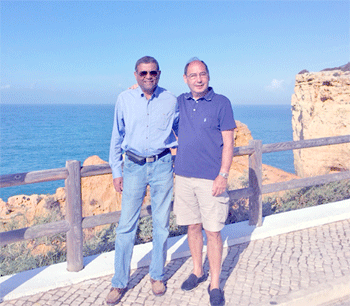 "Glad I said yes to Geoff, which was a great success thanks to inspirational and innovative efforts of Ram and team within the Gulf States."
"We met," Des said " worked together and our chemistry did the rest."
"What emerged," Ram recalls," as common ground and the driving force amongst the friends was very much an industry-minded approach that continued wherever we were all posted."
When Bridges went on to head Air Canada Cargo, Des joined him.
"Ram, after having successfully set up the airfreight forwarding division of the Alghanim Al Qutub Shipping Agency, decided that he missed the smell of the kero and when an opportunity appeared, he joined the then startup Dubai-based airline Emirates as the Head of Cargo.
Ram joined the group of the founding management team at Emirates about a month and half before the launch of the first flight.
"Ram stayed with Emirates and helped it grow to the largest cargo airline in 2012 and retired in 2013.
Des went on from Air Canada to Menzies ground handling operations in UK and then from there to head Gulf Air Cargo for a brief while and ended up in Abu Dhabi, right across from where Ram was, as the Head of Cargo at Etihad.
Vertannes moved to Head IATA Cargo in 2010 at which time Ram was the Chairman of the (IATA) cargo committee.
Des eventually retired in 2014 almost a year to the date from Ram.

Working To Better Air Cargo

As best friends, Ram and Des found their careers were quite intertwined. From being colleagues to partners to customer/principal to competitors to eventually working together at industry level.
Ram was one of the founding team at TIACA where he was elected as their first Vice Chairman in 1992 and then went on to become their President, CEO and the Chairman of the Board in 1994.
Apart from various industry initiative set out with WTO, WCO etc., it was TIACA's efforts and initiative to work with the academia that resulted in development of various academic programs in the cargo industry.
Ram was also quite active on the IATA front and was a great proponent of e-Freight and chaired their cargo committee for four years and with Des joining IATA were able to initiate several reforms to the IATA Cargo including diffusing and mending the relationship between airlines and forwarders by establishing better communications between IATA and FIATA.
The relationship between the two organizations had deteriorated largely because of archaic framework of IATA's rules and regulations.
Working together with the IATA Cargo Committee team, a modernization initiative was launched with IATA and FIATA, airlines and forwarders working on equal footing on principal-to-principal basis.
Ram, in his career with Emirates was also responsible for driving innovations from ULDs, airplanes/freighters to IT system.
Ram, it must be said, always good naturedly chides about having the smallest and the best team at Emirates SkyCargo which went on to contribute a galaxy of firsts in the airline air cargo industry and a steady maintained position.
Post retirement, both Des and Ram have held a few Board directorships. Ram stopped Board roles as he felt his life started revolving around Board meetings and seriously interfering with his retirement. He has however, kept a couple of advisory roles with Natilus, which is building the next generation unmanned commercial freighters and with the Aerotropolis Institute China in Zhengzhou as a Senior Fellow of the group. Being a news junkie, he continues to keep an eye on what's going in the industry. He also provides mentorship to university students who sometimes call him up for his views on the past, present and the future.
"Life has remained varied and quite interesting since I retired 2014."
"You may put down the sword of the everyday joust," Des said, "but air cargo has this strange way of drawing you back," he added.
"Since 'retirement' I have held advisory and chairman roles in technology companies, first at SmartKargo and currently at e-Cargoware, and also as an advisor to the Aerotropolis Institute of China.
"These days, in addition to staying in touch with Ram and some other dear friends, my devotion and most of my time is with our ever expanding family (9 soon to be 10 grandchildren)."
"But every once in a while," Des notes, "the weather, people, tastes and wine of the Algarve call."
So what is the answer to the age old question, is there indeed life after a lifetime of air cargo?
Both Des and Ram, from what we can tell, seem to be having fun in their retirement.
Apparently when the music stopped, both had no trouble finding a chair to get comfortable in.
No more busy all the time and away from home a lot, both are now in a special place and groove, whilst catching up with their families and getting to know and enjoy life.
Ram says that "retirement is/was one of the best life decisions I ever made."
"Retirement is the only time in your life when time no longer equals money," Des adds.
As relaxed as these old friends are, they meet regularly to share memories and compare notes on the changing scene in air cargo.
We will share some of that next in Part II of "What Old friends Do".
Thanks to Ram & Des for sharing some essential truths with people in today's generation of air cargo and logistics transportation.
Who we are and what we mean to each other and how that can impact cargo for the better has real significance.
These two gave plenty and openly shared what they knew to help build a better industry during their years in harness.
That song may have ended, but thankfully, the melody lingers on.
Geoffrey