You are currently in the Archives section. Please be aware that some information and links in the archived page may be outdated.
Click here to return to the Archives' main page to see the list of archived articles.
---
A R C H I V E S
OCTOBER 31, 2002
TAIPEI EXCLUSIVE

Cross-Straits charter flights are sought by the grandson of Generalissimo Chiang Kai-Shek, who serves as a legislator in Taiwan. Actually John Chiang Hsiao-yen who is Gen Chiang's last living grandson has been making the argument for some years now that direct connections between Taiwan and China are long overdue. Thousands of Taiwan businessmen want to return to Taiwan for the Lunar New Year 2003 but still must suffer the three links ban that has been in place since 1949. The three links put in place by the Nationalist Chinese dictate there be no direct trade, transport or postal services between the two entities. One outgrowth of that is the need to change planes in Hong Kong. But all of that may soon come to an end. "Taiwan interests in China in places such as Shanghai and elsewhere top $100 billion as our people enjoy a growing relationship based on language, culture, labor costs and markets access." Tsai Ing-wen, chairwoman of the Taiwan Mainland Affairs Council told a Taiwan government sub-committee the government is "studying the proposal." When flights are finally granted, cargo growth at CKS International and elsewhere in Taiwan is expected to be phenomenal as operators opt for the gateway instead of Hong Kong . . . Greenwich, Connecticut-based Pitney Bowes which built a reputation and a big business in America with postage machines, but today is a $4.1 billion provider of mail and document systems worldwide, has named Danzas to provide supply chain services in a multi-year arrangement. Under the agreement, Danzas will handle all Pitney Bowes air and ocean traffic as well as all of the company's North American import brokerage. Danzas will also manage warehousing for Pitney Bowes at JFK International Airport in New York and at Milton, U.K.In Europe, Danzas will handlePitney Bowes pan-European shipments. Key to the deal was Danzas/AEI LOGIS WMS inventory management system. LOGIS WMS allows the big mailing company a window to its global inventory, which executives have mentioned as top priority. Any way you slice it, this Danzas-Pitney Bowes hookup serves further notice to air cargo that top level IT solutions and international professionalism, combined with aggressive marketing and no-nonsense business solutions will be bellwethers of future high volume, all-encompassing arrangements between logistics providers and industry . . . US Airways Cargo (usairwayscargo.com) has just published a complete listing of all its air cargo stations around the world including all manner of detail, answering not only where cargo operations are located and phone numbers but also just what kind of stuff that you might be able to ship, say from London to Philadelphia or anywhere else the airline flies. Closeout times for Allentown, Bethlehem got you foxed, Bunkie? Go to usairwayscargo.com and be advised just like that. The 39-page booklet as a PDF, downloads the entire tome in less than an eye blink. Landline lubbers can snail-mail it by calling (888) 300-0099 for more information . . . Beam Us Up Mr. Sprock . . . Air Cargo Association) at JFK International Airport in New York City remains one USA cargo group which meets monthly and has a speaker at lunch with something to say. He or she better be topical because the audience asks questions. New Yorkers as you may have heard, despite all the warm and fuzziness brought on by the horrors of 9/11, are a damn tough audience in good times or bad. Little wonder that this is one air cargo club that still hosts a cocktail hour before lunch. Maybe kindness or peace and quiet soothes the savage beast. At JFK, a couple of quick pops and networking before le petite dejeuner "and the speech" also works. This Thursday, 10/31 as hob-goblins get juiced up for Halloween, ACA at Holiday Inn JFK (11:45 hrs.-14:00 hrs. $30 USD members $35 non-members) pay at the door speaker is Gene Sprock. Gene is somebody to listen to if you are wondering where all this past year is leading to next year and beyond. Mr. Sprock, you see, is chief economist for the Port Authority of New York & New Jersey. Since the Port Authority gets to invest the money of New York and New Jersey, you can bet that this is one economist like Alan Greenspan that receives sit up and pay attention from his audience. Whatever the esteemed Mr. Sprock has arranged for his presentation October 31, content and importance will be do the trick. Seats are limited. Contact Gerry Kash (718) 995-9178 or Johnn Norcum (718) 656-8111 . . . American Airlines and Cathay Pacific have their papers in order to receive final DOT approval finally for code-share program, both have been trying to get going for the past six years. But now that deal has been done between the U.S. and Hong Kong last week for new bi-lateral, look for Cathay flight numbers on AA flights, possibly early next year to 20 USA destinations. It appears that Cathay will continue its gateway New York, Los Angeles and Chicago line service with Chek Lap Kok. American will place its code upon all Cathay's flights from USA to Hong Kong can also add same to Cathay flights via Hong Kong to Singapore, Kuala Lumpur, Penang and elsewhere in Southeast Asia prior to starting up Hong Kong line flights from the USA itself, presumably within the next year. Cathay hopes its new arrangement will add 800 passengers a day to its system. American could not be counted here, although sources say that about 500 passengers a day are added to AA's fortunes from its code-share deal with Qantas . .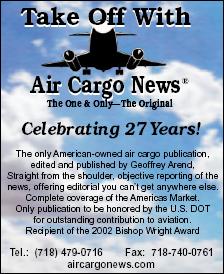 ---