You are currently in the Archives section. Please be aware that some information and links in the archived page may be outdated.
Click here to return to the Archives' main page to see the list of archived articles.
---
A R C H I V E S

PUMPING TRAFFIC
Eyes Have It, that new security technology unveiled at JFK International Airport in New York wherein an employee or a traveler looks into a lens and his or her eyes provide a kind of super fingerprint may eventually find a place in air cargo. "Very James Bond," said John Bateman, a quarantine inspector for U.S. Public Health, to a reporter. But did he believe it? As Inspector Bateman squared in front of a small box with a lens and swiped his ID card through the reader a buzzer went off and just like that he was enroute to a secure area of the JFK tarmac. Up above the highly polished mezzanine of Terminal Four, that vaulted glass and steel statement by the Dutch Schiphol Airport builders, which looks a bit like airport central at AMS, but a little further west, a holdover from the innocent years of airlining through the old JFK International Arrivals Building, the multi-colored Mobile by Alexander Calder moves in air above the now empty counters of National Airlines. Soon new carriers will replace the failed and line up for service as aviation continues its inexorable pattern of growth in the 21st Century. On some tomorrow just like at Schiphol, where eye scans are commonplace, travelers and cargo people wanting to fast track U.S. Customs and security hassles or even to be permitted to enter certain parts of the airport to do business, will offer themselves up to eye prints just like the test program now continuing at JFK. This reporting game is interesting. But one thing that you dear reader must always remember, we write and print or web-mail mostly what people tell us, or opinions about what we hear. But sometimes the story we are told keeps changing and can actually turn out to be the complete opposite of what we thought was the last word. Take the news we have been running about the grandson of Chiang Kai-Shek championing cross-straits flights for Taiwan businessmen during Lunar New Year that begins January 31, 2003. Just after everybody said that service is a "dead duck," like the main course in some Shanghai hideaway, we now hear that those flights will be approved next week. Not only that but the Shanghai/Taipei non-stops bypassing bottleneck Hong Kong could add up to as many as 200, served by a half dozen airlines during the holiday season. If the Chinese ever get together for real two way cross-strait service it will be boom times for mainland carriers as few mainlanders have ever been to Taiwan. CKS could spell the beginning of the end for Hong Kong as CKS Taipei emerges as the logical long term "Hub of Asia." But back to the flights. What do you hear? In fact what do you hear or think about anything right now? geoffrey@aircargonews.com.Come to think of it why shouldn't you be heard? Air France and Alitalia, two government-controlled airlines swap two percent of each other's shares in a symbolic gesture, marking the first year of their growing alliance. As Continental and Northwest wait in the wings for possible SkyTeam membership, the big question beyond the showcase is, will the deal between AF and AZ bear real fruit? AZ reportedly wanted a bigger cross ownership, maybe a 10% swap. This is the same AZ that had a stormy breakup with its planned alliance/partnership with KLM. Speaking of KLM/AZ. Anybody who thinks Mediterranean Catholics can forge an alliance with Northern European Calvinists has got to have rocks in their heads. Holland and Italy are two historic and great countries of the world, with different outlooks and totally different sensibilities. That's why KLM/AZ failed. But when/if NWA joins Sky Team assume they would bring along KLM. Then watch the fun. As Tony Soprano has proven, some Italians have got the hot blood. KLM is definitely not Alitalia's favorite airline right now . . . US Airways gets the Alabama pension fund and $240 million, giving up 37.5% to forge a path out of bankruptcy by the end of the first quarter of 2003. Government O.K. needed here. United needs 36,000 Machinists to O.K. latest draconian measures of 9,000 jobs cut and 9% less routes to continue upon their survival plan. The great airline is reportedly hemorrhaging $7 million a day in losses . . . FTKs at Dragonair leapt 67.58% to 62.5% in October. Total cargo was up 58.39% to 19,020 tons. The fire-breathing figures represent fifth consecutive month of increases . . . Arjun Rishi joins Jim Hartigan's Integres as member of that web solutions for air cargo company board of directors. Mr. Rishi founded Vastera, a decade ago, which today is relied upon by IBM, Ford and Nortell among other blue-chippers, to get the global regulatory thing right through Vastera's brilliant Global central program that updates specific trade and regulatory content daily among other things for its clients. Mr Rishi joins Dave Brooks (AA Cargo), Lynn Fritz (Fritz Air Freight) and others among the best and brightest in air cargo connected to this venture. Mr. Rishi is glad to be aboard: "Integres is changing air cargo. We will build software and solutions that are revolutionizing heavyweight cargo" http:// www.integeres.com . . . Atlas Air is landing on solid ground as this otherwise dreary year continues to the Walt Kelly 'Deck Us All With Boston Charlie' season. Business for the Purchase, New York ACMI pioneer is inching up, as all but one aircraft is out there flying around earning its keep again. Recent numbers for the company feature charters as the big business offsetting softness in contract service. Revenues are up $140 million for third quarter (add Polar) compared to last year, to $290 million. Atlas revenues moved up $20.9 million for the period. Cash on hand is at better than $200 million. We like Atlas. The company is well positioned to be there as business returns. Rick Schuyler and Jeffrey Erickson who are running things at CGO, while the duo was at TWA, kept that carrier alive after the 'summertime airline' had been written off by everybody, ending a couple summers with barely enough money to buy those little bars of soap for the lav. Atlas Air Chief Executive Officer Richard Shuyler, who like many air cargo chieftains has had his share of heavy financial weather 2002, finally is starting to see some patches of blue sky, "As the third quarter came to a close, we began to see the expected seasonal improvement in air freight demand. This trend became more pronounced in October as a result of increased charter activity, due primarily to the labor disruption at ports on the West Coast, as well as strong demand for military charters. This demand has led to substantial improvement in rates in our charter business. Our charter capacity is now almost fully booked through year-end, with additional bookings extending into January. In response to this unprecedented demand, Atlas Air has reactivated all but one of the six aircraft that were parked at the end of the second quarter. We expect to operate in the range of 45,000 to 47,000 block hours on a consolidated basis in the fourth quarter and post record quarterly revenues at both Atlas Air and Polar." Shuyler continued, "We have also seen some positive news on the ACMI front. After the close of the third quarter, China Southern Airlines announced a new service between Shanghai, China and Liege, Belgium using a wet-leased Atlas 747-400 aircraft. China Southern is one of the three ACMI customers who had contracts expiring in 2002, including one that did not renew, and with the third still under discussion. Additionally, our discussions with China Southern have resulted in two new wet-lease agreements that will commence late in the fourth quarter of 2002. We are very pleased to have extended our relationship with the largest of China's three main airlines." Still to come are some restated earnings from Atlas which Mr. Schuyler comments on elsewhere here. . . Airbus is going full steam ahead in its bid to field its queen-of-the-skies A380 super-jumbo jet in 2004 with first deliveries slated for 2006. All the parts of the huge aircraft are being assembled at four locations amongst the Airbus partners in Europe. But final assembly will take place at Toulouse in France. To make way for arrival of super-sized wings and fuselages, tails and other component parts roads are being widened, trees are being cut down and buildings are being demolished all the way from the sea through various towns all the way up to Toulouse. While some villagers are hanging out signs of protest along the way and various Greens are decrying the possible loss of this salamander or rare turtle the lure of 160,000 European jobs, A380 passenger and freighter jets will add to the economy is plenty to keep bulldozers of change rolling along. But some may still wax poetic of quieter days of yore, as a new river port at Longonne on the Garrone emerges for Airbus airplane parts amongst the Sauterne vineyards of Aquitaine. But keep your eyes skyward. Soon we will all raise a glass . . . Tales of UK—Those six one-day strikes being called by firefighters and security staff at seven airports operated by British Airports Authority around the UK beginning November 28 are the subject of intense negotiation with both sides apparently headed to some kind of mediation. Represented by The Transport and General Workers Union (T&G) the workers want a raise. Meantime UK air traffic controllers have their noses seriously out of joint over raises given to UK directors of the National Air Traffic Services (NATS) so natch that group is threatening a 15 minute work stoppage sometime soon if their beef isn't acted upon. Maybe the controllers can call the 15 minutes stoppage some time after midnight, when if locals around Heathrow get their way the airport will be shut down altogether. Recently The European Court of Human Rights in Strasbourg ruled in favor of several villages around Heathrow International who complained about night flights in and out of London's main aerial gateway. The Court decreed that Heathrow in action after midnight intrudes 'with residents rights to a peaceful and private family life.' Needless to say the British Government is fighting that one, tooth and nail on appeal. Finally British Midland BMI, which is part owned by Lufthansa just dumped its Manchester/Washington D.C. schedules citing weak demand. The carrier did say it would return to the route in June 2003. BMI also continues its Manchester/Chicago service which the carrier claims is operating at 70% of capacity. BMI wants the flights to operate from 'Fortress Heathrow' as the carrier refers to the leading UK gateway . . . When Ferdinand Magellan landed at Cebu on April 8, 1521, in the southern part of the Philippines he discovered a trading Mecca that had been in business since the 13th Century. Last week Cebu's ultra-modern Mactan International Airport welcomed member airlines of the Association of Asia Pacific Airlines-AAPA for their annual conference. What emerged right away is that air cargo is in double digit growth all over Asia/Pacific, with Japan Airlines reporting profits up for the past six months, 100% over last year, driven by lower fuel costs and marked increases in air cargo business. AAPA members include Air New Zealand, Asiana, Cathay Pacific, Dragonair, Garuda, Japan Airlines, Korean Air, Malaysian, Philippines, Qantas, Singapore and Thai Airways. Big winners financially are Cathay, Asiana, Thai, Japan and Philippine, all of which have posted big turnaround profits over the same period last year. While keeping a wary eye on the situation in the Middle East most AAPA attendees said that the recent Bali terrorists would have little affect on profits although some noted that insurance rates spiked dramatically after the bombings. Most in aisle conversation centered on speculation that cross straits service between Mainland China and Taiwan was probably about a year away. Recent speculation on charters between Shanghai and Taipei notwithstanding, most AAPA people at Cebu commented that consolidation of China carriers plus agreement on how open the markets will be at the start lie at the center of determining when direct service will begin. Of course the group from a former English Crown Colony insisted all over the place that no matter what happens, 'that there will always be a Hong Kong.' When the two finally start service it is thought that Air China will be the big winner as the flag of China. Reportedly to date, less than 1,000 people from the Mainland have visited Taiwan . . . Pakistan International Airlines (PIA) gets a whole new stable of Boeing B777s in three convenient sizes, 777-200ER, 777-200LR and 777-300ER and eight is enough to add up to a $1.5 billion dollar order to be delivered between 2004 and 2008 . . . British Airways, having benefited from lower fuel costs, 9,000 furloughed workers, losses on its short haul network and a drop of 8.6% in its turnover, as the result of hacking off both short and long haul destinations insists that it is right on target for its 'future size and shape.' BA reported pre-tax profits of £245 million pounds compared to £5 million a year ago. In May BA said that it lost £200 million pounds in 2001, its worse decline in 15 years . . . KLM is buying six Airbus A330-200 aircraft and another 18 if the creek don't rise with deliveries to begin in 2005. KLM has flown only Boeing-built aircraft on major routes. The Dutch carrier becomes the latest 'breakthrough' customer for Airbus. Insiders point to A330's excellent passenger and cargo capability as vital to the deal . . .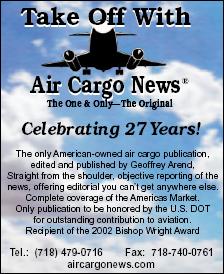 ---