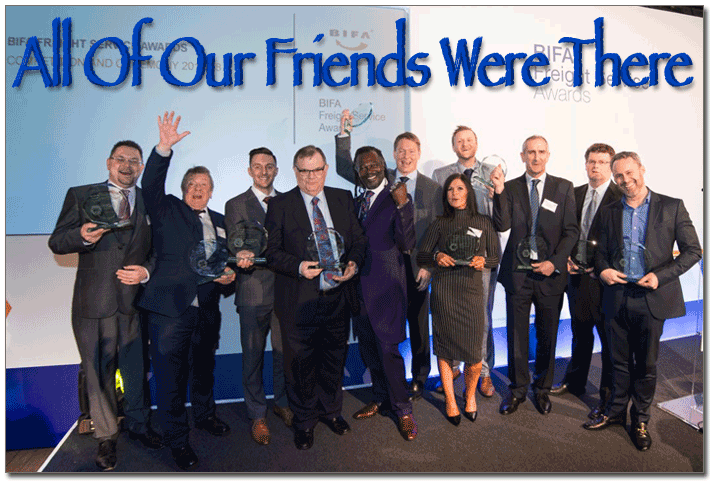 Winners All! Pictured at the 29th BIFA Awards in London last week were from left: Clive Smith, Superior Freight Services; Roddy Warriner, Moto Freight; Louis Perrin, Hemisphere Freight; Colin Joyce, Stansted Training; Leevi Roots, Host Extraordinaire; Herman Bosman; Morgan Cargo; Rachel Bussy, Dachser; Laurence Burford, Metro Shipping; Paul McKeown, TR Logistics Group; Stuart Allen, B&H Worldwide; and Andy Hughes, Pharmafreight.
Nothing like a big party and some awards to get the New Year started off right!
That is exactly what happened on Thursday, January 18, as freight forwarders honored their own at The British International Freight Association's (BIFA) Annual Freight Service Awards Competition Party at The Brewery in London.
BIFA President Sir Peter Bottomley MP welcomed guests to the 29th BIFA Freight Service Awards luncheon ceremony and, along with entertainer & restauranteur Levi Roots, who also "serenaded the lads" at the event, presented all the finalists with their certificates.

Thanks For A Lifetime


A well deserved "Lifetime Achievement Award" sponsored by the TT Club was given to iconic forwarding executive Colin Joyce, who 30 years ago created Stansted Training Services, which specializes in advancing the forwarding arts in exports, imports, and customs procedures.
"For over 30 years, Colin has delivered courses on behalf of BIFA. He retires this year having trained hundreds of individuals, leaving a huge legacy of knowledge," said BIFA Director General Robert (Peachy) Keen.
"I congratulate every company and individual who took the time and effort to enter our Freight Service Awards competition.
"The range of finalists and winners dispels the myth that "the awards are just for the big companies," with seven of the category winners being BIFA members with fewer than 100 employees.
"I strongly believe that the act of entering itself allows members to improve their business systems and learn a great deal about themselves," Mr. Keen concluded.
Geoffrey